December 27, 2015 — First Sunday after Christmas
Sermon Text — Luke 2:22-40
Audio —
Come back later for the audio of this sermon!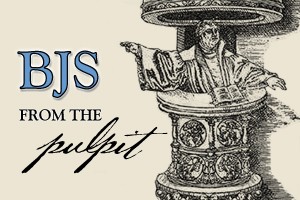 Grace, mercy, and peace be unto you from God our Father and from our Lord and Savior, Jesus Christ.  AMEN!  Our text for this morning's sermon is taken from St. Luke's gospel account the 2nd chapter.
Beloved in the Lord,
First Born?
How many of you are the first born in your families? Go ahead, raise your hand.  Never let it be said that Lutherans don't raise their hands in Church.  J  Now how many of you are second born?  And how many are third born?  Any fourth?  Any fifth?  Any sixth borns?  Any beyond that?  God bless your mothers.  I'm a first born.  Our Old Testament text speaks about firstborns.  "You shall set apart to the LORD all that open the womb, that is every first born that comes from an animal which you have, the males shall be the Lord's.  . . . And all the firstborn of many among your sons you shall redeem."  The first born sons were to be redeemed with a Lamb.  And their mothers, who were unclean because of the flow of blood in childbirth were also to be presented and cleansed by sacrifice.  The sons redemption was to be a reminder of the LORD's deliverance of Israel at Passover and the cleansing of the mothers was to be a reminder of both the curse upon Eve and her daughters as well as the promise that the Messiah would be born.
This morning, everything meets together in the temple.  Jesus the firstborn is redeemed – though not with a lamb but with two turtle doves, and Mary is cleansed.  All of this was commanded by God in Exodus, echoed again Leviticus and then carried out by Israel, and only Israel – you gentiles needn't worry, 40 days after birth if the child was a boy and 80 days after birth if the child was a girl.
Unclean?
But if we gentiles needn't worry about any of this then why does Luke, who's writing to Theophilus, a gentile, make mention of this?  Why are we even talking about this today?  Because this is the gospel of the Lord.  And the gospel is the power of God unto salvation to the Jew first and then to the Gentiles.  What was spoken then is for us an example and what was given Israel is given us as a sign and testimony to us and  . . . yes, against us.  All of the Law and the prophets find their fulfillment in this babe born of Mary.
And while the ceremonial law- the laws about sacrifices, diets, cleansings, clean and unclean sorts of things – was given only to Israel, the moral law was given to all humanity.  What Moses wrote on two tablets of stone has also been engraved on the heart of every man, woman, and child, including you and me.  We gentiles needn't keep the ceremonial Law, but the moral, the 10 commandments, are part of our spiritual DNA so to speak.  And the moral law calls us to holiness.  "Be holy as the Lord your God is holy!"  The God of Abraham, Isaac, and Jacob is the God of the heavens, the earth and all therein, including you and me.  You and I are called to holiness to love God and to love our neighbor, to share in God's life and essence and to help and serve our neighbor in supporting his or her life and protecting his or her  dignity.
The problem is, I am not holy and I don't do those things perfectly and neither do you.  The curse upon Adam and his descendants is also a curse upon you and me.  We share his nature and thus also his fallenness.  We are by nature, by our fallen nature, sinful and unclean.  We have sinned in thought word and deed, by what we have done and by what we have left undone.  Oh, we might think otherwise, but the curse is evident in our lives.  For we shall all die. The wages of sin is death. That's the curse hanging around all of our necks.  That's the curse borne by all creation, on both man and beast alike.  Thus we need to be redeemed.  All need to be redeemed in order to be saved from the curse.
Christ, the Nobler Sacrifice
Redemption requires blood.  The Jews were given the sacrificial system to impress upon them through sight and sound, taste, touch and smell, that another was to be given in their place, a lamb without spot, stain or blemish, one who was perfect, one who living, must die.  Without the shedding of blood there is no forgiveness.  The life of the creature is in its blood.  To save life, a life must be poured out and offered up.  No pious Jew could do that for themselves.  No keeping of the law, either ceremonial or moral, could merit eternal life.  The Jews couldn't do it.  Neither could any gentile, not even you or me.  Despite all of the sacrifices, "not all the blood of beasts on Jewish altars slain could give the guilty conscience peace or wash away the stain." (LSB # 431)
King David prayed in Psalm 51 "you will not delight in sacrifice or I should give it.  You will not be pleased with a burnt offering.  A broken and contrite heart O God you will not despise."  God does not want your blood.  You blood is cursed. Your efforts are unclean.  There must be another, One who is pure and righteous, holy and perfect in every way.  What was given to Israel was but a foreshadowing of the One to come.  All the Law and the prophets give testimony to this One.  His name is Jesus and this morning He is presented in the temple.  He is the one to bear the curse in your place.  He is the one whose lifeblood will be poured out.  He is the One who will redeem humanity from sin, death, and devil.  For Jesus is the One who is given to die.  His crucified.  He is dead.  His is buried for all destined for the grave.  He hangs on the tree and is made a curse for us all.  He bleeds holy blood to cover over our sins.  For it pleased God to bruise Him, to smite Him, to cast Him into the pit that by His rising all would be saved.  "Christ the heavenly Lamb takes all our sins away.  A sacrifice of nobler name and richer blood than they." (LSB # 431 vs. 2)
Behold the sign of your redemption.  There on the cross hangs your Savior with all your sins.  He's taken them unto Himself and paid the price.  No more curse around your necks, no more judgement plaguing your conscience, no more sin calling for your death.  The payment has been made.  It is finished, paid in full, nothing more needed, nothing more to be added, not your piety, your love, your devotion, your good works, or your good words.  All is done for you by Jesus.  The Law meets its end in Christ.
Redeemed with a Wet Lamb
Thus the whole world has been redeemed by the blood of the Lamb.  Firstborns, second borns, Jews and gentiles, slave and free, male and female, all have a Savior in this Man hanging on the cross.  That's why we treasure the crucifix.  And empty cross says there work yet left to do.  But a crucifix preaches Christ's eternal payment offered to God once for all, once for you.  This Man, and this Man alone has suffered the pangs of death in your place and has conquered death for all humanity.  His is the redemption we all need.  His is the treasure we must all possess.
But how do we get it?  How shall we have it as our own?  It is given to you as a gift, a gift to be received by faith and by faith alone.  What happened then is applied to you under the waters of baptism.  For all who are baptized are baptized into Christ's death, and if we have been baptized into Christ's death we shall certainly also share in Christ's resurrection.  Thus the Lamb's blood covers over your body and soul, heart and mind, your whole person.  There is neither Jew nor Greek, there is neither slave nor free, there is no male and female, for you are all one in Christ Jesus. 29 And if you are Christ's, then you are Abraham's offspring, heirs according to promise.  (Gal 3:28-29 ESV)
First Born?  YES!  Baptized!
Beloved in the Lord, let me ask you again, How many firstborns do we have among us this morning?  If you are baptized you have put on Christ.  If you have put on Christ you are heirs of eternal life.  If you are in Christ you are all firstborn.  For Christ is the firstborn of Mary and the Only-begotten of the Father.  No matter when you were born, if you are baptized you have been born again, born into Christ and thus share in His life and His essence.  You are holy as Christ Jesus is Holy.  Because you are holy St. Paul exhorts you "to put on tender mercies, kindness, humility, meekness longsuffering; bearing with one another, and forgiving one another, even as Christ forgave you.  And above all put on love, which is the bond of perfection."  That word for "put on" really means to be clothed.  IN other words, remember your baptism in Christ!  You are holy.  You are clean.  What happened in the temple so long ago happened for you and me and all people both Jew and gentile, slave and free, male and female, infant and elderly.  Therefore rejoice with Simeon's song and make the good confession with Anna.  Let the world know they have a redeemer, a firstborn, one who takes away the sins of the world.  AMEN!
The peace of God which surpasses all understanding keep your heart and mind through faith in Christ Jesus.  AMEN!