June 18, 2017 — Proper 6 — Pentecost 2
Sermon Text — Matthew 9:35-10:1-20
Sermon Audio —
God's Mission of Love
Grace, mercy, and peace be unto you from God our Father and from our Lord and Savior, Jesus Christ.  AMEN!  Our text for this morning's sermon is taken from St. Matthew's gospel account the 9th and 10th chapters.
Beloved in the Lord,
The Mission of Jesus– Preach, Teach, Heal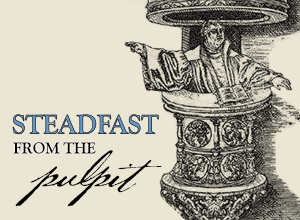 The savior is on a mission.  His face is set.  His eyes are fixed.  His hands are outstretched.  His voice is lifted high.  The Savior is on a mission and His mission is the salvation of the world.  He is no Moses – though many would prefer Moses to Jesus.  Moses gives you something to do, something to work for, something measurable.  The Law came through Moses.  Jesus is no Moses.  Jesus gives you something to believe.  The Law measures what you deserve.  Faith on the other hand receives what the heart knows we don't deserve.  With Jesus it's not about what you deserve.  With Jesus is all about what He has to give and what we are to receive by faith.  It's not about deserving, it's about believing.  God is love.  Jesus is God made flesh.  Jesus is love incarnate.  We are given to believe this, to believe in Love made flesh for us.
Because Jesus is love made flesh, what does love made flesh do?  How does He carry out His mission to save the world?  God so loved the world that He gave His only-begotten Son.  God loves so He gives Jesus.  Giving Jesus is what God is all about.  God's giving of Jesus happens as Jesus goes about all the cities and villages teaching, preaching the gospel, and healing every sickness and infirmity. Giving Jesus happens as Jesus teaches and preaches the Word.  Giving Jesus happens are Jesus breaks into the dominion of enemy territory and returns a hellish world back to its Edenic design, one person at a time.  He preaches to the crowds.  He teaches the disciples.  He heals, not the multitudes, not groups of 50 or 100, but one . . . person . . . at a  . . . time.   In other words, what is for all the world, is also for each and every one of you.
The Sinner's revolt
         This is the mission of love made flesh.  This is the work Jesus has come to do.  Note well beloved how Jesus is drawn to worn and weary sheep who go about as those without a shepherd.  He is for those who have not, who are not, who are least.  He is for sinners and those burdened with the curse of sin.  In other words, He is for you, all of you, each of you, male and female, slave or free, Jew and Gentile, elderly and infant.  He is for sinners.
We sinners don't like to called sinners.  Oh, we know that we're not perfect, but we don't like to be reminded of that.  Ironically, this is why we prefer Moses to Jesus, or try to make Jesus into some sort of Moses.  We want something to do, something to measure, something to evaluate, hoping for maybe a loophole here or there.  We prefer Moses because we prefer to live in denial of our sin and sins consequences.  We prefer the Law because we like to stare into the mirror of the Law to see if our complexion is clearing up.  We measure moral improvement as though we were climbing a spiritual ladder.  The more we improve the closer to God we get.  We're always trying to get ourselves closer, work our way up, cover our blemishes and pretty ourselves for God.  Such a life is always one step forward but two steps back.  The harder we work to make ourselves righteous the further from God we find ourselves.  In fact, those who try to walk such a path to salvation are walking the wrong way.  Those who try to earn their salvation are actually working against God.  This path leads to despair because it leads to death. As scripture teaches "There is a way that seems right to a man, but in the end that way leads to death." (Proverbs 14:12)  Moses seems right to us.   Works seem right to us.  Following our heart seems right to us.  But in the end it is all just a bunch of wandering restlessly without a shepherd, some more piously than others to be sure, but Jesus didn't come for the pious or the righteous.  He came for the sick, for the sinner.
This is Love
         Jesus is God made flesh.  Jesus is love incarnate.  This is love, not that we loved God, but that He loved us first.  Salvation begins with God in Christ and ends with God in Christ.  He is the alpha and the omega, the beginning and the end.  There is no works for you to do for Him, only what He works for you and gives to you by grace.  Our God is a God of grace.  He delights in showing mercy, not sacrifice.  His way is not a way of moral improvement, but the death of the old and the regeneration of the new.  God demonstrates His own love toward us in that while we were still sinners Christ died for us.  The way of moral improvement has not need for the death of Christ.  The way of faith on the other hand is rooted in the death and resurrection of Christ.
This is love – that Jesus goes about the cities and villages preaching, teaching, and healing every sickness and disease.
This is love that Jesus descends from the heavens above, to draw near to sinners, rotten, immoral, ugly sinners and loves them with His Word and His healing touch.
This is love, that Jesus touches lepers, gives sight to the blind, forgives adulterers and adulteresses, makes the lame to walk the deaf to hear.
This is love, that Jesus goes towards the least of these, not in judgement but in compassion setting the captives free.
This is love that Jesus takes up little children, nursing infants into His arms and saves through a still, small voice (1 Kings 19:12).
This is love, that Christ dies for the ungodly.  The God of all power and might, mightly and powerferfully surrendering Himself in the hands of sinful men, to save sinful men, women, and children.
This is love, that having died for humanity He rises from the dead.  That having been laid in the tomb He not only bursts the bars that held Him in death for three days, but He shatters the gates of every tomb for all who are under the curse.
This is love, that those stung by death, though they die, never die forever.  For whoever believes in Him yet shall they live.  For the death He died He died for all, all means you and me and every man, woman, and child.  And the life He lives He lives to God. Death no longer has dominion over Him.  If death has no dominion over Him, death has no dominion over all those who believe in Him and receive His death and resurrection in His baptism.
This is love, Christ crucified and Christ risen.  Christ crucified and Christ risen for you.
A Plentiful Harvest
         Look around beloved!  Behold the harvest of the Lord.  Here is the granary and each of you who believe and are baptized are the fruit of His labor.  The harvest is truly plentiful.  The Word of the Lord does not return void but accomplishes that for which is was sent out.  Look no longer in the mirror of God's law as a path to salvation, but as the honest evaluation of your works.  The Law has a purpose and that purpose is to diagnose your need for a savior.  Look to the cross.  There is your savior.  Look to the Word, there is His still small voice. Look to the water, He is there baptizing, washing, regenerating, clothing sinners with His death and resurrection.  Look to the altar.  From this altar He feeds you with the body that will never die again and the blood that is rich and full of eternal life.  His body, His blood, His life for you.
This is how the Lord of the harvest plants His seed in the soil-bed of your heart and gathers in the sheaves.  This how the Lord loves you.  He speaks to you.  He gives His Son to you.  He empowers you with His Holy Spirit and upholds you in the midst of world torn apart by sin, death, devil and hell.  He saves you one at a time and then preserves you in that salvation through His preaching and teaching, preaching and teaching that happens right here in this place called His Holy Christian Church.  You are His, beautifully adorned, wondrously clothed bride, the One for whom He has given Himself for, not because you are good but because you are loved, loved not only with affectionate feelings, but loved in word and in deed, loved in Word and in Sacrament.
The Mission of the Church
         Beloved in the Lord, "the harvest is plentiful but the laborers are few.  Pray to the Lord of the harvest to send out laborers into the harvest."  He who is lord of life and death answers our prayer before we pray.  He sends out laborers.  He gives gifts to men.  For, "He who descended is the one who also ascended far above all the heavens, that he might fill all things. And he gave the apostles, the prophets, the evangelists, the pastors and teachers, to equip the saints for the work of service, for building up the body of Christ, (Eph 4:10-12).  In this holy Christian Church He daily and richly forgives the sins of all believers through the office of the ministry.  He sends men, preachers and teachers of the word, as sheep among wolves.  He sends His servants to do His Word.  The mission of Jesus is carried out and continued through those who rightly preach His Word and administer His sacraments.  His mission is the church's mission.  His Work is the Church's Work.  What He does in preaching and teaching and healing the church does in preaching, teaching, and ministering to those who suffer the consequences of sin.
Thus the church on earth is a church at war with the world.  But this war is not a conventional war fought with guns and swords and political peace treaties.  This war is war for the hearts and minds of those who are least among men.  Such a war can only be fought with words of grace and deeds of love.  It is a mission of mercy and compassion.  The harvest is plentiful but the laborers are few.  The Lord of the harvest has called each of you out yet at the same time sends each of you back, to work, fight and pray, not for yourselves, but for your neighbors, for those who are lost, those who are prisoners, those who are suffering the brokenness of this hellish world.  You do have something to do – not as means for your salvation, but as a living breathing proclamation of the Love of God for those around you.  What you do, what you say, how you live, is a living, breathing, loving letter from God to the nations.  Through you, as you live out your vocations, God is calling the nations to Himself.  Through you, as you work works of mercy as husbands, fathers, wives, mothers, brothers and sisters God is working, planting, calling, gathering souls unto Himself.  Therefore put on the whole armor of God.  Be brave knowing that He who called you is faithful.  Be steadfast!  Knowing that your work is not in vain.  Make the good confession.  Fight the good fight.  Carry the gospel of peace to your neighbors.  Withstand the flaming arrows of the enemy.  Press on towards the goal.  And when it seems like there's nothing more for you to do, as though you have no purpose, . . . sing.  Sing the praises of Him who redeemed you.  Sing the new song which only the faithful can sing.  Sing in the Lord's house.  Sing from the rooftops. Sing in the midst of the battle.  Sing in the hospital.  Sing in the graveyards.   Sing through tears if need be.  Sing the wondrous works of the Lord.  For the gospel of our God always gives hope.  And the hopeful always have something to sing about.  AMEN!
The peace of God which surpasses all understanding keep your heart and mind through faith in Christ Jesus.  AMEN!