April 23, 2017 — Easter II
Sermon Text — St. John 20:19-31
"These things did Thomas count as real:
The warmth of blood, the chill of steel,
The grain of wood, the heft of stone,
The last frail twitch of flesh and bone."
Christ is risen!  He is risen, indeed!  Alleluia!
What are You Afraid Of?
Beloved in the Lord,
Where are You?
What were the last words of the angel to the women at the tomb?  Do you remember?  In all of the excitement of the day it's easy to forget or let them slip right on by unnoticed.  What did the Angel say?  He said, ""Do not be afraid, for I know that you seek Jesus who was crucified. 6 He is not here, for he has risen, as he said. Come, see the place where he lay  7Then go quickly and tell his disciples that he has risen from the dead, and behold, he is going before you to Galilee; there you will see him. See, I have told you."  (Mat 28:5-7 ESV)  The angel announced the resurrection of Jesus and the angel gave the women an assignment.  Go and Tell.  But not just go and tell what He's done, go and tell where He is so you can meet Him there.  Everything is geared toward getting the disciples to be where Jesus is!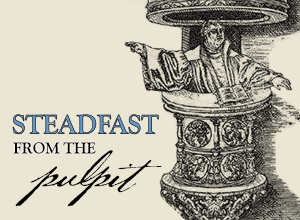 And where were the disciples to meet Jesus?  IN GALILEE!   Where are the disciples in our text?  IN JERUSALEM!  But they're not just in Jerusalem, they're hiding in Jerusalem.  They're not out and about amongst the hustle and bustle of a city in the midst of a festival.  They're huddled up in some corner behind like doors.  They're afraid.  And don't think Thomas is the brave one for not being with them.  He's just as afraid.  That's why – at least for the time being – he's rejoined the ranks of an unbelieving world.  Where are you?  You may be here, but what fears do you bring with you?  What are you afraid of?  What are the fears of those who are not with us?  What are you husbands and wives afraid of?  What are your children afraid of?  What about your neighbors, friends, etc?  What fears bind them?
Fear is Idolatry
The catechism teaches us that we are to "fear, love, and trust in God above all things."  And that "we should fear His wrath and not do anything against His commandments."  Jesus says, "do not fear the one who can harm the body only, but fear Him who can destroy both body and soul in hell."  There is a place for fear in this life.  But fear is to be directed to God, not the sort of fear that is terrifying – but the sort of fear that is reverent, obedient, and falls down at the Lord's feet in worship and adoration.  What sort of fear binds the disciples?  What sort of fear binds you?
When fear of others takes the place of fearing, loving, and trusting in God above all others, what is feared becomes your idol.  The disciples feared the Jews and honored their power and might more than they honored the words of the angel to meet Jesus in Galilee.  What fear keeps you from Jesus?  What fear keeps you hiding?  When fallen humanity gets afraid we hide, we hide from God and we hide from one another.  Adam and Eve hid behind their fig leaves.  And when that didn't work, they hid behind the bushes.  The disciples were afraid of losing their lives.  They made idols of themselves in the hopes of protecting their lives and of the Jews who would take their lives like they took Christ's.
What are you protecting?  And from whom?  Fallen humanity is always given to protect his life and his possessions, his way of life and his quality of life.  So we hide from those who would challenge us.  We cower before those who threaten us because we wrongly assume that our life is bound up in our quality of life.  We say to ourselves, "I have lived a good life, look at all that I have."  We fear that losing what we have, whether its family, friends, social status, financial gains, property or possessions, means losing our life, all that we've worked for or all that we've loved.  Whether we admit it or not, we live as though losing any of these things means losing not just our life, but our god, or at least God's favor.
Oh, but you may retort like Peter on Thursday evening, "I will never deny you."  In other words, I'm not afraid of anything or anyone.  But Peter failed and so do you.  Still doubt it.  Let's talk about the idols in your pockets, purses, and bank accounts?  What do you protect more than your money?  What fear grips your heart more than losing your wallet, your purse, or your financial security?  You not only keep it close to you, you hide it, protect it, even refuse to give it away to those in need.  We love our money and the life it gives us more than we love our neighbors and more than we love the gospel of Jesus.  The stewardship of our lives revolves around money, how much we have, how much we save, where and when we spend it on what we spend it.  We never have enough and we always want more.  That's why we gamble.  That's why we cheat on our taxes.  That's why withhold our tithes.  We're afraid of losing it or giving it away.  Our money is our life.  Our money is our god.    We need to repent.  We need to return to Jesus, not just part of us, not just our heart, but our whole selves.
Peace be With You
Jesus doesn't leave us with our idols.  He didn't forsake Adam and Eve.  He didn't abandon His disciples.  Rather than wait for them to come to Him either at the tree of life or up in Galilee, Jesus comes to them.  Jesus comes to you, not to judge and condemn, not to frighten and terrify, but speak to you.  Words of wrath and anger only further harden hearts, sometimes to the point of fissures, cracks, and crumbling.  I believe the disciples were just as afraid of Jesus as they were the Jews.  They were afraid of His wrath for abandoning Him, for not believing the women's report, and for not meeting Him in Galilee as He said to.  So when Jesus first appears, they don't know what to expect from Him.  Jesus had every right to be angry with them.  He has every right to be angry with us.  But what does Jesus do?  What does Jesus say?  He enters their midst and speaks words of grace.  "Peace be with you."  then He shows them His hands and His side."  And says, again, Peace be with you."  A kind word turns away wrath, and a gracious word stills anxious hearts.  Jesus doesn't not approach them in anger but in grace.  He doesn't leave them in the darkness of their fears but draws them to Himself with the marks of His passion.  He forgives them!  Forgiveness of sins softens stubborn hearts and melts hardened souls.
God's wrath against our sins was poured out on Jesus. The accusation that was against us was received and borne by Jesus on the cross.  Jesus shows His hands and His side because these are the marks of His love for you and me and the world.  He shows them His hands and His side because He was crucified and He did really and truly die.  He died for them.  He died for you.  That He stands before them offering peace while displaying the print of the nails proclaims His victory over sin, death, devil, hell, the world and yes also our sinful nature.  If the Lord should mark iniquities, who could stand?  But with Him there is forgiveness, therefore He is feared.  All of their fears were dealt with on the cross.  All of their fears were conquered with His resurrection.  They have not lost God's favor but in Christ's victory they have gained God's favor.   His holy precious blood shed for them has won the day. His glorious rising on the third day has routed all their enemies.  When Jesus says, "peace be with you!"  He is offering that peace in Himself, in His resurrected body and blood, in the forgiveness of their sins.
Receiving the Forgiveness of Sins
This same peace is offered to you in the gospel and only in the gospel.  That's why Jesus goes on to say, "As the Father has sent me I am sending you.  And He breathed on them and said, "receive the Holy Spirit.  If you forgive anyone their sins they are forgiven.  If withhold forgiveness from any it is withheld."  That sinners like us may receive the faith that justifies us before God, Jesus institutes the office of the ministry!  That is He locates the forgiveness of sins in the work of His church and delivers the forgiveness of sins through ministry of His servants.   He gives you a person to receive forgiveness from and a place to be sure to receive it.
And what was the disciples' response to such a gift?  "They were glad when they saw the Lord."  And what was the first thing they did?  They went to Thomas and told him, "we have seen the Lord."  Joy and gladness so filled their hearts that they were no longer afraid of the Jews, or death, or taxes, and abandoned everything to win back their brother!  Joy replaced fear.  Gladness moved them to preach!  Peace sent them on their way to love and serve those around them.
This is why we're here this morning!  We come before the Lord in the Lord's house to confess our sins, our fears, our idols, and to receive from Him the peace that surpasses all understanding.  He love us first.  He forgives us first.  He melts away the hardness of our hearts with kind and gracious words of absolution and then He empowers us with His Holy Spirit through Word and Sacrament to serve Him by loving, forgiving, and serving our neighbors.
When we're afraid it's all about us, all about protecting what we love, what we hold dear in our hearts, securing our life or our lifestyles.  When hearts are changed joy cannot be contained.  Love is no longer withheld.  Peace and mercy and forgiveness is shared with those we find in our path.  Why?  Because Christ is risen!  We have heard His Words.  We have seen Him, hidden beneath the bread and the wine.  We have received Him and now He is with us, in us, for us that by His Spirit's power and love we also are with them and for them to win them back to Christ.
Where are you now?
Beloved in the Lord, where are you now?  What fears still plague you?  Note them.  Confess them.  Behold the marks of Christ's passion for you.  He is risen and He is graciously moved toward you, not against you.  Return to Him faith that receives more and more of Him in the means of grace.  And do not be afraid to return to Him those things you were once afraid of losing.  Such things are not your gods, they will not save you nor preserve you.  Let the joy of the gospel well up within you and move you to draw nearer to Him and nearer to your neighbor.  Return to him your tithes. Cheerfully give to Him of the first fruits of your labors that the preaching of the gospel may continue, both for you and your neighbors.  The Lord loves a cheerful giver.  Cheerful giving of time, treasures and talents is the fruit of faith.  And, let your gladness have no end.  Let your family, friends, neighbors know through word and deed that you have seen your Lord, behold Him by faith, and it has changed you.   For your Lord and your God has conquered all your foes.  There is nothing to fear now.  Christ is risen!  He is risen, indeed!  Alleluia!  AMEN!
The peace of God which surpasses all understanding keep your heart and mind through faith in Christ Jesus.  AMEN!