January 28, 2017 — Epiphany 4
Sermon Text — Matthew 5:1-12
Sermon Audio —
Come back later for the audio of this sermon.
Your Very Great Reward
Grace, mercy, and peace be unto you from God our Father and from our Lord and Savior, Jesus Christ.  AMEN!  Our text for this morning's sermon is taken from St. Matthew's gospel account the 5th chapter.
Beloved in the Lord,
He opened His Mouth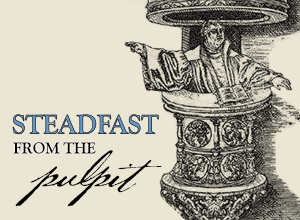 Seeing the crowds our Lord takes His seat upon the mountain.  Like Moses long ago our deliverer is set to teach, that teaching they may hear and hearing they may believe that the God of Abraham, Isaac, and Jacob has seen their plight, heard their cries, and seeks their eternal redemption through the giving of His Son.  And, it is not Sinai upon which the Savior sits.  The Law came through Moses but grace and truth have come through Jesus Christ.
Thus the Savior opens His mouth and begins to teach all who would listen.  Will you listen?  Will you lend your ears to the voice of God's Son and take to heart the words of His mouth?  The words we are given this morning are the Beatitudes. These words are merely the introduction to Jesus' sermon on the mount, a sermon lasting three whole chapters.  To understand the sermon on the mount one must learn the beatitudes.  For here in the Beatitudes the Son of David echoes His forefather.  Blessed is the man whose delight is in the law of the Lord!  Indeed blessed is the man who takes joy in God's torah, His instruction, His Law and His gospel.  Such blessedness the Savior desires for you.  That's why He opens His mouth to teach.  That's why we gather this morning to hear.
Poor Beggars
From the very beginning of Christ's sermon we learn that those who are blessed are poor, grieving, hungry, thirsty, humble, merciful, pure in heart, peacemakers who can expect to be persecuted.  Most of these are adjectives describing such a person, not verbs prescribing such behavior and most of these, if not all of these, are despised by the world.  The world rejects Christ's beatitudes as weak and impractical.  You will never hear such things in any political speech, nor will you find such things ever describing any our political leaders.  To the world, none of Christ's beatitudes are great, nor will they make anyone great in the eyes of the world.  And the world covets greatness more than righteousness. The world marches for power, hungers for fleshly indulgence, thirsts for glory, seeks vengeance, and boasts about its filth.  The world doesn't get the beatitudes and therefore doesn't get the sermon on the mount because in truth, it doesn't get Jesus.
It is easy for us Christians to spot the hypocrisy in our world.  We sit in our pews and look at the outside world, nodding our heads, while our inner voice shouts "amen!"  It's easy to see it out there and assume that it's not also in here (our own heart).  We Christians read Christ's Beatitudes and say to ourselves, "yeah, that's the way it should be."  But when we hear these words that way, we hear the savior wrongly.  We hear verbs rather than adjectives.  We hear a "to do" list, or a "to be" list, a checklist of virtues to aspire towards, to follow, to do in order to be blessed by God.  In other words, we hear the beatitudes as Law rather than gospel, as something to be achieved by self-discipline and moral strength rather than received by grace through faith.
Such a hearing is the result of our fallen nature, a fallen nature which both we and our leaders are born with.  "For there is no one who does right, no one who understands, no one who seeks God, no one who does good, no not a one."  No one means not you, not me, not anyone.  To assume otherwise is an affront to God, an act of arrogance, an attempt to offer God one's works, or stand before God in one's own virtue and holiness.  In other words, it is the exact opposite of what Jesus teaches in the beatitudes.  To be opposite Jesus is to be under the law, suffering its curse while denying its claims.
When we enter into God's presence, as we have this morning, such truth is impressed upon us by God's law.  No preaching of God's word is more authentic than the preaching of God's law against sin and all of our flailing attempts to fulfill the law the best we can even as His Christians.  Such words ought cause us to bow in humility before the truth seeking His grace for the sake of Christ and saying, 'God be merciful to me a sinner."  But bowing makes us uncomfortable doesn't it.  Bowing the heart hurts our pride, and bowing the knees is even less appealing.  For we may say the words, but to put those words into action impresses those words all the more upon us.  And whether we admit it or not, we don't like those words.  We don't like to repent.
All Leads to Christ and Christ leads to Calvary (The end of the Law)
The Savior's words this morning are for sinners, for the "no one who does right" people, people like you and me and all those out there.  For the purpose of these words is to show us our sin, break our pride, and reveal our need for salvation, not a salvation we work ourselves, but one wrought for us by a savior whose very name means "The Lord Saves."  Thus the words we are given this morning is meant to lead you away from yourself, outside of yourself, to Jesus.  Throughout the rest of Jesus' Sermon on the Mount the Savior pulls out from under our feet every possibility of standing under God's Law.  He takes away all loopholes, closes every escape hatch, removes any alternative to God's free grace given in Christ Jesus alone.  "Unless your righteousness exceeds that of the Scribes and Pharisees you will not enter the kingdom of heaven."  There is no way out from under the curse of the Law except through Jesus.  Jesus alone is left standing before you, not as your judge but as your redeemer, not as one wagging His finger in condemnation but as your Savior whose outstretched hand seeks to lift you up and draw you nearer to Himself.
Thus Jesus is the end of the Law's accusations against you.  He is the Law's end and the Law's fulfillment for you.  This is why He's come and this is why He opens His mouth to teach, that you who hear would listen, repent and believe not in yourselves, but in Him alone.  He alone is poor is poor in Spirit for you.  He alone mourns over Jerusalem, Judea, and all the world.  He alone hungers and thirst for righteousness.  He alone is meek, merciful, and pure in heart.  He alone makes peace and is persecuted on account of truth.  And lest you think that He alone is your example to emulate, lest you believe that by doing what Jesus does you win your own salvation, He alone is crucified, dead and buried.  On the cross, Jesus faces the full wrath of God's judgment against sin.  On the cross, Jesus bears the full weight of the Law's condemnation of sinners.  On the cross Jesus the curse is nailed to His flesh.  For the wages of sin is death and on the Cross He who knew no sin became sin that we might receive the adoption of son.  Jesus died for you.  Jesus paid the cost for you.  Jesus became the curse for you.  For cursed is the man who hangs on the tree.  The Law's end is Jesus' death.  Thus we Christians say with the reformer, "Crux sola est nostra Theologia,"  the Cross alone is our theology. For the cross destroys all of our false hopes of ever saving ourselves and leaves us with a Crucified God who is risen from the dead and ascended to God's right hand.  The marks of His passion are the only trophies which stand in the presence of the Almighty, Holy, creator of the world!  For the Lamb who was slain has begun His reign!
Beatitudes as Gospel
Now, on this side of Easter, there no longer any condemnation for those who are in Christ Jesus.  To be in Christ Jesus is to be baptized into His death and resurrection.  To be baptized is to be crucified with Christ.  It is no longer we Christians who live but Christ living in us, who loved us and gave Himself up for us.  In Christ sinners have a savior from sin, death, devil and hell.
Christ is the torah made flesh!
He is the law's end,
the sinner's righteousenss,
the fallen one's friend,
the dying one's resurrection,
the despairing one's hope,
the frail one's strength,
the weak one's power,
the humiliated one's glory.
He is our all in all and to Him alone is all glory, power, honor and might forever and ever amen!
As such He the Lord's gift to you, not be earned, merited, or achieved, but simply to be received by grace through faith.  The beatitudes are therefore not goals to set for yourselves, but gifts given from a loving God to His beloved creatures through His gracious words and promises.  As gifts therefore these beatitudes are all gospel because they find their fullness in the God who speaks them into being and works them in the hearts of those who hear with open ears and believe.
The World's Jesus Problem
Beloved in the Lord, he who believes and is baptized shall be saved because the one who believes has been baptized into Christ.  In Christ you are poor, mourning, meek, hungry, thirsty, merciful, pure in heart peacemakers who will be persecuted on account of His name's sake.  In Christ you are no longer sinner but saint.  "Do not be deceived: neither the sexually immoral, nor idolaters, nor adulterers, nor men who practice homosexuality, nor thieves, nor the greedy, nor drunkards, nor revilers, nor swindlers will inherit the kingdom of God.  And such were some of you. But you were washed, you were sanctified, you were justified in the name of the Lord Jesus Christ and by the Spirit of our God. (1Co 6:9-11 ESV).  Now, in Christ you are a new creation.  Now in Christ you are blessed.  And as such, the world will hate you. As such the world will ridicule you, persecute you, say all kinds of evil against you.  As such you will be strangers in a strange land with strange leaders, strange friends and strange loved ones who do not get it because they do not get Jesus.  "Rejoice and be exceedingly glad . . . for great is your reward in heaven!"  Great indeed! For your reward is Jesus.  AMEN!
The peace of God which surpasses all understanding keep your heart and mind through faith in Christ Jesus.  AMEN!