December 4, 2016 — Advent II
Sermon Text — Matthew 3:1-12
Sermon Audio —
Come back later for the audio of the sermon.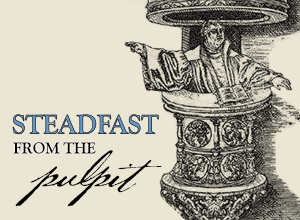 Our Daily Exodus
Grace, mercy, and peace be unto you from God our Father and from our Lord and Savior, Jesus Christ.  AMEN!  Our text for this morning's sermon is taken from St. Matthew's gospel account the 3rd chapter.
Beloved in the Lord,
In the Wilderness
John is out in the wilderness, outside the promised land, out where the grass withers and the flower fades, where stones fill the countryside and gentiles roam the roads.  John's wilderness is the gentile desert.  In the desert life is lacking and no gentile idol can change that.
Why the desert?  Why not the street corners of Jerusalem, or the hill country of Judea?  Why is John in the desert and why is John in the Jordan?  John is the fulfillment of Isaiah's prophecy.  He's the voice of one crying in the wilderness!  John is the one come as Elijah.  He's clothed in camel's hair with a leather belt, eating wild locusts and honey.  He's God's prophet standing in the river Jordan calling Israel to exodus, to leave the Promised Land and enter again cleansed by baptism for the forgiveness of sins.
Here in the desert the Lord begins to make all things new.  Here prophecies begin to be fulfilled.  Here hearts of the fathers are turned toward their children and hearts of the children are turned toward their fathers (Malachi 4:6).  One generation surrenders its quest for self and looks to its posterity.  And the next generation remembers those who came before and honors them that they may live long in the land.  John's call to the desert is God's call to Judah and Israel, Jew and Gentile, to come outside of one's world, one's life, one's self and heed the Word of the Lord.  The call to the desert is the call to Repentance.  To begin again.  To make exodus away from sin, death, and devil, and journey to the promised land washed and clean in the waters of baptism.  It is a call to a new life, a new way, a new perspective and a new worldview.  For the Kingdom of God is near!  His eternal reign is breaking into time and space, taking part in history, bringing about the last day.  All of John's preaching and teaching sets his hearers in a "last day" context.
Repent
This is the wondrous love of our God.  He does not surprise us with a sudden appearance.  He doesn't leave us wandering or wondering what will happen when that day arrives.  No!  He sends His messenger to prepare the way, to prepare us.  Such preparations begin with the heart.  Unless the heart is changed they labor in vain who seek to build a new life of works without God's Holy Spirit.  Thus John says "Repent!  For the kingdom of God is near."  To repent is to prepare.  To prepare is to make straight. To make straight is to confess one's sins.  Repentance begins with confession of sins.  That's why all of Jerusalem was coming out to John, confessing their sins and being baptized for the forgiveness of sins.  The Kingdom of God is near.  God was coming down to save and to judge.  While we live in an age where everyone is concerned about being on the right side of history, those who were coming to John were concerned about being on the right side of Eschatology.  They were concerned about being on the right side of the last day, about being on God's side of salvation.
Let John's sermon ring in your ears this morning.  Examine yourself.  As in John's day so also today.  Not all who are descended from Israel belong to Israel.  Not all who call themselves Christian are actually Christian.   Do not say to yourself, "I've been a Lutheran all my life."  John would say, "repent you bunch of snakes.  Do not brag about your works and all the progress you think you're making.  John would say, "not good enough.  Repent."  Don't ask "what must I do to be saved" or be concerned only about the minimum times you must worship or take communion.  John calls you to repent of your comfortable complacency, your convenient religion, your pietistic humility.  "In your struggle against sin you have not resisted to the point of shedding blood." (Hebrews 12:4)  Do you struggle against sin?  Or merely wrestle with its consequences?  Are you concerned about God's judgment on the last day or only history's judgement at your funeral.  The axe is at the root of the tree and all who would be something will be cut down.  You cannot claim faith in Jesus and let sin have dominion.  You cannot have faith without works.  Faith without works is dead.  Faith without works is the wrong faith.  And its not works that make the faith real but real faith which makes the works good. True faith does not glory in sin or seek to remain in sin or wishes to let sin have dominion, but true faith regrets sin and despises sin, confesses sin.   The Kingdom of God is near, beloved.  The last day is upon us.  The eternal reign of God is breaking into history, into space and time, into your life through the preaching of His Word.  He is coming, coming to save and to judge.
The Coming Kingdom
John is the messenger, the herald, the one sent to prepare the way of the Lord for you.  His call to repentance is a call away from sin, death, devil, and hell towards the waters of baptism.  There in the water God is gracious and merciful.  There in the water God is active saving sinners.  There in the water He is making all things new.  For the Lord comes to save and to judge.  His judgement is upon sin.  The Lord has no desire for the death of the wicked but that they turn and repent and live.  The Lord takes no pleasure in judging you.  That's why He sends His Son.  The coming kingdom is brought about by the coming of His Son.  He is our coming King.  And wherever the King is there is the King's dominion.  Wherever the King's Word is proclaimed there is the King's decree for humanity.  Your king loves you.  Jesus loves you.  He has not come to destroy you but to undo the works of the devil and destroy the power of sin for you.  He's come to steal away the sting of death and set you on the right side of eschatology.
His coming is to take your place, to be for you the Lamb of God who takes away the sin of the world.  Thus, He is born under the Law to fulfill the law in its entirety for you.  He too is baptized to shoulder your sins before the Father and suffer on their account for your atonement.  He is not ashamed to hang with transgressors but assumes your place and suffers your judgement.  God's judgement against sin and death falls on Jesus.  In Jesus the Lord is both just in punishing the sins of the world, and justifying making atonement for humanity through the shedding of His blood.  Without the shedding of blood there is no forgiveness.  Jesus shed His blood to forgive your sins.  Thus the words of Heaven's King ring from the cross for all humanity for all eternity.  "Father, forgive them for they know not what they do."  Your King reigns from a tree.  The Kingdom of God breaks into history as Jesus suffers under Pontius Pilate, is crucified, dead, buried and risen on the third day.  The reign of sin has come to an end, crucified and put to death in the death of Jesus.  The serpent's head has been crushed, the devil's dominion conquered, pierced through as the cross was planted at the placed of the skull.  With Jesus risen from the dead, death itself has been rendered toothless!
Stones into Son
This is the good news of our God for you and me and the world.  The last day has broken in upon our world and now is being poured out upon all who believe and are baptized.  For "He saved us . . .  through the washing of regeneration and renewal of the Holy Spirit whom He's poured out on us richly through Jesus Christ our savior." (Titus 3:5)  For our God is able to raise up sons of Abraham out of stones.  He is able to make Israel out of gentiles. He is able to make Christians out of sinners.  This is what was spoken by the prophet Ezekiel when the Lord said, "I will sprinkle clean water on you, and you shall be clean from all your uncleannesses, and from all your idols I will cleanse you.  And I will give you a new heart, and a new spirit I will put within you. And I will remove the heart of stone from your flesh and give you a heart of flesh.  And I will put my Spirit within you, and cause you to walk in my statutes and be careful to obey my rules." (Eze 36:25-27 ESV)  Such is the fruit of your baptism into Christ.  In Christ you died to sin.  In Christ you are raised to newness of life unto God.  In Christ you are clothed with a righteousness that exceeds that of the Pharisees.  In Christ you are Abraham's seed and heirs according to the promise.  All of this is given you as a gift in your baptism into Christ.  All of this makes you a new creation.
As a new creation you have a new Lord.  No longer is sin your master.  No longer does sin have dominion in the heart of those who believe.  This is why John preaches "bear fruit worthy of repentance".  The penitent confess their sin, despise their sin, regret their sin and seek the mercy of Christ in absolution – which is really a return to the waters of your baptism.  There the Lord has given you a new heart, a beating heart, a heart of flesh, a heart for the Lord and for one's neighbor.  It is only those who neglect their baptism, cling to their sin, refuse to surrender it to the Lord, that experience God's judgement.
That's why we practice closed communion.  To continue in willful sin is to despise one's baptism into Christ.  It is to choose the pleasures of the old life, in place of the new life given you by grace through faith in Christ.  To commune those in willful sin is to communicate God's judgement rather than God's grace.  As His Christians we are to remember that through the waters of our baptism into Christ the Lord has regenerated our heart not only to have faith in Christ but also to walk in the way of the Lord, to obey His commandments as His words declare.  Absolution is not a free pass to go on sinning that grace may abound.  Certainly not! Absolution is the King's decree that your sin has been atoned for, that your warfare has ended and that Christ is your Lord.  As His people by grace through faith we draw our life from these waters and we seek to live in these words.
Into the Barn
Beloved in the Lord, John's preaching in the wilderness sets us into an eschatological context.  Our whole life is to be lived in the fear and knowledge of the last day.  Don't worry about how history remembers you.  Seek first the kingdom of God and all these things will be added unto you.  Set your hearts above and Christ who is seated at the right hand of the Father.  He is coming again.  His advent is nearer now than we first believed.  The faithful will bear fruit.  That is the nature of the newness of His kingdom.  That is the life of the baptized on this side of eternity.  Daily we drown the old in the waters of our baptism.  Daily we are refreshed by His gracious heart toward us in His Word. Daily we are make new for eternal life.  Thus, we have a place for us in His mansion.  The fruitful are saved for the granary.  The penitent believer will endure the day of His coming not because of who we are but because of what He has done for us.  Today we journey to the wilderness with the Baptizer.  We confess.  We are sprinkled clean by His Word.  We are forgiven our sins.  We are made new once more.  Tomorrow we enter the Promised Land of His eternal kingdom which has no end.  God grant this for all of us this morning.  AMEN!
The peace of God which surpasses all understanding keep your heart and mind through faith in Christ Jesus.  AMEN!