November 6, 2016 — All Saints (Observed)
Sermon Text — Revelation 7:2-17
Sermon Audio —
Beholding the Edge of Tomorow
Grace, mercy, and peace be unto you from God our Father and from our Lord and Savior, Jesus Christ.  AMEN!  Our text for this morning's sermon is taken from the Revelation to St. John the 7th chapter.
Beloved in the Lord,
What John Sees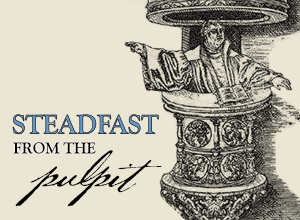 With the eyes of faith and the Word of God we are given this morning to see what the apostle sees.  Like Moses standing atop Mt. Nebo we gaze in one direction and we see mighty Israel gathered for war.  12,000 from each tribe.  144,000 from the 12 tribes; Christ's mighty Church symbolically portrayed as an army arrayed for battle, the Church militant.  Clothed with the whole armor of God they wrestle not against flesh and blood but against the rulers, against the authorities, against the cosmic powers over this present darkness, against the spiritual forces of evil in the heavenly places. (Eph 6:12 ESV).   Theirs is a righteous battle, a just war, a good fight for whatever is true, whatever is honorable, whatever is just, whatever is pure, whatever is lovely, whatever is commendable, if there is any excellence, if there is anything worthy of praise,  (Phi 4:8 ESV).  It is not just a battle of good vs. evil, but a battle of love, the Lord's love for a lost and broken world, against an seemingly overwhelming army of perversion.  Their task is the sealing of God's saints.
Looking a little further we see beyond the church on earth.  There, on the distant horizon is a glorious band, a righteous crew.  They are an innumerable company of men, women, and children who are clothed in white robes.  They are no longer soldiers but victors.  They wave their palm branches and sing their song.  They fight no more but now rest from their labors.  These godly souls have received their just reward. They have fought the good fight, kept the faith, persevered under pressure, confessed Jesus as Lord, for the greater Joshua has conquered all their enemies.  And now, . . . now they stream from every corner of the globe, now they enter the heavenly gates following their captain who has led them to victory.  Now they reign with Him who sits upon the throne.  Now they take their place in the Promised Land, the land promised to Abraham, Isaac, and Jacob.
WAR!  Suffering while Sealing
This morning we Christians are given to see what is now and what is not yet.  John's vision sets before us our task and our hope.  For we, like ancient Israel find ourselves on the verge of entering the Promised Land.  We see it from a distance and long to walk along its golden streets.  That is our hope, that is our future.  But that is not today.  Today we are soldiers, every one of us, all who are baptized into Christ our captain.  As soldiers we train up our young and inexperienced to wield the sword of the Spirit, rightly distinguishing Law and Gospel.  And as soldiers we fight.  We engage the enemy; sin, death, devil, world, even our own sinful nature.  It is no easy battle. Though the victory is ours, the enemy will never surrender.  As in every war there are injuries – sin wounds the heart and soul of all of us.  All of us have been scarred.  Some wounds are self-inflicted as we've lived contrary to the Lord's commands.  Some wounds are accidental, our fallen nature's proclivity for the enemy's ways.   Some wounds are intentional.  Sin always seeks to have dominion, wooing us with adversary's propaganda.  In the heat of the battle it's easy for the more mature to despise the weak or the untrained.  It's easy for one tribe to turn against another, one family or church to point fingers, pass judgement.  At the same time its easy to neglect discipline, fall out of rank, follow our own path, chase after the spoils of war and the glory of the battle.
In our world it's also easy to think that we cannot win, that the battle is insurmountable, that the enemy has too many soldiers, too much money and resources, that they are too powerful.  Thinking this way makes it easy to give up, give in, and despair.   And to be honest, looking around at Christ's church there is good reason to despair.  We are a sorry bunch of beggars who've been drafted into a heavenly army by water and the word.  Christ wasn't looking for a few good soldiers when he found us.  He was looking for sinners, broken, beaten down sinners, like you and me.  Looking at ourselves, looking at even one of the celebrity soldiers, or wise leaders, or wealthy donors, or distinguished politicians we see our sins instead of our Christ.  Focussing on our sins, or the sins of our neighbor . . . we much prefer to retreat, sit this one out . . . even begin to fight for ourselves.
War is hell beloved.  Make no mistake, you by virtue of your baptism into Christ are engaged in a war.  You cannot sit this one out.  You are either the Lord's or you are the enemy's. There are no neutral parties.  You cannot be Switzerland hoping the Nazis leave you alone.  You cannot isolate yourself hoping to deal with sin, death, devil, and hell your own way, or apart from Christ's Church.  Nor can you believe the propaganda of the false prophets who cry peace, peace, when there is no peace.  These would have you believe wrongly about yourself and your Lord.
It's for this reason that we have St. John's vision.  We see the end.  We see things as they are seen from heaven above, not as they are seen from here below.  We fix our eyes on Jesus, our master and commander, the Lord of Sabaoth.  We who live on the edge of tomorrowlive, die, and repeat.  In other words, we repent and believe the gospel.  This is the life of Christ's soldiers, this is the life of God's saints.
Salvation belongs to Our God!
And the gospel is not that "we can make America great again" or whatever slogan anyone else slaps across a bumper or sticks on their lapel.  The Battle is not won on Tuesday. The battle was fought on Friday and won on Sunday.  Our fight is not  political, global, or national.  Ours is a fight against sin, death, devil, and hell.  Our fight has eternal consequences.  And were it up to us we would fail miserably.  Which is why we confess that we are poor, miserable sinners.  The fight for our eternal destiny is not fought by us.  Like Israel held captive by Pharaoh in a foreign land we are slaves to sin.  But God has made us a promise.  The Lord has heard our cries and seen our plight.  He has sent us a deliverer.  The Law came through Moses but grace and truth have come through Jesus Christ His Son.  The Word became flesh and dwelt among us.
Day in and day out we stand on the precipice of eternity.  On one side Pharaoh and His armies advance against us.  Sin, death, devil and hell thunder as they approach.  We follow where we are led but too often we despair for the on the other side of us sits a body of water that we cannot traverse on our own.  We feel trapped by sin.  We are tired by the journey.  We grow weary and anxious.  Our children hurt.  Our families are in turmoil.  We don't know what to do or how to do it. Hear the words of Moses, "The Lord will fight for you.  You need only be silent."  And stretching his staff up over the waters and waving them over the waters, Moses makes the sign of the cross over those waters.  What the Lord typified for Israel then He fulfilled in the fullness of time in Christ for you.  Christ Jesus fights for you.  Christ Jesus lives for you.  Christ Jesus is baptized for you, suffers for you, dies for you and rises for you.
Behold!  There stands Christ Jesus for you in the waters of your baptism.  Live, die, repeat.  Fix your eyes on the promises of God in those waters for Jesus walks upon them delivering His death and resurrection to all who pass through.  As Israel was baptized in the Red Sea, so you have been baptized into Christ's death and resurrection.  As Pharaoh and his hosts were trapped and drowned in those waters so your sin, death, devil, and hell has been trapped and drowned in these waters.  You are free because Christ has set you free.  You are conquerors because Christ has conquered for you.  You are victors because Christ is the victor over all your enemies.  Therefore look to  Christ today, tomorrow, and forever.  He will not abandon His beloved to the grave.  No soldier of His is ever left behind.  But all who cling to Him by faith shall be raised on the last day.  All who believe in Him, though they die, yet shall they live, and whoever lives and believes in Him shall never die!
Robes Washed in the Blood of the Lamb
Thus, St. John's vision gives us a picture of our destiny, the end of our labors, the cessation of the war.  Behold, beloved the inummerable band of brothers who have gone before us, even the great cloud of witnesses that surround us, the communion of saints.  Men, women, and children clothed in white robes with palm branches in their hands.  They walk the streets of paradise and rest from their labors for "blessed are the dead who die in the Lord."  These have come out of the great tribulation and made their robes white in the blood of the Lamb.  They have passed through the waters and the Lord was with them, through the rivers and they were not overwhelmed.  By faith they walked through the fire of battle and were not burned.  The flames did not consume them.  Behold your loves ones, those who died in the faith.  They dwell with Christ in His eternal light.  There go our brothers and sisters in the faith.  There is Alice, and Jo, and Lorraine welcomed into Abraham's bosom to shouts of Alleluia!  There they stand in victory.  There they sing with loud voices, "Salvation belongs to our God and to the Lamb who sits upon the throne.  There they live in the eternal Sabbath.
He Shall Wipe Away every Tear
         Beloved in the Lord, with the eyes of faith and the divine Word we are given to see what St. John sees this morning.  Such a vision is for our encouragement in the face of the enemy's deceit.  This is vision is our hope and hope does not disappoint.  Faith looks to Christ our champion.  We draw our life from His life given us in Word and Sacrament.  By His blood our robes are baptized and made white.  By His supper we feed on the resurrection.  These are our strength and comfort in this broken and war torn world.  Look to Christ and the mighty works He has done for you.  Look to Christ and give ear to His holy Word.   Look to Christ and behold the love of God poured out for you and for the world. Look to Christ and fight the good fight of faith, persevere under pressure, bear the burden of love, deny yourself and take up your cross, confess the faith, bend the knee, set before Him your trophies and take up the sword of the Spirit, that is the Word of the living God and carry His message of redemption to the world.  The end is near.  The day is coming.  The time is soon.  And Christ shall return to raise the dead.  Victory is ours.  "For everyone who is born of God overcomes the world.  And this is the victory that has overcome the world – our faith!" (1 John 5:4)  AMEN!
The peace of God which surpasses all understanding keep your heart and mind through faith in Christ Jesus.  AMEN!