May 1, 2016 — Easter 6
Sermon Text — John 16:23-33
Sermon Audio —
Don't Run, Pray!
Christ is risen!  He is risen, indeed!  Alleluia!  Our text for this morning's sermon is taken from St. John's gospel account the 16th chapter.
Beloved in the Lord,
That Day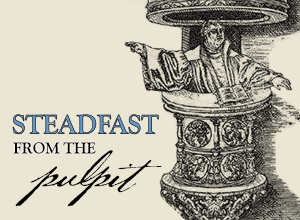 When Jesus says, "in that day", He means that "little while" when the disciples cannot see Jesus, when their joy is threatened but not taken from them, when their lives are pursued but not over run, when the world wars and the nations rage, when the peoples plot vain things and the kings of the earth set themselves against the Lord and His anointed.  When Jesus says "in that day" He means today.  He means any day, all the days even, that make up that little while between the time we do not see Him and the little while we see Him again.
That day is today.  Today is our day in that "little while."  Today is our day when what we do see is cause for alarm.  Though we do not see Jesus, what we do see often works against faith and seeks our stumbling.  What we see we also feel.  What we feel troubles the heart.  Husbands and wives separated.  Children divided by time and loyalty between the two.  Broken families begetting broken children who grow up to do the same.  What we see we also suffer. What we suffer afflicts the body and the soul.  Cancer strikes down loved ones, wounds others, steals away fathers, mothers, children, aunts and uncles, does death's dirty work.  What we see we are also taught to tolerate.  What we tolerate takes the place of what we should love and how we should love.  Sexual immorality perverts not only the perverts but also every aspect of how we relate to the opposite sex, and even how we relate to the same sex.  Everything has been sexualized or sensualized.  The list could go on and on and on and on but you get the picture because you see it every day.  You get the picture because you're part of the picture, part of what other see in the picture, part of what is called "today."
This is what we see and what we see is cause for alarm because what we see is the wickedness of our fallen humanity. We see it all around us. We see it in us and in our children.  With sin comes death . . . and too often it looks like death wins the day.  Jesus knows all of this.  Jesus knows that what we see, what you see every day appears to be hopeless.  That's why don't walk this world, live our days, live today by what we see.  We don't walk by sight we walk by faith.
Do you Believe?  Or are you Scattered
Jesus says in our text this morning, "in that day you will ask Me nothing.  Truly, truly I say to you, whatever you ask the Father in My Name He will give you."  Because we walk by faith and not by sight, we pray.  We ask the Father in Jesus' Name.  We pray. We pray together as His church. We pray together as families. We pray when we eat. We pray when we're in trouble. We pray at the beginning of the day and we pray at the end of the day.  We walk by faith and faith prays.  That's how we as God's people respond to what we see.  We pray.  We pray because what we see in the world, what we see in us and in our children . . .is sin,  . . . death, . . . and the power of the devil.
We see a war being waged, we see wounded soldiers, we see battered lives, we see broken hearts and despairing souls.  We see the ravages of this war all around us.  What are we going to do about it?  There's basically two reactions.  1. We pray and press on in faith.  2.  We run.  We scatter like the disciples did on Good Friday, too afraid to face the enemy.  Oh, we would never admit to running.  But the temptation is always there and we run more than we'd like to admit.  We scatter to our own lives.  We run to our homes and try to hold on to our loved ones keeping them from the battle.  We run to our jobs and try to earn enough to avoid the pitfalls that come with financial insecurities.  We run to our hobbies all too eager to indulge in distractions, or when the battle gets heated and the pressure seems to be too much we run to the bottle or the pills, or to the joint, finely rolled, hoping to waft our troubles away.  In fact, beloved, we run so much that we're exhausted, weary, on the edge of despair and hopelessness.  Faith has been neglected and we haven't prayed to the Father in Jesus' name.  In fact, when we have prayed, its more like coming to God in our own name.  There are no promises God hears such prayers. The Father Loves You because You Love the Son
Beloved, stop running.  Stop scattering your attention, your resources, your time, treasures and talents all in the hopes of avoiding the trial and tribulations that are sure to come in this world.  Repent!  Stand up!  Man up!  Be bold, courageous, and cheerful in the face of such adversity!  You are not your own, but you have been redeemed by Christ the crucified.  You are not alone, but Christ Himself has promised to "always be with you unto the very end of the ages."  And you are not left without a comforter but the Holy Spirit has been poured out generously over you and in you through the waters of your baptism.
The Father loves you because of His Son.  The Father loves you because in Christ you are forgiven all your sins.  The Father loves you because Jesus loved you, gave Himself up for you, poured out His life-blood in your stead, and is risen from the grave.  None of your enemies prevailed against Him. Oh, Rome raged and the Pharisees plotted.  The kings of the earth battled for the loyalties of their subjects and sought to burst their bonds and cast away their cords.  But the Lord laughed at them in derision.  They plotted and planned and the Lord set His King on Zion, His holy hill.  He set Him in place, lifted Him up, allowed humanity to do its worst, to bruise His heal and pierce both hands and side.  He offered up the fountain and source of life so that being snuffed out on Friday, sin, death, and devil would suffer the same fate.  And having suffered on Friday, sin, death and devil, thought they had won. The world thought it had won.  But Jesus trapped them in His tomb.  Bound them forever in the grave.  He led them deep into the abyss and left them there wondering what the hell just happened.
Christ is risen!  Sin is vanquished.
Christ is risen.  Death is doomed.
Christ is risen!  The serpent is crushed.
Christ is risen!  The world is undone.
Christ is risen!  Humanity is redeemed.
Christ is risen!  Humanity is reconciled.
Christ is risen!  Humanity is restored!
And Christ has ascended into heaven, inaugurating this little while we call today, this day that we don't see Him, but love Him because He first loved us.
In His Name
The Father loves you because you love Jesus.  No one comes to the Father unless they come to Him through Jesus.  That's why and how we pray.  We don't come on our own, that would be arrogant.  We don't come through the saints, that would be foolish – since nowhere in Scripture are we told to that or promised that doing we would be heard.  We don't trust in Mary but Mary's Son. For there is one mediator between God and men, the man Jesus Christ.  We come to the Father through the Son, in His Name, trusting His Word and His Works.  Everything hinges on His Name.  Not that we chant it like some montra spoken by monks in the mountains hoping to manipulate God into giving what we want or need, but that we are baptized – have His Name in us and on Us, and that we believe that Jesus forgives us our sins, has overcome the world through His death and resurrection, and promises that whatever we ask the Father in His name will be granted.
To pray in His Name is to have our prayers; all our wants and needs, all our struggles and trials and afflictions, all our weaknesses, illnesses, emotional distresses, all our loves and all our obstacles joined to Christ Himself, joined to His eternal prayer before the Father.  Thus in Jesus' name the Father hears you, His dearly loved and baptized children.  He hears the cries of the infant, the sighs of the mourning, the moans of the burdened, the groans of the weak and weary, the grumbling of the afflicted and oppressed, all the hurts, all the sorrows, all that you see and feel and experience in this life that are uttered back to God in prayer, the Lord takes upon Himself.  He hears you and promises to answer you according to His will, according to what is good for you and for His people.
Joy amidst the War
Beloved in the Lord, we remain in the midst of the Savior's "little while."  That day is today.  And today we see, feel, and experience the ravages of an enemy who wants you to believe that there is no hope, that you cannot win, that the world against you so long as you follow Christ.  But you are not given to walk by sight.  As the Lord's Christians "you are not consider how angrily the old dragon or the lion, the devil and world open their jaws, show their teeth, and sharpen their claws.  No!  You are to lift your thoughts far beyond this in the knowledge that the battle has already been won, that their fierce jaws, this showing of teeth, this tearing and killing is much too late."  The enemy has been undone.  The World has been overcome.  Therefore beloved, cleave to Jesus and derive your joy and peace from Him and Him alone.  When the devil and the world slap you upside the face, box you about with jabs and uppercuts, take it.  Turn the other cheek.  Remain with Christ!  Prize above all things His grace and mercy and peace, His body and His blood, His baptism His Word and Spirit.  All these He leaves you that you not run or be scattered each to His own whatever, but that you be cheerful and full of Joy in the midst of such warfare, knowing that this present suffering is nothing compared to the glory that will be made manifest to us when that "little while" is over.  Christ is risen!  He is risen, indeed.  Alleluia!  AMEN!
The peace of God which surpasses all understanding keep your heart and mind through faith in Christ Jesus.  AMEN!