April 10, 2016 — Easter 3
Sermon Text — John 21:1-14
Sermon Audio —
Come back later for the audio for this sermon
Don't be a Schwarmer
Christ is risen!  He is risen, indeed!  Alleluia!  Our text for this morning's sermon is taken from St. John's gospel account the 21st chapter.
Beloved in the Lord,
The Third Time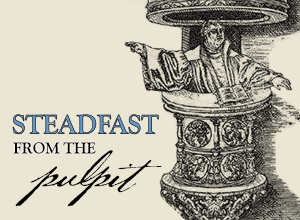 Easter is over.  It's been a couple of weeks now.  Jesus appeared to His disciples minus Thomas on Easter evening and then again a week later with Thomas.  Now, its "after these things" that Jesus appears a third time.  Our text this morning isn't about fishing or fishing for men, or evangelism, or how to make breakfast on the beach or what to do with your life after Easter.  Now, out text is about Jesus, its about His third resurrection appearance.  And His third resurrection appearance happened this way.
Simon Peter, Thomas, the sons of Zebedee, that's James and John for those of you in Rio Linda, and two others.  They're at the sea of Tiberias, a.k.a. the Sea of Galilee, and Peter decides to go fishing.  They fish all night and catch nothing.  Sound familiar?  It should, this sort of thing has happened before.  And that's the point.  Throughout the gospel John has said on more than one occasion that the disciples "remembered" that Jesus said this or did that, but their remembering wasn't until after He was glorified or after He was raised from the dead.  John has all of this happening after Jesus was raised from the dead, after Easter was "over".  The same could be said for you me, for everything today is after Easter is "over."  And what follows, what John goes on to describe is essentially life in the kingdom after Easter.
They Couldn't see Jesus
After Easter Peter and James and John and Thomas go fishing.  After Easter Jesus isn't with them the way He was with them before Easter.  In John's gospel Jesus is in the upper room and Jesus is on the sea shore.  In our text the disciples are in the boat and out on the water.  In our text they disciples see Jesus on the shore, but the don't see Jesus on the shore, "they did not know that it was Jesus."  Seeing is not knowing, nor is it believing.
There was a time, not too long ago, when seeing, observing, measuring, evaluating, and judging for oneself was considered the only way of knowing.  Today, we call that time not too long ago  the age of modernism.  Some of us still live that way – sort of like Thomas, "unless I see with eyes and touch with my fingers the print of the nails I will not believe."  John dealt with all the moderners last week.
Today we're in a post-modern age.  Today it is commonly believed that seeing isn't the only way of knowing.  Today, people claim to know things by feeling things, not feeling the way Thomas was given to feel the print of the nails, but feeling with the heart, being emotionaly moved, having a spiritual experience.  This isn't new, but seems to be a recurring issue for our fallen humanity.  Luther called such people schwarmers,  orenthusiasts.  The early church called them mystics, people trying to find God in their emotions.
None of that works.  None of that is in the bible.  After all how many people saw Jesus with their own two eyes and still didn't believe?  How many people went looking for God in all the wrong places, places often constructed by the people themselves?  Remember the high places in the Old Testament? Those were places with altars built to Yahweh, the God of Israel, because the people felt they could be closer to God on top of a mountain.  How many people today still look for God in all the wrong places? How many hope to see visions of Jesus?  How many people hope to feel God's presence out on a lake, or in the woods, or in nature?  How many try to construct their own means of bringing God to their hearts?  What is the thrust of much of today's post-modern Christian music?  Is it not to get the person to feel God's presence in their heart?  As one popular praise song puts it:
When the stress is on the rise in my heart I feel You say just
(chorus)
Breathe, just breathe
Come and rest at My feet
And be, just be
Chaos calls but all you really need
Is to just breathe.
By the way, the song never mentions God or Jesus, simply the implied Divine "You."  And all of this uncertain.  After all, how do you know "for sure." And none of that "feeling" for God actually deals with sin or death.  What will you know for sure, what will you believe when you feel guilty or ashamed?  What will you know for sure, what will you believe when you feel death's cold breath sweeping over your flesh?  You won't know God's heart toward you and you will feel scared of what comes next.
Jesus Calls His Children
The gospel tells us that "these things are written that you may believe that Jesus is the Christ and by believing have eternal life in His Name."  So the disciples are still out on the lake feeling exhausted from a long night fishing and coming up empty handed, no catch, no fish, no rewards to their labors.  This is a picture of our fallen humanity.  Jesus seems distant, and all our works avail nothing.
So what is it that changes everything for this disciples in our text? What is it that changes everything for us?  It's Jesus third appearance after Easter!  Jesus is there on the sea shore and we're out on the boat.  We can't see Him to know Him, but He sees us, He knows us.  He sees you  He knows you.  Seeing them He calls to them.  Seeing you He calls to you.  What does He say over the waters?  What does He call you from the heavens?  He calls you His child.  "Children" he says, "do you have any food?"  He calls you His child and in doing so reveals to you His heart.  "Try the other side of the boat."  And these words aren't just good advice for these fishers, but they're meant to remind them and us of what Jesus has already done.  The disciples no doubt remembered the miraculous catch of fish.  We Christians are called to remember the wondrous deeds of the Lord, all of scripture, for we are search the scriptures believe that in them we find eternal life.  These scriptures testify to Jesus.  This is life "after Easter."  Life "after Easter is life remembering God's Word and works for us.
What Jesus says and what Jesus does are for us and for our salvation that we may believe that Jesus is the Christ and by believing have eternal life in His Name.  What has Jesus done that we should believe in Him and His Words?  Nothing less than surrendering His life into death on a cross and rising on the third day!  Through Jesus' death and resurrection the God who created us, the God who loves us, reconciles us unto Himself.  The Lord Himself works the wonders, does the deeds, deals with your sins and conquers your death, yours and your children's.  No one is left out, no one is outside of His saving reach, not you, not your children, not the adulterer, the murderer, the tax collector, prostitute, politician, autoworker, academic elite, not the rich or the poor, not the sick or the healthy, not the so called pious among us but all sinners.  The death and resurrection of Jesus is for sinners, that means me and that means you.
John Heard Jesus!  Peter Heard John!
The disciple whom Jesus loved knew it was Jesus on the sea shore because He heard Jesus' words.  He remembered the scriptures and shouted, "It is the Lord."  Peter heard John and having girded himself jumps into the water.  Maybe Peter thought He could walk on water, maybe he just wanted to get to the shore, either way, what happens in our text this morning is descriptive of our life after Easter.  We Christians are given to hear the Word of the Lord, to listen to and believe the apostolic Word and then plunge into the waters of our baptism.  That's where Jesus first called you His child.  That's where Jesus was present with His gracious words to give you His death and resurrection into your hearts.  That's where Jesus saves sinners like you and me today after Easter.
The scripture promises such things when it says, "he saved us, not because of works done by us in righteousness, but according to his own mercy, by the washing of regeneration and renewal of the Holy Spirit,6 whom he poured out on us richly through Jesus Christ our Savior, 7 so that being justified by his grace we might become heirs according to the hope of eternal life. (Tit 3:5-7 ESV)  Because Scripture promises it we are given not to see it or feel it but to believe it.  For after Easter the Lord is not with us as He was before Easter.   Today He is with us in the waters of our baptism, in the preaching of His Word, the giving of His body and blood under bread and wine, and through Holy ministry of reconciliation which comes to you through those specially called and ordained to do and give such heavenly treasures.  These are sure and certain because they have God's Word and promises. These you can trust. These you can hope in. These you can know "for sure."  Through these God ordained means of grace Jesus is present for you and your salvation.  Can these be seen?  Yes!  Can these be felt?  Yes!  Can these evoke emotional responses and spiritual experiences?  Yes! Yes!  And again Yes!  But seeing and feeling and experiencing are not the ground for such responses, they are not the foundation. We do not build our lives on our seeing, feeling, or experience.  We are built up by the Divine Word, as scripture says, "build upon the foundation of the apostles and prophets with Christ Jesus as the chief cornerstone!"
Every Sunday is a Third Time, Third Day appearance!
Beloved in the Lord, it is the Lord Himself does the work and speaks the words which transform us from sinner to saint, from His enemies to His friends, from sons of this world, to sons of God, from those destined to die in our sins, to those redeemed by the blood of the Lamb.  This is life "after Easter".  This is the way Jesus appears to His faithful.  Therefore we are not moderners, post-moderners, schwamerai, enthusiasts or mystics.  We are His dearly loved children, whose food is the Word of the Living God, whose inheritance is eternal life, whose salvation is secure in the Ark of His Church, whose destiny is sure and certain.  We are His Christians.  Every Sunday is the "third day."  And every Sunday Jesus appears in this place to gives us His gifts of mercy, life, and salvation.  Every day lived in Christ is a day lived "after Easter" and in the resurrection.  Therefore we do not fear, for faith chases away fear.  We do not doubt, for His Words remind us of His love.  We do not dare ask "who are you?" For we know, for sure, we know it is the Lord.  And so we sing, "Worthy is Christ, the Lamb who was slain, whose blood set us free to be people of God.  Power and riches and wisdom and strength and honor and blessing and glory are His. . . . This is the Feast of victory for our God for the Lamb who was slain has begun His reign.  Alleluia!  AMEN!  Christ is risen!  He is risen, indeed!  Alleluia!
The peace of God which surpasses all understanding keep your heart and mind through faith in Christ Jesus.  AMEN!