December 24, 2015 — Christmas Eve
Sermon Text — Luke 2:10-15
Audio —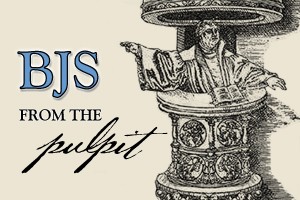 Fear Not!
In the Name of Jesus.  AMEN!
Beloved in the Lord,
Shepherds Keeping Watch
These shepherds weren't anyone special according to the world's definition of special. They didn't dress in fine cloths. They didn't frequent the hot spots of Jerusalem on the weekends. They weren't chic, or hip, or trendsetters in any way.  Nor were they pretending to be.  They weren't worried about their self-esteem. They didn't doubt their purpose in life.  They were simple keepers of sheep, watchers of the flock, defenders of animals too stupid to know the difference between a hill or a cliff.  In many ways they were a lot like parents . . . and like parents today these shepherds weren't much appreciated.  They were despised. They were poor.  They were unclean.  And they shared the same fears that you and I suffer.  They were afraid of failure  – of losing their sheep to lions or wolves, or gravity. And like all men, they were afraid of death.  Nevertheless these shepherds were keeping watch over their flocks by night. They were doing their job, keeping their vocation, working the work they had been given.
And suddenly everything changed.  The Angel of the Lord stood before them and the glory of the Lord shone round about them and they were sore afraid. Their fears turned to terror.  Doubt flooded their hearts.  The world they thought they knew expanded infinitely.  The glories of Heaven above descended to earth.  And they stood there, no doubt unable to move, frozen by the brilliance before them and all around them.  And the Angel said, "Fear not."  For behold!  I bring you good tidings of great joy which shall be to all people."
Fear, Regret, and Anxiety
Fear not!  Those were the first words of heaven spoken that first Christmas night.  These were just the right words spoken to a fearful humanity.  These are just the right words for you and me tonight.  For though we are separated from these shepherds in both time and space we are not separated by nature.  Like them we bear the burden of many fears.  Ever since Adam's fall in the garden humanity has been trying to bear a burden we were never created to shoulder.  And we have failed, we have failed miserably.  Such failure has furthered our fears and we go about our days, trying our best to keep watch over our littles by night and by day.
We work but we do so grudgingly.
We play, but our play has become a means only to alleviate our fears.
We worship, hoping to appease the one to whom we will someday give an account.
We long for a security that will last, a peace that passes all understanding, a rest from the weariness of hauling a burden we can't seem to fully grasp, nor bring ourselves to surrender.  Fear of the future and regret of the past causes anxiety today.  Today is all we have and all weigh heavy on our hearts.
We are a broken people, a hurting race, a sinful nation.
The good that we want to do we don't know how to do because what we really want to do is make up for the bad we have done.
The wrong we don't want to do is all that we do because we're too busy trying to fix what we've broken with our selfishness.  And so we wander about the cliffs afraid to fall further into the darkness of the night, afraid of failure in our vocations, afraid of losing loved ones, afraid of being lost in a chaotic world, afraid of dying, and worst of all afraid of heaven's descent.
Unto you is Born this Day
Thus the Angel's words from your Father in heaven are the words we fallen ones need the most.  Trembling with fear, stopped dead in our tracks because of our sins, God sends His messenger.  "Fear Not!  For unto you is born this day in the city of David a Savior who is Christ the Lord."  Heaven's descent is not for our judgment but quite the contrary. It is for our redemption.  One is born to take your place. One is born for you.  One is born who will neither fail nor lose.   The hopes and fears of all the years are met in Him this night!
Heaven has descended to save us.
Christ is born of Mary.
God has become flesh.  The creator of earth and heaven has Himself become one with humanity, one of us, one of you, One for you, One for All.
He is Christ and He is Lord, He is Messiah and He is God, and His Name is Jesus for He will save His people from their sins.
He will shoulder the burden of our sins.  He will suffer the shame of our guilt.  Upon Him will the chastisement of our peace fall.  Nails, spear, shall pierce Him through, the cross be borne for me and you.  And all of this is for you, this message of God's Son is for you, for all who fear the future, regret the past and are anxious about today, for all who are wearied with their sins and desire rest from this earthly chaos.
He is not born in a palace surrounded by kings' men.  He is not born in Jerusalem attended to by priests.  He is not born in Rome with armies pledge to do His every command.  There are no trumpets to announce His advent. He is no celebrity, no earthly conqueror, no worldly king.  No!  He is the Savior of every man, woman, and child, the One who has come for the poor, the sick, the crippled, the weary, the grieving, the sorrowful, the regretful, the anxious, the hurting, the immoral, the sinner.  He is one who has come for the likes of us, in the likeness of us though He is without sin that His taking of our sin would be enough to pay for it.  His birth for you and me suddenly changes everything in heaven and on earth.
Listen to a Gift
Hear these words beloved!  Mark them in your hearts.  Turn not a deaf ear.  Harden not your heart.  These words are heavenly words.  These words are for you.  Hear them as though the Angel were speaking to you.  Hear them as though you were amongst those shepherds so long ago, for surely you are one them.  Indeed you share their station, truly you bear their nature.  What was spoken to them is spoken to you this night.  Your heavenly Father has gifted you with a child, a Son, a Savior who is Chris the Lord.  He has sent His heart into the flesh to live and die in your stead, to suffer in your place and rise on the third day that all who believe on His Name receive the forgiveness of sins, eternal life and salvation.
He requires nothing from you but rather He gives everything for you.  Bring not your best but your worst; your fears, your failures, your sin.  These are what He's come to take away, to pay for, to rid you of.  Cast them in confession before His throne.  Surrender the burden that weighs you down and let Him grasp it, let Him bear it, let Him deal with your sin as only the Son of God is able.  Fear not this child.    Do not hide from Him but draw near to Him.  Do not ignore Him but seek first the Kingdom of God and all other things will be added unto you.
You will Find the Babe
Let not your seeking be in vain. Do not wander about the countryside hoping to "find Jesus" as though He were lost and you were not.  But go unto Him and find Him where He's promised to be.  He is not hidden away is some mysterious location.  He has not established His throne high and inaccessible.  No!  Hear the Angel once more.  "You will find the babe wrapped in swaddling cloths and lying in a manger."  He's not even in His mother's arms.  You needn't go through Mary to come before this Child!  No, beloved, He is placed in a manger, in a feeding trough, in a most unlikely place, a place where all have access, a place where He's promised to be, a place where brute beasts can worship their creator, and sinful mortals can bend the knee before the humility of their new born King.  Yes, beloved, make haste and worship the One born for you!  Heaven itself is bursting with Angelic Choirs as this Word is proclaimed to you.  Why should you stop and stay in your misery.  Draw near to Jesus, Christ the Lord, who is born this day for you.  Approach His throne in  humility and ponder the depths of God's love made flesh.
Here, in His Church, you will find Him.  Here, in this place, His Word is proclaimed.  From this font He washes away sins.  From this altar He feeds His flock with the bread of life, and from this pulpit His rod and staff are given to comfort you and lead you through the valley of the shadow of death.  You have nothing to fear.  Therefore, fear not!  Drop your security blankets and trust in the Lord!   Let go of your passions and follow the One who leads through death and the grave into the green pastures of the heavenly Eden.  His Word will teach you what is good, right, and salutary.  His Word will ease your conscience, still your hearts, fill you with faith, hope and love. And the greatest of these is Love, love for God who dwells in your midst and love for your neighbor to whom you are sent.
Beloved in the Lord, behold these poor shepherds!  Though they have every reason to fear, as do all the sons and daughters of Adam, they are blessed with the message of Christmas. So too are you.  Let us all go with haste and see this thing which has come to pass.  Let us all adore the Child born of Mary, the Son of God, Jesus, the savior of sinners.  AMEN!
The peace of God which surpasses all understanding keep your heart and mind through faith in Christ Jesus.  AMEN!