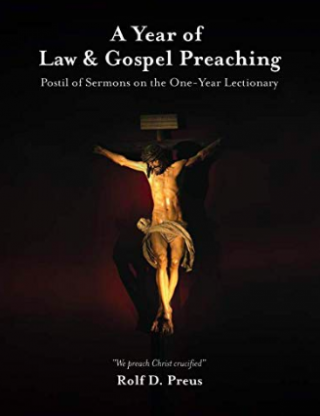 We just released our new Lenten Devotion, which will be available soon for print, but this just went through as well.
The Lutheran Church has long had the tradition of publishing books of sermons for the church year from its well known orthodox preachers.  Rev. Rolf Preus has long been one of the two contemporary preachers that I use in sermon preparation.  His sermons are practical and incredibly doctrinal, with Law and Gospel sounding out throughout each page.  His sermons are pure gold.
Since this is the case, some of our wonderful volunteers put in a ton of work and gathered sermons for each Sunday of the Church Year from Rev. Preus.  Rev. Andrew Packer and Mr. T.R. Halvorson, in particular, have put in a lot of work on this project reading, selecting, and editing.  They deserve our thanks.  Also, thank you to Mrs. Kris Brown for helping with the layout and Mrs. Laura Richert for editing this volume.
So here it is:
A Year of Law & Gospel Preaching: Postil of Sermons on the One-Year Lectionary by Rev. Rolf Preus