"The Lord's Prayer in the Lord's Passion" is the theme of the Lenten devotion that Steadfast Lutherans has put together this year. The following sermon addresses the Fifth Petition of the Lord's Prayer. For further reflection, read The Large Catechism, III. 85-98 (The Fifth Petition of the Lord's Prayer) and V. 75-78 (The Sacrament of the Altar).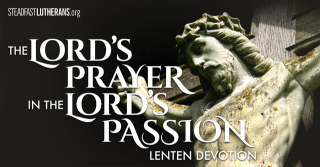 Grace to you and peace from God our Father and the Lord Jesus Christ.
Last week Jesus taught us to pray, "Give us this day our daily bread." Jesus has put the words "this day" in the Lord's Prayer, meaning that Jesus intends for us to pray this prayer daily. And that means we daily find ourselves praying the Fifth Petition, "And forgive us our trespasses." Jesus teaches us by this petition that we daily sin, which is something we would not come to know by ourselves.
One of the unfortunate symptoms of our corrupt nature is that it doesn't even feel its corruption. Without the Word of God, we might come to the end of the day without even suspecting we had done anything wrong that day. Under such circumstances, our flesh becomes a proud flesh, which exalts itself and looks down on others, a flesh which is not gracious to anyone because it supposes it has no need of grace itself.
And to cure us of this delusion, Jesus has taught us the Fifth Petition. Luther writes concerning this petition in the Large Catechism, "This should serve God's purpose to break our pride and keep us humble." Jesus puts the plea for forgiveness in our mouths every day so that we have a proper view of ourselves.
And Jesus doesn't do this because he wants us to despair. He does it for our own good so that we recognize our need for him. Without an awareness of our sins, we would recognize no need of a Savior. Yet our ignorance of sin does not excuse sin. Ignorance of sin only leads to pride in ourselves, which simply and catastrophically means that our faith is misplaced, we have the wrong god, and we will suffer eternal destruction.
And therefore throughout the Old and New Testaments, the Lord makes us to know ourselves. In Ecclesiastes 7:20, "Surely there is not a righteous man on earth who does what is good and never sins." In 1 John 1:8, "If we say we have no sin, we deceive ourselves, and the truth is not in us." In Romans 3, "None is righteous, no, not one… All have turned aside; together they have become worthless; no one does good, not even one." And a little later, "all have sinned and lack the glory of God" (Rom. 3:23).
Thus, even if we don't feel our sins, we at least believe what God's Word tells us and we pray the Fifth Petition anyway, acknowledging that we are so wretched that we don't even know all our sins. David does this very thing in Psalm 19:12 when he prays, "Who can discern his errors? Declare me innocent from hidden faults." And by praying the Fifth Petition daily, even when we don't see the need for it, we come to see the need for it, because Jesus saw the need for it and taught us to pray it. And he does not deceive or mislead us.
Therefore, this petition teaches us that we daily sin much and surely deserve nothing but punishment. Yet this is not Jesus' main purpose in the Fifth Petition. Rather, his main purpose in teaching us to pray "forgive us our trespasses" is that our trespasses be forgiven.
Our trespasses are forgiven for Jesus' sake, which becomes clear enough when we consider that this is rightly called the Lord's Prayer, and we say our Father because we pray all of these petitions with Jesus to his Father. Now it's easy to picture Jesus praying that God's name would be hallowed, his kingdom come, his will be done. It's easy to picture Jesus asking for daily bread, and protection in temptation, and deliverance from evil. It's not so easy to picture Jesus praying, "And forgive us our trespasses." Yet the "our" of "our trespasses" is the same "our" as "our Father." Certainly, Jesus is included in the "our" of "our Father," seeing that without him no one could call God Father. And Jesus is just as much included in the "our" of "our trespasses."
But how can that be? Let me be clear: Jesus has not committed any trespasses of his own. It says in 1 Peter 2:22, "He committed no sin, neither was deceit found in his mouth." Yet Jesus is "the Lamb of God who takes away the sin of the world" (Jn. 1:29). He certainly has trespasses for which he prays "forgive us our trespasses," it's just that we committed the trespasses and he's the one who in his grace bears them for us.
Thus, as we said in the Small Catechism, "we are neither worthy of the things for which we pray, nor have we deserved them, but we ask that he would give them all to us by grace." In other words, we don't pray the Fifth Petition (or any petition) as though we're worthy of our Heavenly Father's attention. Rather, we pray the Fifth Petition, and every petition, because Jesus is worthy that the Father should hear him. The Father grants the forgiveness of trespasses because Jesus asked for it, and in his death he got it, and in his mercy, he gives us to pray his prayer and receive the forgiveness of our trespasses.
We can summarize what we've heard so far by considering the thief on the cross. He recognized that he was a sinner, he recognized that he was receiving the death he deserved. Yet at the same time, the thief recognized that Jesus' suffering, which seemed out of place, was the suffering that forgave his trespasses. Therefore he is not presumptuous toward Jesus, as was the other thief, but instead casts himself on Jesus' mercy and innocent suffering, and prays in light of that mercy and innocent suffering, "Jesus, remember me when you come into your kingdom." And Jesus' answer to the thief gives you the bold confidence to pray the Fifth Petition, "Truly, I say to you, today you will be with me in Paradise."
Finally, we come to the little appendix to the Fifth Petition, "As we forgive those who trespass against us." Much could be said about these words, and we have the yearly opportunity to reflect on them when we hear the Parable of the Unmerciful Servant from Matthew 18. What I would like to emphasize tonight is that our forgiveness toward others is not the basis of God's forgiveness toward us. Rather, when we forgive the trespasses of others, it is only because God has forgiven our trespasses.
When Jesus reveals our true nature and humbles us and then graciously forgives our sins, we no longer think of ourselves as better than others, and we no longer desire the destruction of others. Having been crucified with Christ (cf. Gal. 2:20), we pray his prayer from the cross, "Father, forgive them." If after praying the Fifth Petition you feel that you cannot forgive your brother's trespass, you should not count yourself as lost but should trust not only that your sins are forgiven but your brother's are, too. Then, ask for grace to forgive—as your sins have been forgiven—and our Father in heaven will grant this just as assuredly as he forgives your trespasses (and your brother's!) for the sake of Christ, to whom be glory forever. Amen.