This is part three of a series of twelve newsletter articles written by Rev. Neil L. Carlson for the 500th anniversary of the Reformation. Rev. Carlson is pastor of Trinity Lutheran Church and Zion Lutheran Church in Sidney and Chappell, Nebraska.
Almost as well known in The Reformation as Luther's 95 Theses is the Augsburg Confession. It was presented to Emperor Charles V in 1530 by 14 princes who believed in the doctrines taught by the Reformation Churches (i.e. the Lutherans).  In the Augsburg Confession Philip Melanchthon wrote, "It is also taught among us that we cannot obtain forgiveness of sin and righteousness before God by our own merits, works, or satisfactions, but that we receive forgiveness of sin and become righteous before God by grace, for Christ's sake, through faith, when we believe that Christ suffered for us and that for his sake our sin is forgiven and righteousness and eternal life are given to us. For God will regard and reckon this faith as righteousness, as Paul says in Romans 3:21-26 and 4:5."[1]
It is beyond belief to learn that five years later, in 1535, in the midst of The Reformation, Melanchthon taught, "good works are the causa sine qua non (not without some cause) and are necessary to salvation, ad vitam aeternam, ad salute (for eternal life and for salvation)."[2] He taught good works are necessary to salvation and must follow one's conversion to faith and that without works, there is no salvation.  It is true that good works follow justification, but works are not the cause of justification or salvation. They are a result of, but do not contribute to one's justification.
Casper Cruciger had dictated this teaching from Melanchthon and immediately met opposition from Cordatus, who contacted Luther about it. Luther stated that this is the teaching of Erasmus and couldn't be more opposed to Lutheran doctrine.[3] Cruciger was forced to retract his dictation. Luther would later take up the issue with Melanchthon in private, but Luther was never able to fully convince Melanchthon of his error, as seen in the Interim.  "In 1548 Melanchthon with Cruciger, John Pfeffinger, Daniel Gresser, George Major, and John Forster agreed to the statement: "For the proposition is certainly true that no one can be saved without love and good works. Yet we are not justified by love and good works, but by grace for Christ's sake."[4] Melanchthon learned to let this doctrine sit and not to promote it, but George Major wasn't as wise and championed this teaching with zeal and vigor. Major retracted the word, "sola (alone)" in the Interim from the phrase "sola fide justificamur (faith alone justifies)."
This may appall us and cause us to think it is returning to the teaching of Rome, but it is slightly different. Rome teaches good works merit the remission of sins along with faith in Christ. Major was teaching good works merit nothing, but must be present for one to be justified. The Majorists were partway between Rome and the Lutherans who confess, "It is also taught among us that such faith should produce good fruits and good works and that we must do all such good works as God has commanded, but we should do them for God's sake and not place our trust in them as if thereby to merit favor before God. For we receive forgiveness of sin and righteousness through faith in Christ, as Christ himself says, 'So you also, when you have done all that is commanded you, say, "We are unworthy servants"' (Luke 17:10).  The Fathers also teach thus, for Ambrose says, 'It is ordained of God that whoever believes in Christ shall be saved, and he shall have forgiveness of sins, not through works but through faith alone, without merit.'"[5]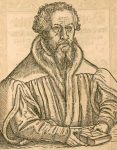 Under severe pressure from the Genesio-Lutherans, Major revised his doctrine to say, "Good works are necessary to salvation, not in order to obtain but to retain salvation."[6] Sadly this brought him closer to Rome who teaches Christ forgives all sins committed before salvation, including original sin, but penance must be done for all sins committed after baptism.
This mentality has made its way into American Christianity through the Holiness Movement. This teaching says that since Christ has forgiven us, we are able to work our way to perfection in this life.  It isn't the same teaching, but akin to Major's teaching. The idea remains the same–that one is able to know one is saved because of the works one has done as a Christian instead of trusting in Christ for salvation. They both end up trusting in works and not Christ. This robs the Christian of the assurance of salvation, causing one to always question if they have done enough. This doctrine is seen in preaching that encourages Christian-living and teaches how to be a good follower of Christ. It never absolves sin or speaks of Christ dying to forgive sin, unless the crucifixion is used to guilt one into a holier life.
This issue is taken up in Article IV of the Formula of Concord which states both teachings and says, "A controversy concerning good works has likewise arisen among the theologians of the Augsburg Confession. One party employed such words and formulas as 'Good works are necessary to salvation,' and 'It is impossible to be saved without good works,' and 'No one has been saved without good works,' since good works are required of true believers as fruits of faith and since faith without love is dead, although such love is not a cause of salvation.
"The other party contended on the contrary that good works are indeed necessary—not for salvation, however, but for other reasons. They held that therefore the preceding propositions and formulas are contrary to the form of sound doctrine and words which have been used by the papists, now as well as formerly, to oppose that article of our Christian faith in which we confess that faith alone justifies and saves. Hence, they held, these propositions should not be tolerated in the church, lest the merit of Christ, our Redeemer, be diminished and in order to retain for believers the firm and certain promise of salvation."[7]
One finds it absurd to find the doctrine of works being taught in Lutheran Churches during The Reformation, but sadly it was the case. We must be discerning and judge all teachings, not just rubber stamp them all as "Lutheran" because a teacher said they are. Hold fast to the teaching of "faith alone" because this teaching was the cause of The Reformation, and it is the doctrine upon which the Church stands or falls.
—–
[1]Tappert, Theodore G.: The Book of Concord: The Confessions of the Evangelical Lutheran Church. Philadelphia: Fortress Press, 2000, c1959, S. 30
[2] Bente, F. Historical Introductions to the Lutheran Confessions. St. Louis: Concordia Publishing House, 2005, 263.
[3] Bente, 265.
[4] Bente, 267.
[5]Tappert, Theodore G.: The Book of Concord: The Confessions of the Evangelical Lutheran Church. Philadelphia: Fortress Press, 2000, c1959, S. 31
[6] Bente, 272.
[7]Tappert, 551.