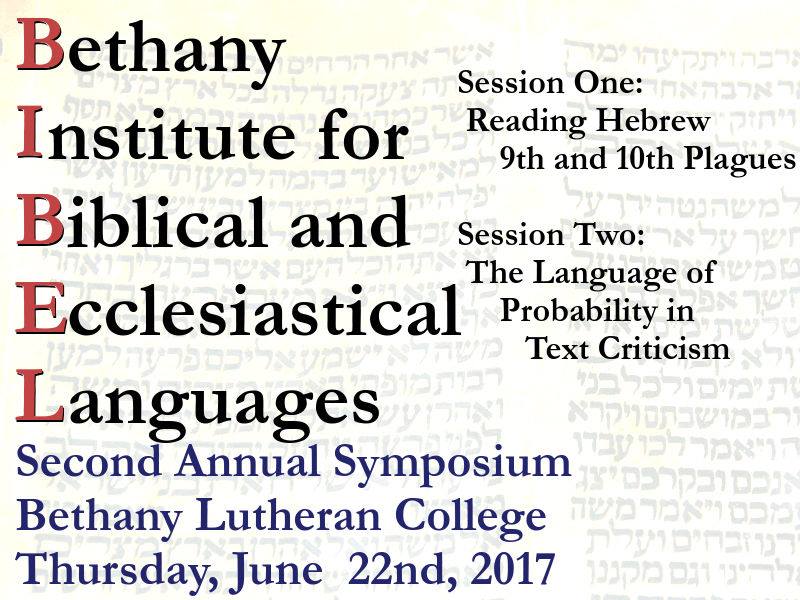 BIBEL (Bethany Institute for Biblical & Ecclesiastical Languages) will have the 2nd Annual BIBEL Symposium at Bethany Lutheran College on Thursday, June 22nd. Major presentations by Pastor Joe Abrahamson: Hebrew Readings in Exodus, and "The Language of Probability and Biblical Text Criticism." Pastor Thomas Rank will give a brief presentation giving more details about BIBEL, the rationale, and goals for BIBEL, Inc..
The Symposium is scheduled from 8:30am to 11am on Thursday, June 22 after the Evangelical Lutheran Synod (ELS) Convention. If the Convention needs to meet Thursday morning we will postpone until the afternoon. We will know which time-slot by Wednesday afternoon.
The Symposium is open to all and free of charge.
The first session "Hebrew Readings in Exodus: The 9th and 10th Plagues" is designed to help improve fluidity and fluency in reading Hebrew. It is not an exegetical presentation. Those who don't have a background in Hebrew can attend, but it is designed for those who have had a reading level course previously.
The second session is a presentation  "The Language of Probability and Biblical Text Criticism" will focus on how Biblical Textual Criticism uses the terminology of probability. The presentation examines the historical origin of this way of speaking, its relationship to legal and scientific use of the terms, and examines some of the historical-theological frameworks in which this terminology is used.
The Bethany Institute for Biblical and Ecclesiastical Languages can be found on Facebook by following this link. https://www.facebook.com/BethanyIBEL/