October 2, 2016 – Proper 22
Sermon Text — Luke 17:1-10
Sermon Audio —
Grace, mercy, and peace be unto you from God our Father and our Lord and Savior, Jesus Christ.  AMEN!  Our text for this morning's sermon is taken from St. Luke's gospel account the 17th chapter.
Beloved in the Lord,
Scandals are sure to Come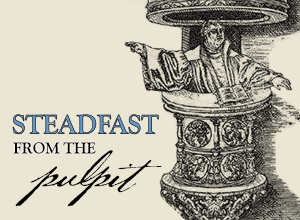 It's not temptation to sin that Jesus is speaking about in our text but scandals, stumbling blocks, obstacles to salvation.  These scandals are sure to come not because we Christians live in the world, for the world will do what it's always done.  Scandals are sure to come because we live in the church.  Such scandals are not so much scandals of morality but scandals of doctrine.  For what disrupts faith and the faithful more than false doctrine?  False doctrine always leads to lawlessness, immorality, because false doctrine takes neither Jesus and His grace, nor humanity and our fallenness seriously.  To be sure, people can be very serious about false doctrine, but each and every false teaching diminishes the grace of God in Christ Jesus and therefore also wrongly ascribes strength and merit to the works of the flesh.
Both false doctrine and immorality are scandalous to the little ones, those young or immature in the faith, those weak and weary with the brokenness of this world, because our fallen nature has a misunderstanding of our life together in the church.  You see, Jesus is addressing His disciples and His apostles in our text.  Our life together in the church is one of both pastor and people, preacher and hearer, shepherd and sheep.  The church is not, as some might suppose, an institutionalized military of social justice warriors.  Christ's church is not some sort of spiritual A-Team with Pope or president playing Hannibal devising pious plans, programs or strategies to liberate the oppressed.  Nor is the Church a gathering of like-minded Mr. T's who simply pity the fool, the low, the destitute and seek to help and serve the poor.  We Christians should expect scandals to arise in the church because the Church is made up of sinners.
Rebuke and Forgive
Her mission, given her by Her Lord, is to deal with sin and its consequences in the life of the sinner, not with vengeance, penance, or purgatory, but with grace and mercy.  To deal with the scandals of sin both doctrinally and morally, the Church is to call a thing what it is.  In other words, do as Jesus says.  "When your brother sins against you rebuke him."  Sinners in the church will hear rebuke for their sins.  Part of our life together is calling out sin.  It's hard to deal with sin if it's not brought into the light God's Word.  God's Word judges sin.  Preachers preach God's Word against sin.  Hearers hear God's Word against sin. This is why we preach the Law of God because the Law of God brings sin, sin in us, sin in the world, to the light.  You should not stumble or be scandalized by hearing that you are a sinner and that you have particular sins, sins with names like "evil thoughts, murder, adultery, sexual immorality, theft, false witness, slander, etc. (Mat 15:19 ESV) because these sins come from the heart and so long as your heart is beating they are coming from your heart.
The scandal that often arises is how do we deal with these sins of ours?  False doctrine often ascribes humanity some sort of power, usually with the help of God – we wouldn't want to leave the Lord out of the equation, to make up for, cover over, or earn mercy for our sins.  Poor little ones are told they must offer God something, even if its some small thing to show God they deserve His love and mercy.  Rome does penance to make themselves holy.  Evangelicals offer praise to woo God's heart.  Baptists withhold baptism from infants and raise them to prove to God their faith by their "believer's baptism".  Charismatics are to do signs and wonders.  Even Lutherans over the years have been led to offer their piety, their love, their emotional responses.  All of these are scandals and all of these lead away from Christ.  None of these actually deal with sin because we sinners have neither the strength nor the power to deal with our sin the way God wants sin dealt with.  The wages of sin is death.  And there's not a single one of us who wants to die for our sins.  And truth be told, Jesus doesn't want us to die for our sin either.
The remedy for sin isn't programs or strategies or disciplines or penance, or any other work of ours.  The remedy for sin is forgiveness.  "When your brother sins against you rebuke him; and if he repents you shall forgive him."  The rebuke is to lead to repentance and repentance is met with mercy.  This is way our Lord deals with our sin.  He forgives.  This is the way we are to deal with those who sin against us.  We forgive.  Our life together, our life in Christ's church is to be marked by forgiveness.  Hatred seeks vengeance.  Love forgives.  They will know you are Christians by your love, in other words your mercy and forgiveness.  Sinners need mercy like a sick person needs medicine.  So long as we are sick we need the medicine.  So long as we are sinners we need forgiveness.
Increase our Faith
It's at this point that the apostles speak up.  "Lord, increase our faith."  It is faith that clings to the word and promises of Christ in the gospel.  For the gospel is the power of God unto salvation.  And Faith comes by hearing the message of Christ.  And without faith it is impossible to please God.  Such faith is not a work of your will but the work and gift of God the Holy Spirit within you through the Word.  Asking for more faith the apostles are asking for more of God's Word.  Therefore, to receive such faith Christ has instituted the predigampt, or preaching office, that is the Word and the sacraments.  Our life together is one of pastor and people, preacher and hearer, shepherd and sheep.  Through this office of Word and Sacrament sinners like you and me receive the forgiveness we need from the Lord's ordained preachers.  Through such preachers it is the Lord Himself, who delivers these heavenly gifts to hearts like yours, thereby redeeming you with His holy precious blood and His innocent suffering and death.  Through these gifts faith in Christ is created and then continually and passively receives these gifts regularly, daily even, as His baptized Christians.
Just as sin doesn't happen in a vacuum but involves the works of the body and the lust of the heart, so also forgiveness doesn't happen in a vacuum as though it were some super spiritual reality that must be grasped by heart apart from God's means.  No!  We who sin in body, heart, mind and soul, receive a heavenly forgiveness that is applied to our whole person.  Through water and the word the sins that mortally wound you are washed away and you are healed.  Through absolution the sins that daily plague you are remitted with the good news of Christ's death and resurrection.  And through the Blessed Supper, your whole person, body and soul, are given the medicine of immortality, even the very body and blood of the resurrected Christ for you.  Before you do anything, before faith is active toward your neighbor in works of love and mercy, you are first loved with the love of Christ in Word and Sacrament.  These are your life, health, and salvation apart from which there is no life, health or salvation.  Everything is dependent on the word and received by faith.  So when the apostles ask for more faith they are asking for more of God's promises.  When you are struggling in this broken and sinful world with your broken and sinful self you also are to look to and receive Christ's Word and promises.  Anything that distracts or gets in the way of this reception, no matter how pious and spiritual it may seem, is a scandal to faith.
Serve and Receive His Gifts
Scandals are sure to come.  That is our life together in the church. Both pastor and people are susceptible such things.  Such things often play on our desire to boost our self-esteem, inflate our pride, set us against one another and therefore also against the Christ who redeemed us.  Its for this reason Jesus tells the parable in our text.  Within Christ's church there is work to be done.  The parable speaks of plowing, shepherding, and waiting on tables. These are the tasks of the preaching office.  The Word is to be planted.  Sheep are to be shephered.  And the Sacrament is to be given out according to Christ's word and command.  Jesus reminds both pastor and people that faith even the size of a mustard seed is able to move mulberry trees to unlikely places.  For our faith is not an empty or idle faith, but faith latches on to Christ's Word and promises and is encouraged by the Word's fruit in the life of sinners and in the world.  It is unlikely that mulberry trees uprooted and planted can thrive in the sea.  So it is equally unlikely according to our reasoning that sinners planted in the Word and the Water of our baptism are able to thrive and bear fruit.  Nevertheless, by the power of God's Word we trust that it is so and therefore continue to do our duty as His church in this world.  The word is cast like seed.  Sheep are shepherded with the gospel.  And the Lord's table is prepared for the penitent.  We are unworthy servants and recipients and all is done to the glory of our master.  All is done to deal with our sin.
Doing our Duty in our Vocation
Therefore beloved, it is our duty as His Christians who share this life together, to rebuke scandals and to call out sin with God's Word.  It is our duty as pastor and people to do as we are commanded, trusting His Word and putting His Word to use in our hearts and our homes through our vocation.  Christ's church is refuge for sinners who daily sin much and are daily sinned against.
Here we gather around the feet of our Lord to receive from Him through His servants the remedy for sin and death.
Here, in this place we are forgiven that we also forgive others out there.
Here we receive life eternal, that we are "equipped with every good thing that we may do His Will, His life working in us that which is pleasing in His sight" (Hebrews 13:21).
Here the Light of the World shines brightly among us.
Here, the people living in darkness behold a great light.  And the darkness does not, in fact cannot overcome us who dwell in such light.  "For if we walk in the light as He is in the light, we have fellowship with one another and the blood of Jesus His Son cleanses us of all unrighteousness." (1 John 1:7)
Here, our God deals with our sin unites us in the bond of love for Him and one another.   AMEN!
The peace of God which surpasses all understanding keep your hearts and minds through faith in Christ Jesus.  AMEN!