Concentrating when you and your assigned seat have become one can be problematic. One more "Press 'one' for 'yes,' press 'two' for 'no' " and I'm gonna storm the dais. And I don't need another guy going to the microphone to point out a punctuation error. Fortunately, every now and again our gracious God provides a bit of levity for listless delegates. Here's a few of the lighter moments at the 66th Regular Convention of the LCMS.
Rev. Jaime Nava:
"…I believe this resolution is as good as a bag of bacon."
Rev. Scot Kerns, interrupting President Harrison as the orders of the day are being called:
"Point of order, Mr. Chairman. You skipped me, and I was going to call the previous question."
President Harrison:
"Hey, you either have a very bright or a very dark future in the Synod."
Rev. Nabil Nour's response to someone hollering "Point of order":
"What violation have I committed now?"
Packers or Vikings?
President Harrison to Pastor David Kuhfal, who hustled up to the microphone to call the question before the orders of the day were called on Floor Committee 16:
"The question's been called. That is in order although it's rude."
Rev. Herb Mueller, responding to a motion that all Floor Committee 12 business be completed by the end of the day, which is only funny if you have a dry sense of humor:
"The Chair would point out that the Bylaws require delegates to attend all sessions to the end of the convention."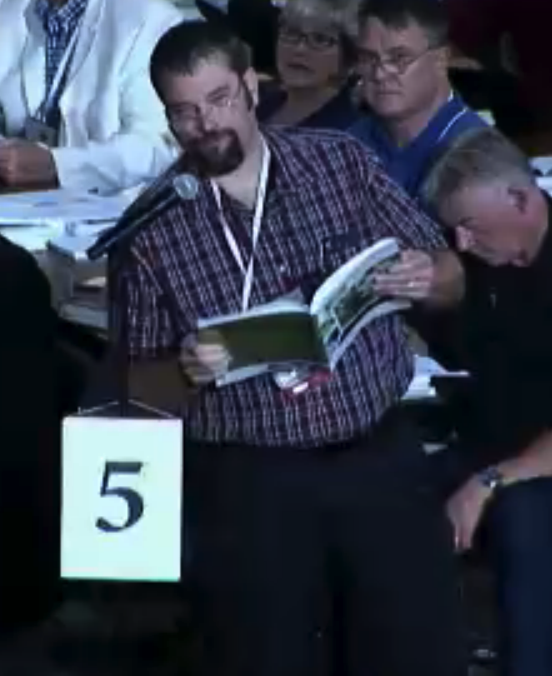 My friend Rev. Dan Freeman, who said this to me in an email at the beginning of the convention:
"I promised myself, I wasn't going to go to a microphone, EVER, during this convention…."
He spoke twice, (that I saw). Thanks to confessional Lutheran pastors who stand on the truth.
The great 'stache debate of 2016: District President Forke's mustache was voted best in the LCMS, beating out President Harrison's more widely recognized mustache. Harrison took his defeat graciously, although not without mentioning the Luther quote "Councils can err." Some delegates were dissatisfied that floor nominations were not permitted. I suspect this festering dispute will not be resolved soon. Stay tuned for further developments.
The dialogue between Rev. Mark Preus and District President John Wille during the discussion of Resolution 12-07A, "To Clarify Definition of Dissent":
Rev. Preus:
"…What about like um, you know, so, blogs that take a more, I don't know, I'm just really conservative. I'm kind of worried about this."
President Wille: "What's your last name?"
Rev. Preus: "You are racist against Norwegians. This is very clear."