How did the Christian faith come from my grandparents to my grandchildren?
It came by mission, but not by missionalism.
If this mission were given a slogan, it would be, "Start true to reach true." Truth was the first thing. Then mission followed.
Instead of "Start new to reach new," instead of "sacramental entrepreneurs," instead of the "sacramental nature of music," instead of other rehashes of Emergent Church, Church Growth Movement, and other forms of the ism about mission – missionalism – this mission used (1) Biblical truth summarized in the Catechism and (2) the vocations of parent and pastor.
Sometimes people in my family had to be sat down and told to do their mission, like the time when Pastor Theodore Aaberg visited my grandfather on the farm and put it to him about the head of the house catechizing children in the home.
My grandfather Knut homesteaded in 1905 a few miles outside Wildrose, North Dakota along the leading edge of homesteading and at the end of the railroad. A couple miles south of his homestead was a spot of virgin prairie on which Stordahl Lutheran Church would be built. Norwegian Lutheran Home Missionary Pastor Stenner Svenungson had visited a small gathering in the home of C. J. Helle on May 29, 1904 to organize a congregation. It had 16 charter members and 32 members by the end of the year. Pastor Svenungson was followed by Norwegian Lutheran Home Missionary Pastors I. J. Bookenberg (1905-10), Alfred Hendrickson (1910-1911), Gustav Hegg (1911-22).
In 1906, the congregation launched a building fund. These homesteaders as yet had only homestead shacks, meager machinery, and little if any cash crops. The building campaign had many lulls and restarts. The congregation held services in homes and school houses. In 1914 they erected the building, costing about $2,000. Next were a fence and barn, an addition used as the Sacristy, and a basement for a furnace. The cost reached $3,900.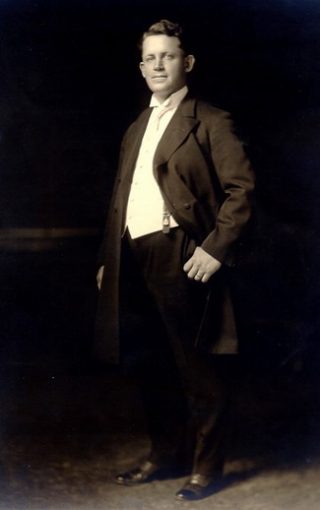 Stordahl was part of the Wildrose Parish, whose four points during those years were Wildrose, Cottonwood Lake (near Alamo), Skabo (near Corinth), and Stordahl. As the horse rides, that's a span of about 17 miles.
My father, Oscar Henry Halvorson, was born on June 24, 1918 and baptized by Pastor Hegg on August 18, 1918. When he was about 4, Rev. Theodore Aaberg became Stordahl's Pastor until 1940. He was my father's confirmation Pastor on July 9, 1933.
Dad described Pastor Aaberg as working himself into the ground. Given the 4 points of the parish and the weather, I am sure all of the Pastors had. Pastor Hegg's granddaughter, Luci Baker Johnson, sent me the following description of Pastor Aaberg from Fiftieth Anniversary – Stordahl Lutheran Church, 1904-1954 (July 4, 1954):
We will all remember Aaberg as a man that was very faithful, and one who always had a way when the going was tough. When weather and roads in the winter were such that travel was too rough for horses or car he would grab a pair of skis and start out across country. He found it to be very rough in many ways. He served the Wildrose Parish during the '30s when everything looked very much like a desert.
Besides work at the four points, Dad told of Pastor Aaberg's home visitations. This too all of the Pastors probably did, which is a subject I am researching. Dad was of age to witness and remember Pastor Aaberg's visits.
Pastor Aaberg was heartily encouraging to the Gramma Rebecca and the children, but he was on a particular mission. He came with something to say to the head of the house.
Pastor Aaberg put it to Knut that he was responsible for the procreation of his children, that they were in hazard of hell should they fall away from the faith, that they were promised heaven if they remained in the faith, and so Knut would be "no kind of guy" if he did not take responsibility for his children's catechization.
Pastor Aaberg handed Grampa the Catechism. He told Grampa that he did not have to believe it himself and did not even have to understand it. Pastor Aaberg told Grampa that if he would simply read it aloud, by the authority of parents that God built into creation, the influence on his children would be tremendous. Pastor Aaberg said this was so simple that there could be no explanation for failing to do it.
Dad described Grampa as suffering from a hangover of medievalism – pious doubt. He knew that we are sinners, we need a savior, and Jesus is the savior. But as to his own salvation, he seemed to think one had to wait and see. It would be impious, a form of vanity, for him to say he was saved. This false piety applied only to oneself. It did not mean he didn't want his children to be sure.
Despite this kind of doubt, Grampa was impressed by the industry, suffering, endurance, and straightforwardness of the Norwegian Lutheran Home Missionary Pastors. He respected Pastor Aaberg's blunt demand, despite not generally being receptive to being told what to do. Obviously the Pastors were convinced themselves of the truth of the Gospel and the value of the Catechism. He counted himself fortunate that on the frontier prairie, he had a Pastor who seemed to "have it," a Pastor from whom his children stood a chance of "getting it," even if he himself never did.
So Grampa did what he was told. It was many years before my Dad realized that Grampa suffered from pious doubt. By that time, however, my father already believed the Gospel with assurance of his own salvation because of that Catechism and hearing it read by his father. His father's reading made the Catechism important and not just something the Pastor talks about because that's his job.
Consequently, my Dad also obeyed. My Mom and the church also were involved, of course, just as Gramma and Stordahl were for Dad. They played large supporting roles. But the line of the faith to me comes straight from that horse riding, snow skiing Pastor through Grampa to Dad, to me, embodied in the Catechism, used in the home.
Having had that example and Dad's explanation of why he was doing it, I imitated, and now my sons and their wives catechize their children. All of Marilyn's and my grandchildren are baptized into the faith and are being catechized by their parents in the home. The oldest ones being only a pre-schooler and two first graders, they can recite pieces from the Catechism and the liturgy. They might wander, but they always will know where home is.
The faith did not come to my family from big name evangelistic movements with logos, slogans, borrowed and rehashed non-Lutheran measures, bait and switch evangelism, entrepreneurship, impressive worship leaders, or consumer culture contextualization. Home is context enough. Parental influence is impressive enough. The Catechism is measure enough. More could be added, but this much must not be taken away.
This is mission. Start true to reach true.
I hear it said, "Times have changed. The old methods don't work anymore." The Catechism was published in 1529. Since then, times have changed often. Yet from 1905 until today, and for five generations of my family, use of the Catechism in the home has worked. The changed-times theory is overrated.
With changing times:
Has the Catechism ceased to be a true exposition of the Word?
Has influence of parents vanished from creation?
Have the parts of the Catechism ceased to be the six chief parts of Christian doctrine?
Has the Spirit of Truth ceased to commend truth to hearts when ears hear it?
Pastors, put horse hooves and snow skis to, "As the head of the family should teach in a simple way in the home." Activate the No-Name Evangelistic Association of all the nameless, uncelebrated, and unsung fathers, mothers, and other heads of families who love their children with the truth, and can meet them again with Christ in heaven.
Fathers, mothers, and other heads of families, if your pastor is neglectful of this, you do not have to wait for him. Read the Catechism to your children. You are God's first evangelist of the Gospel to your own children. Enter the mission.