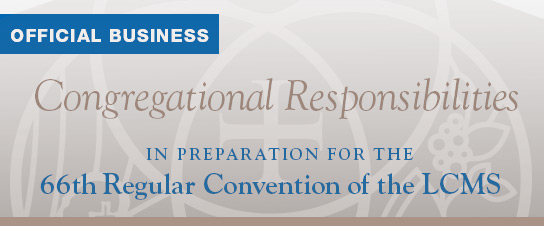 Convention 2016: Submitting official nominating ballots by February 9
By now your congregation should have received your official nominating ballots for the 2016 Convention. Your congregation should meet to discuss and determine nominations, and the official nominating ballots need to be completed, signed, and submitted by February 9. These are the ballots to use in order to nominate for these offices:
* President
* First Vice-President
* Regional Vice-President
* Regional members of the Board for National Mission
* Regional members of the Board for International Mission
Also, for congregations in the East-Southeast, Great Lakes or Great Plains regions:
* Regional lay member of the Synod's Board of Directors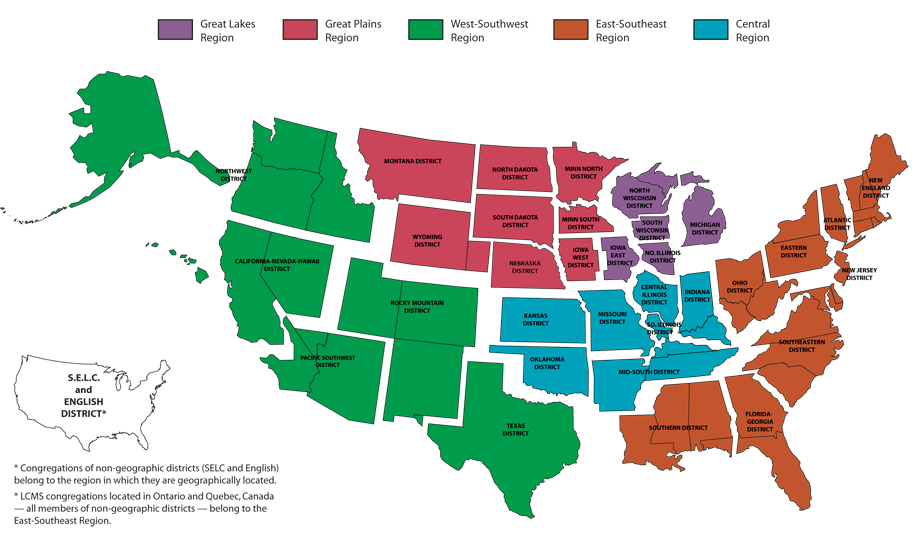 For more information on the nominating process, see the LCMS Convention page:
It's Time … for 2016 Convention Nominating Ballots
2016 Nominations and Elections
To help congregations come up with names for nomination, an unofficial group called The United List generally offers good recommendations for these positions. You can find those recommendations here:
The United List for 2016 Congregational Nominations
UNITED LIST FOR CONGREGATIONAL NOMINATIONS in 2016
KEY: *= Incumbent; ( ) = District; Rev.= pastor or other ordained minister; Tchr.= teacher or other commissioned minister; Dcs.= deaconess; Dr.= earned Ph.D., M.D., etc.; Atty.= attorney or judge.
PRESIDENT – enter both candidates on ballot
Rev. Matthew Harrison*, Ballwin, MO (MO)
Rev. Herb Mueller, Jr. , Waterloo, IL (MO)
FIRST VICE-PRESIDENT – enter both candidates on ballot
Rev. Herb Mueller, Jr*, Waterloo, IL (MO)
Rev. Scott Murray, Houston, TX (TX)
VICE-PRESIDENTS TWO TO SIX
Great Lakes: Rev. John Wohlrabe*, Saint Francis, WI (SW)
Great Plains: Rev. Nabil Nour*, Sioux Falls, SD (SD)
West-Southwest: Rev. Scott Murray*, Houston, TX (TX)
East-Southeast: Rev. Christopher Esget*, Alexandria, VA (SE)
Central: Rev. Daniel Preus*, Saint Louis, MO (MO)
LCMS BOARD OF DIRECTORS
Lay-Great-Lakes: Atty. James W. Carter*, Arlington Heights, IL (NI)
Lay-Great-Plains: Atty. Larry Harrington, Casper, WY (WY)
Lay-East-Southeast: Keith Frndak*, Saxonburg, PA (EA)
BOARD FOR NATIONAL MISSION
Ord/Com – Great Lakes: Rev. David C. Fleming, Grand Rapids, MI (MI)
Ord/Com – Great Plains: Rev. Steven C. Briel*, Corcoran, MN (MNS)
Ord/Com – West-Southwest: Rev. Alfonso Espinosa*, Lake Forest, CA (PSW)
Ord/Com – East-Southeast: Rev. Timothy J. Droegemueller*, Cumming, GA (FG)
Ord/Com – Central: Tchr. Martha J. Milas*, Champaign, IL (CI)
Lay – Great Lakes: Robert Knox, Geneva, IL (NI)
Lay – Great Plains: Carla M. Claussen*, New Brighton, MN (MNS)
Lay – West-Southwest: Carol Hack Broome, Santa Clara, CA (CNH)
Lay – East-Southeast: Julia Habrecht*, Alexandria, VA (SE)
Lay – Central: Dr. Gary Quick*, Edmond, OK (OK)
Lay – Central: Ernest E. Garbe*, Lincoln, IL (CI)
BOARD FOR INTERNATIONAL MISSION
Ord/Com – Great Lakes: Rev. David P. Stechholz, Livonia, MI (EN; cong. in MI district)
Ord/Com – Great Plains: Rev. Bernhard M. Seter*, Grafton, ND (ND)
Ord/Com – West-Southwest: Rev. Samuel Cosby, Houston, TX (TX)
Ord/Com – East-Southeast: Rev. Juan A. Gonzalez*, Lehigh Acres, FL (FG)
Ord/Com – Central: Rev. John F. Temple*, Saint Charles, MO (MO)
Lay – Great Lakes: Atty. K. Allan Voss*, Sheboygan, WI (SW)
Lay – Great Plains: Robert Van Gundy*, Saint Paul, MN (MNS)
Lay – West-Southwest: Terence Lung, Sunnyvale, CA (CNH)
Lay – East-Southeast: James Wolf, Presto, PA (EN; cong. in EA district)
Lay – Central: Dr. Kristine Bruss, Topeka, KS (KS)
There is also a handy PDF version of this list for printing. And you can check The United List Facebook page