June 7th, 2015 — Proper 5, Second Sunday after Pentecost
Sermon Text — Mark 3:20-35
Audio —
Grace, mercy and peace be unto you from God our Father and from our Lord and Savior, Jesus Christ.  AMEN!  Our text for this morning's (evening's) sermon is taken from St. Mark's gospel account the 3rd chapter.
Beloved in the Lord,
Jesus Enters the House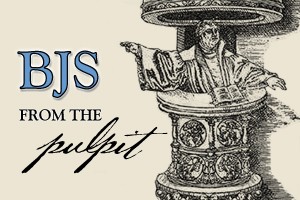 Our text this morning says that Jesus came to a house, not necessarily his house, but He came to house.  This house is like any other house.  This house is like our house.  And just like our house there's more to this house than just the walls and the roof, the windows and the door.  There's people in this house.  There's people in your house, people you love very much, people Jesus loves very much, that's why he comes to a House in the first place.  Your house is much bigger than just the walls and windows for your house includes your family, your friends, those called by your name and those whose names you've given.  Your house is full of memories, good ones and bad ones, life-changing events, good ones and bad ones.  Your house is full of time together and time away, times of joy and times of sorrow, times of healing and times of pain.  Your house is much like this house in our text, a very crowded house, a very full house.
A full house can be good – a sign of God's blessing and favor.  Or a full house can be bad – more like a prison.  The house in our text isn't necessarily good.  It is crowded and the text says they can't eat any bread.  It doesn't just say it's crowded and they can't eat.  It says they can't eat bread.  There is no communion in this house, no fellowship, no peace.  This house is more like our house than we wish to admit.  At first Jesus is no friend to this house.  "For those hearing Him went out to seize Him for they were saying that "He is out of His mind."  Others were saying that He casts out Beelzebub by the power of ruler of demons."  They think Jesus is possessed or an agent of the Old Evil Foe.  They accuse Him of working for the other side, their enemy.
Friend or Foe
And why shouldn't they think that.  Sin is all they know.  The works of a strong man is all they've experienced.  They know the enemy all too well and they do not know their deliver.  And some have actually grown fond of their bondage. We call it Stockholm syndrome today.  Luther called it the bondage of the will.  Jesus says that everyone who commits sin is a slave to sin.  This house that Jesus enters is full of slaves. For the strong man has bound and gagged the members of this house with sin, bound them with false word and gagged them with fear.  And who can forgive sin except God?  Jesus doesn't look like God.  He doesn't act the way everyone thinks He should act.   He's not bound and gagged.  He's free –surely he's one of the strong man's henchmen.  Surely He has a demon and casts out demons by the power of the ruler of demons.  Surely He is not our friend but foe for He can't be stronger than the strong man, can He?
This world, our world, sees Jesus as the enemy.  It does not recognize its deliver.  We often see Jesus as our friend, one who is with us, but is actually powerless to change things. We struggle to believe.   After all, Jesus doesn't do what we think He should do.  He doesn't act the way we think He should act.  Jesus is all about Words.  Words are His weapon of choice against the evil one and we don't really believe that words can rescue us.
How can words bring peace to my anxious heart, give me security in a chaotic world?
How can words mend broken friendships, reconcile enemies, take away the loneliness ?
How can words change my life, what I do and what I have done?
How can words change my heart, still my anger, give me joy?
How can words heal my marriage, comfort my wife, care for my children?
How can words undo what I have done?  Bind up the ones I have hurt?  In many cases it was words that caused the problem, words I shared or words I heard, words I acted upon, or even words I failed to speak.  Sticks and stones break bones.  Deeds get things done. What good are words?  Words are weak.  The strong man is too strong.
Stronger than the Strong Man
Indeed the strong man is too strong.  He is too strong for us, too strong for you.  But he's not too strong for Jesus.  True, Jesus doesn't do what we think He should do.  He doesn't act the way we think one who claims to be God should act.  Apart from His words there's little reason we should heed His call to follow Him.  Following Him often seems like it makes matters worse.  It's easier to go with the flow, to be tolerant of the strong man, even to side with him  and his works.  The strong man is all about works.  He's all about power.  Power is what we think we need.
But our thoughts are not God's thoughts. Our ways are not God's Ways.  His weakness is stronger than our strength, stronger than the strong man's works.  His folly is wiser than our wisdom, wiser than the strong man's deceit.  And in His eternal wisdom God sent His Son, the Logos, the Divine Word, to be born, to be flesh and blood just like you and me, born of a virgin, born free – without sin, to set the captives free.  To set the captives free and save all who believe, Jesus the Incarnate Word enters the house, our house, the house which has become a prison with an evil warden.  He enters without pomp or circumstance.  He enters quietly and peacefully.  He enters our world and sets a trap.  Death and devil see him as another sinner.  We might even see Him as our foe.  But He is the deliverer promised by God.  And His coming undoes the works of the devil.  Jesus plays the part of sinner though He is without sin.  He gathers with sinners not because He is one but because He loves all, because He loves you.
His incarnation sets the trap.  To snare the great serpent of the deep Jesus plays the part of a worm.  He is pierced on the cross. His flesh is the bait, and He allows Himself to be set on a hook.  Crucified, dead and buried Death swallows Him up.  On the third day the trap is sprung.
On Friday sin is drowned in blood.
On Sunday death's power is vanquished.
On Friday the demons mocked Him.
On Sunday they shriek in terror.
Friday the world did its worst.
Sunday God did His best!
Friday was the end of the old.
Sunday is the beginning of the new.
Friday the old evil foe pursued Him and seemingly overcame Him trapping Him in the belly of the earth.
Sunday, He walked out of the tomb on dry ground.
Friday fear reigned.
Sunday there is nothing but joy.
Friday brought death to God.
Sunday God destroyed death.
Rising from the dead Jesus destroys sin, death, and devil from the inside out.  The trap is sprung and the devil and all his works and all his ways is undone.  The world can't believe it.  The question is, do you?
Liberating the Captives
Every day since that third day is a new day because every day since that third day is the day of resurrection.  Every day is the day of the Lord's favor.  Through the weakness of suffering and the folly of the cross Jesus has bound the strong man.  The stronger man is among us and now He goes about plundering the strong man's goods.  Today is the day Jesus liberates the captives. Today is the day sin is forgiven. Today is the day of salvation.  It is the day the Lord has made.  We shall rejoice and be glad in it.  For today Jesus enters this house for you, for your house, your family, your friends, to wash away your sin, bind up your hearts, heal your relationships, feed your hungry souls, give drink to the thirsty and refresh the weary.  Today is the day Jesus loosens you for glory to love as you have been loved, to speak peace to one another and to bring calm and security to the anxious.  Today is the day your deliverer fulfills His promises.  He is with you as your friend and not among you as your foe.  He is not against you but for you.
To be for you and to be with you He gives you His Word.  His Word is unlike the words and works of the strong man.  His word is unlike the words and works of men.  His Word delivers His heart to your heart.  His Word accomplishes that for which it was sent out, namely to give you life, His life, new Life, eternal life.  Therefore He speaks gently with you, not to frighten you into submission, that is the way of the strong man, that is the way of terror.  No, beloved, He speaks gently with you, forgiving you your sins and encouraging you with His Holy Spirit.  He speaks tenderly to strengthen you and to set you high upon a rock, high above all this world's chaos, and firmly founded in the midst of this world's insecurities.
Mothers and brothers and sisters and Family
Beloved in the Lord, Jesus enters this house this morning and what does He find?  He finds sinners.  That's what I am. That's what you are.  Jesus loves sinners.  Jesus loves you.  He is a friend of sinners.  He even eats with sinners.   This house is never too crowded for one more sinner.  There's always room for you.  Here we gather to listen to His Words and be fed with the living bread from heaven.  We who believe and are baptized into Christ have been grafted into His family.  We are brothers and sisters in Christ and in Christ we share a holy meal, a meal filled with Christ, His body and His blood under bread and wine.  It is a meal of joy and gladness for through this meal Jesus is one with us and we become one with Him and one with one another.  He is united to us and we to Him and to one another.  We all partake of the same loaf and drink of the same cup.  We worship the same Christ and possess the same baptism.  We believe the same doctrine and confess the same divine truth.  We proclaim the Lord's death until He comes again.  This house will is full of joy.  This house is full of merriment.  This house of full of gladness.  This house is full of family because this house is full of Christ Jesus our Lord and our deliverer.  AMEN!
The peace of God which surpasses all understanding keep your heart and mind through faith in Christ Jesus.  AMEN!