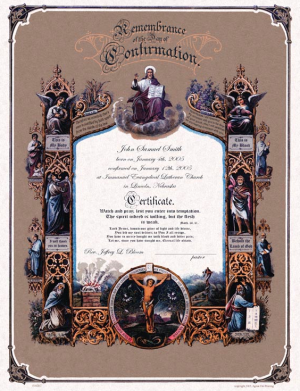 I just finished signing about 30 of the most beautiful and meaningful confirmation certificates I have ever seen. They are from Agnus Dei Printing. I have always used CPH products and have been pleased but there are some great little shops out there that are putting out wonderful material and heading the list is Agnus Dei. As the name suggests, these are liturgically oriented traditional certificates that lend weight and seriousness to these church events.
Agnus Dei is run by Rev. Jeffrey Bloom of Immanuel Lutheran Church in Lincoln, Nebraska. He takes old certificates and reprints them. Each certificate is customized for the occasion.  I was blown away when I saw the certificates. They are beautiful, traditional, classic and most of all, theologically rich and a great way to mark these significant ecclesiastical milestones.
I was also surprised to learn that I know the creator very well. Pastor Bloom is rather humble about his printing work. I have been talking with him for a couple of years about a capital campaign and did not even know he did this work until I signed the certificates today and went looking for the contact information so I could give a plug here on BJS. I am also happy to report that just last month Immanuel contracted with our little company for a campaign to raise funds this fall for a new narthex, updated offices and restrooms.
They are not cheap but given the fact that these certificates chronicle baptisms, confirmations, weddings, ordinations and the like, they are well worth it. In our parish we pass the cost on with the robe rental and other incidentals for confirmation. I encourage you to check out Agnus Dei Printing so that you can give out framable keepsakes for these great church occasions.