"On Us a Light Has Dawned" (Matthew 4:12-25)
After Jesus was born in Bethlehem and grew up in Nazareth and was baptized in the Jordan, now it is time for him to undertake his public ministry. So the question arises: Where will he do this? What will be his base of operations? Now you might think that the Messiah, the king of Israel, would set up shop in Jerusalem, the most important city in the land, the religious and political capital, the city of kings, the city of the temple. But if you're thinking Jerusalem, you would be wrong. Jerusalem will have to wait for another day. Oh, Jerusalem will have its role to play–after all, it is "the city that kills the prophets and stones those sent to it"–but that day is not yet. Instead, Jesus does something unexpected.
For his base of operations, Jesus sets up shop in . . . Capernaum. Capernaum? Really, Jesus? You see, Capernaum was not all that important of a city, located in a somewhat looked-down-upon part of the country. Capernaum was a fishing village on the northern side of the Sea of Galilee. This was pretty far away from Jerusalem. And Capernaum was in a region that the Jewish elite did not think highly of. Galilee had been overrun by pagan Gentiles centuries earlier, and it was still influenced by Gentile culture. Yet this is where Jesus goes to do so much of his work.
But this was all according to plan, God's plan. That Jesus would carry out much of his ministry in Galilee–this fulfilled a prophecy from the Book of Isaiah: "The land of Zebulun and the land of Naphtali, the way of the sea, beyond the Jordan, Galilee of the Gentiles–the people dwelling in darkness have seen a great light, and for those dwelling in the region and shadow of death, on them a light has dawned."
"On them a light has dawned." The light came to Galilee, the light dawned on those dwelling in darkness and death, because Jesus came there and did his ministry. Where Jesus is, there shines forth light and life. And this is why I can say to you today: It was not only on Zebulun and Naphtali, not only on Capernaum and Galilee, but also now on St. Francois County and Washington County, on Bonne Terre and Potosi–"On Us a Light Has Dawned."
Are people dwelling in darkness in our land? Are they dwelling in the region and shadow of death here? You bet they are. You know they are. This past week marked the 41st anniversary of the fateful Roe v. Wade decision, and since 1973 there have been over 56 million abortions committed in America. There is darkness across our land. You can see the darkness all around. People all around us are lost, not knowing how to live the right way. I see them lined up at the drive-through liquor store, waiting to get the six-pack of beer they'll drink that night. You can see them living on your block, the couple shacking up outside of marriage. Oh, but it's not just them. It's also the couple splitting up, after many years of marriage. It's the people addicted to soap operas or sports or pornography–anything to dull the pain and escape from reality. It's the people who never go to church–and it's the people who go to church, but never take anything to heart. There's lots of lostness and darkness to go around. Maybe you can see some in yourself. I know I can.
And so this land of darkness is therefore the region and shadow of death. Where there is sin, there death is sure to follow. In fact, death is like the hound that is tracking you down. And it will chase you all the way to the grave. No escape. No way out. The death rate for sinners is still 100%. There is a tombstone with your name on it somewhere in the future, and who knows how soon it will come?
But "the people dwelling in darkness have seen a great light, and for those dwelling in the region and shadow of death, on them a light has dawned." On us that light has dawned. Here comes Jesus, doing his thing. And his "thing" is at least three things we can see in our text: preaching, teaching, and healing. "And he went throughout all Galilee, teaching in their synagogues and proclaiming the gospel of the kingdom and healing every disease and every affliction among the people." Preaching, teaching, and healing. We'll take them one at a time.
First, preaching: "Repent, for the kingdom of heaven is at hand." Jesus says this because he is the one bringing the kingdom of heaven into our midst. In view of that, then, it's time for us to repent. All of us, good people and bad people alike. For we all have stuff to repent of, sin to repent of. And it even goes deeper than that. It's our whole person we have to confess. Our whole sinful self. It goes to the depth of our nature as self-serving sinners, who have turned away from God and chosen our own way to live. "Repent" means to acknowledge that, acknowledge your sinfulness, get sick of it, mourn it, confess it to God, and plead for his forgiveness and help. He will give it to you; you have his promise on it.
"Repent, for the kingdom of heaven is at hand." And Jesus is bringing it, the kingdom, that is. It's the whole reign of God, God great and gracious rule coming into our midst. It's the blessing, it's the end-time salvation, it's the rescue from the darkness and the death that surrounds us and inhabits us. Jesus comes bringing the kingdom of heaven here on earth. We will see him manifesting and dispensing those blessings of the kingdom in his ministry.
So the first thing we see Jesus doing is preaching. It's the proclamation, the heralding, announcing that the kingdom is here now, and so it's time to repent and pay attention and heed the call that Jesus issues.
The next activity of Jesus in his ministry is his teaching. And to do that he will need people to teach. And so he calls disciples. The first bunch are a few of those Galilean fishermen: Peter and Andrew, James and John. "Follow me, and I will make you fishers of men." Jesus is going to train these guys, so that down the road they in turn can bring more people into the net of the church, so they too can learn from Jesus and follow him.
Guess what? That's you. You and I have been called to follow Jesus and learn from him. And that means not just knowing a bunch of facts, so you can win at Bible trivia. No, the purpose of Jesus' teaching ministry is to unfold for you the true meaning of God's Word, so that you can believe and live aright, according to God's design. And that, basically, is to live in faith toward God and in fervent love toward one another. Jesus teaches us to not trust in our own merits, our own righteousness, which does not amount to a hill of beans. Rather, we trust in the merits of Christ, who went to a hill called Calvary to obtain the only righteousness that works. Christ crucified–there is true wisdom for you, God's wisdom and power, wisdom and power that look like foolishness and weakness in the eyes of the world.
The teaching ministry of Jesus. Jesus calls you to follow him in faith and to learn from him as his disciple. This is an ongoing discipleship, your whole life long. Oh, your salvation is already won, make no mistake about that. Jesus took care of all that on the cross and by his mighty resurrection. And you have been joined to Jesus in your baptism and given the Holy Spirit. That is already secure. Your hope in Christ for eternal life is firm and solid, because it rests outside of you and in God's promise. But your life as Christ's disciple is always growing. The Lord will continue to teach you, as you continue in his Word.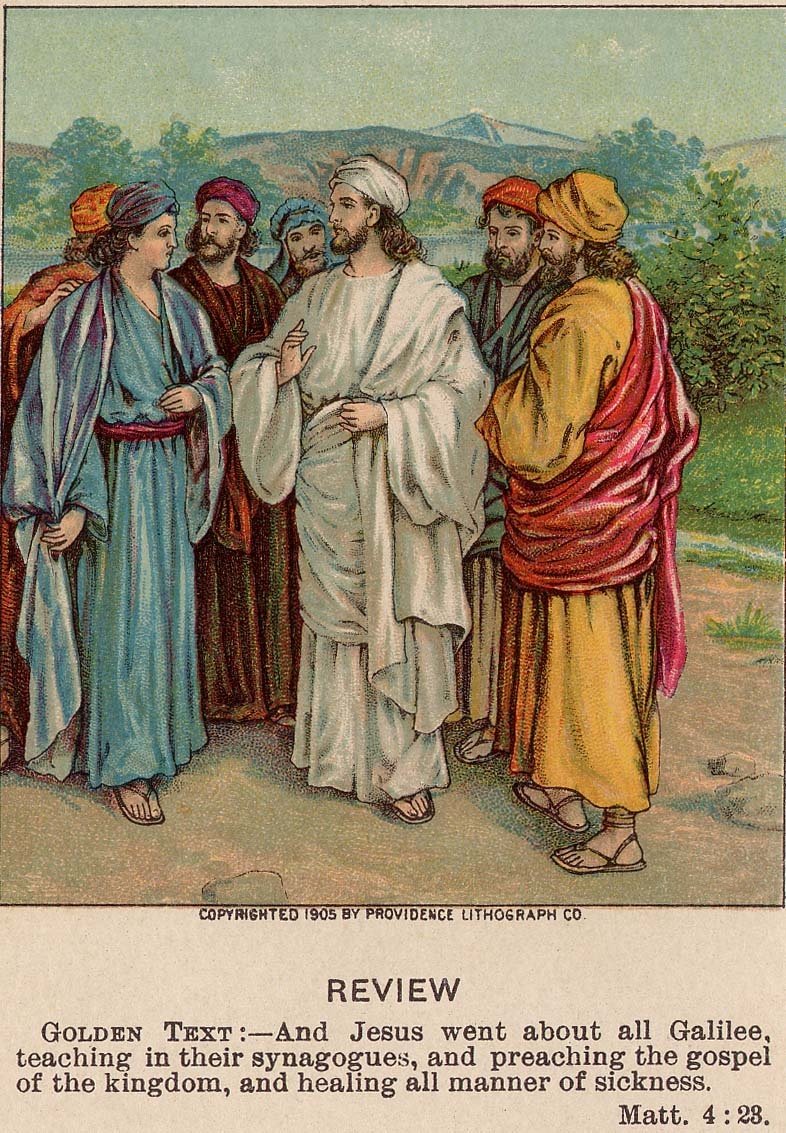 Which leads us to the third aspect of Jesus' ministry, namely, healing. OK, Pastor, we've got you there! You say Jesus did preaching and teaching and that he's continuing to do that today, through the ministry of the church. OK, fair enough. But where is the healing? Look at what Jesus did: "And they brought him all the sick, those afflicted with various diseases and pains, those oppressed by demons, epileptics, and paralytics, and he healed them."
Well, here's the thing to remember about those healings: All those people that Jesus healed at that time–they all ended up dying. They got sick from something else down the line, and then they died. But it wasn't like Jesus' healings didn't "take." No, it's just that they served a limited purpose, in a way. These healings showed what is in store for all of us, because of what Jesus would do by his death and resurrection. The healings are a "sneak preview," if you will, of the ultimate healing we will all receive when Christ comes again on the last day.
The point being, God is committed to healing our bodies, too, and restoring the whole of this broken creation. That day is coming. It will come on the day when Christ returns. Resurrection. Glorified bodies. Creation made right, better than ever. A new heaven and a new earth. Eternal life.
And this is where the Sacraments come in. This is the part of the church's ministry today, the ministry Christ instituted, that shows that God is committed to healing your body. For while preaching and teaching go into your ears and reach your soul, the Sacraments–Holy Baptism and Holy Communion–the Sacraments put God's healing touch and his claim on your body.
Luther makes this very point in the Large Catechism. About the Sacrament of Holy Baptism, he writes: "'I am baptized. And if I am baptized, it is promised to me that I shall be saved and have eternal life, both in soul and body.' For that is the reason why these two things are done in Baptism: the body–which can grasp nothing but the water–is sprinkled and, in addition, the Word is spoken for the soul to grasp. Now, since both, the water and the Word, make one Baptism, therefore, body and soul must be saved and live forever." Likewise, in regard to the Sacrament of the Altar, Luther writes: "It will cure you and give you life both in soul and in body. For where the soul has recovered, the body also is relieved."


And so, dear friends, we see that the preaching, teaching, and healing ministry of Jesus has not stopped. Our Lord Jesus Christ is still giving forgiveness, life, and salvation–to us and among us–through the preaching and teaching of the Gospel and the administration of the Sacraments. Yes, here where we live–here in this land of darkness, here in the region and shadow of death–this is the Galilee where Jesus is doing his thing today. And so we can say, with great joy and great confidence, "On us a light–the Light–on us a light has dawned!"