The St. Louis Post-Dispatch has a story in the January 19 edition (written by reporter Tim Townsend) about David Ellefson, a student in the Specific Ministry Pastor (SMP) program of Concordia Seminary-St. Louis. I'll post some excerpts below, but go to the stltoday.com site to read the whole article, "Megadeth bassist studying for Lutheran ordination at Concordia," and to see more photos and comments. CH
– – – – –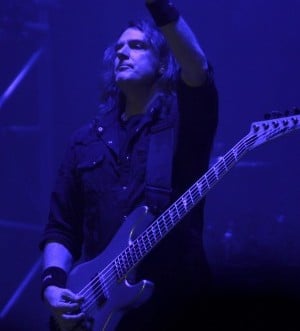 David Ellefson was an honest-to-God founding member of the legendary thrash metal band Megadeth.
And Ellefson's studies at Concordia illustrate why distance learning seminary programs are increasingly popular nationwide as the convenience of Internet education brings new candidates to divinity schools who don't have to uproot their lives to attend. . . .
Ellefson grew up in the church. Each Sunday, his family drove from their farm in southwest Minnesota to Our Savior's Lutheran Church. . . .
Just a few years after his confirmation at Our Savior's, in the summer of 1983, Ellefson moved to Los Angeles. Within a week of arriving, he had formed a band and named it Megadeth. . . .
But by the time Ellefson was 25, the rock star lifestyle had caught up to him. In a 12-step recovery program, he was reintroduced to his faith and embraced it. He moved to Arizona, married and had children. He also began church shopping, eventually landing at Shepherd of the Desert Lutheran Church, a Lutheran Church-Missouri Synod congregation in Scottsdale. . . .
The Rev. Jon Bjorgaard , pastor of Shepherd of the Desert, asked Ellefson to start a contemporary worship service. Ellefson began to use lyrics from the Old Testament as a springboard for songwriting, penning praise music — worship songs with a soft-rock hook. . . .
Combining his musical abilities and his faith led Ellefson to a deeper exploration of Christianity, he said. And it led him to start a new music ministry within the walls of Shepherd of the Desert.
He called it MEGA Life. . . .
And last year, Bjorgaard asked Ellefson and MEGA Life director Jeremy DaPena to enroll in Concordia's Specific Ministry Program. . . .
After two years at Concordia, Ellefson will be eligible for ordination, something he hopes will happen.
"People take you more seriously when you've gone through the proper training to be able to help them," he said. . . .
– – – – – – – –
Those are some excerpts from the story. Now for my brief comment. I thank God that the Lord has led David back to the church and that he wants to serve the Lord as a pastor. This is a noble task. And I agree with David's comment, "People take you more seriously when you've gone through the proper training to be able to help them." But that is why I think David would do even better to go "Megasem" and do the full M.Div. residential program. It's even better training for being able to help people with the Word of God. The fishermen left their boats to enroll full-time in Jesus' seminary, and I still think that's the best way to go. In any case, I wish David the best!