In the St. Louis Post-Dispatch yesterday, President Kieschnick defended his restructuring plan, saying, "This is not a consolidation of power." Instead, he argued, "this is about how operations, missions and ministries can be accomplished more efficiently and effectively."
Yet in the "confidential" report that I told you about, President Kieschnick's consultants said it wasn't clear that a more centralized organization would solve any problems or make for a "leaner and meaner" organization. Among several reasons listed, they wrote:
There does not appear to be any disorganization or overlap occasioned by the number of distinct boards providing supervisory direction for Synod executives. Even in areas where there is a significant need to work together-notably, missions and human care-there appears to be good working rapport and accommodation in the areas where the two functions meet and carry out similar outreach efforts.
It would seem that President Kieschnick's own consultants did not find evidence that the Synod's program boards lacked efficiency and effectiveness. What's more, at the end of that page (page 32), it says:
In summary, it is not clear how the leadership of the Synod executives would be more cohesive, more compelling, or better organized under a Synod president than under the current board structure.
So what about President Kieschnick's denial that the task force consolidates power? Let's go back to the consultant's report. In a portion dealing with different possible changes to synod structure and governance (page 88), the consultant warned against too much centralization:
The centralization of power and authority on the office of the president could certainly be viewed as anathema to the history and traditions of the LCMS. Certainly a number of study participants commented on the intrinsic distrust of a centralization of authority within the LCMS. This observation did not surface to any substantial extent among the advisory panel members. However, one advisory panel member believed this model placed too great a concentration of power in the office of the Synod president, and was particularly concerned about the communications function reporting to him. Overall, advisory panel members did not feel this model would gain the support necessary for adoption.
I'm going to show you two charts. This first one comes from the consultant's report and it is a chart showing a recommended structure change:
---
Okay, this second chart is what Kieschnick's Blue Ribbon Task Force proposed: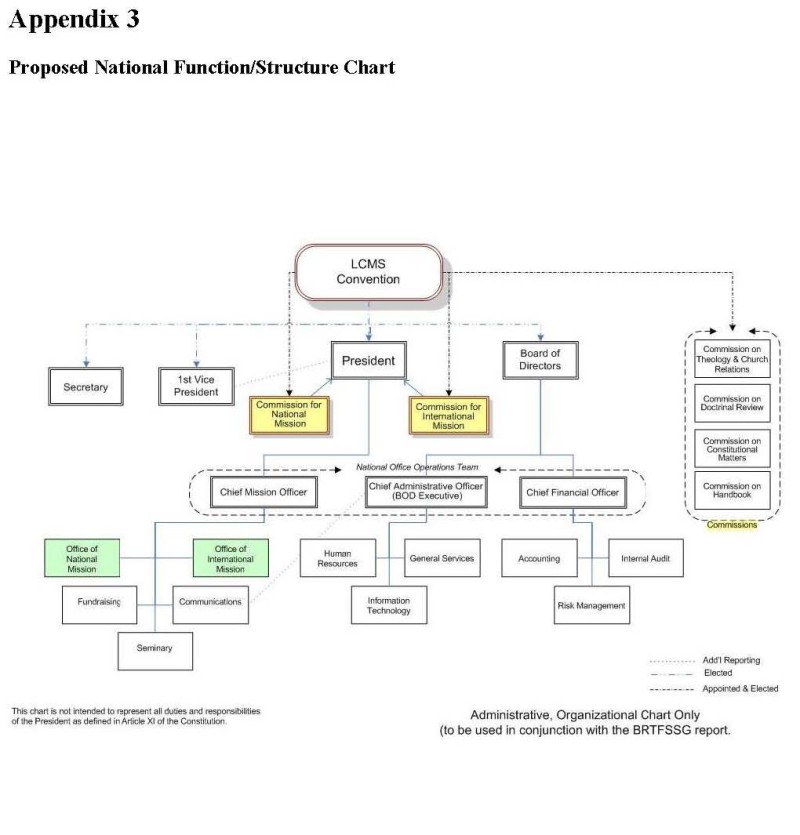 Note that — despite the warnings and recommendations even from these consultants — all lines of authority for Synodical programs go to the President in this second chart.
When I served on the Board for Communication Services, President Kieschnick wanted greater control over our operations. Among many examples I could cite, he actually interfered — halted — a call issued to a pastor by our board! Under restructuring, it would be even worse. He would have total control of Communications — and all other program boards. No voice but his own would be heard in all operations at the Synodical level. If that's not a consolidation of power, what is it?