I think it would be appropriate for me to interrupt my series of articles on Nestorianism in the LC-MS to comment briefly on one point made in Matt Harrison's recently released piece entitled "It's Time." Rev. Harrison is the Executive director of LC-MS World Relief.
I can only say that it's about time someone of stature in the synod actually says what we all know. The synod's mission and work is crippled by the serious and ungodly theological division among us.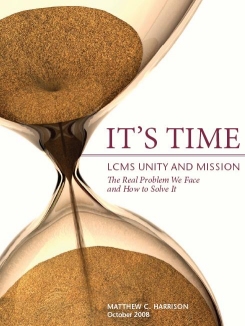 For seven and a half years we have been hearing that there is doctrinal agreement in our synod. We have been told that those who complain about our serious division are guilty of incessant doctrinal purification. We have been told that we only disagree on matters of practice – never mind that mission work itself is a matter of practice. We have been told that it is only in the application of doctrine that we disagree – never mind that infant baptism and the distribution of the Body and Blood of Jesus are application of doctrine. We have been told that job number one is the great commission while we borrow slogans and theology from sources which don't even believe in the great commission.
And for these seven and on half years the synod has grown in rancor, frustration, antagonism, infighting and just plain nastiness. Further in these seven and a half years our synod has shrunk in size, vibrancy, mission outreach, the number of true missionaries overseas, mission starts, support of education, and financial giving. Meanwhile the most formidable efforts of the past seven and a half years are President Kieschnick's failed and ill-advised fund drive and President Kieschnick's dead in the water restructuring proposal.
What a breath of freshness it is to hear someone finally say that we have doctrinal divisions among us. And how refreshing it is to hear that Matt Harrison actually has a plan whereby we can actually address our actual divisions. I don't know if his plan would actually work. That's for God to determine. But at least it's a plan. That's more than we have seen for seven and a half years.
During the first term of my second year at the seminary I became listless and lethargic. I would sleep through my alarm clock – for hours. When I went to class I would fall asleep even more than usual. I couldn't concentrate. I didn't want to do anything. Finally I was persuaded to go to the doctor. He drew blood, took a throat culture and told me I had mononucleosis. I was relieved even though it meant that I would miss three more weeks of school and fall into debt because I could not go to work. Sometimes when a person is sick and undiagnosed it is comforting just to hear a diagnosis even if it's negative. I was able to understand my lethargy and I was able to get better with the proper treatment.
So today, having ready "It's Time," I find it strangely comforting to think that maybe finally the synod can get better. Rev. Harrison explains our chronic failure as a church. He diagnoses the problem. Better, he promises something more hopeful for the future if we address our sickness and strive to get healthy. Can we accept this diagnosis from one of our leaders? Can we follow his advice and recover our lethargy. I pray we can.
It's about time.
(Matt Harrison's paper can be viewed by clicking the button on the sidebar underneath the Brother's Cafe.)