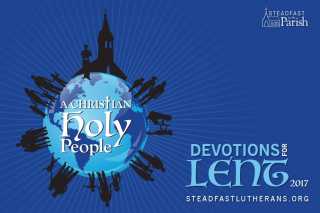 It's ready.  Seven authors, three editors, a talented art director and our webmaster have been working through January and February to produce this year's devotion, "A Christian Holy People".
The devotion teaches on the 7 marks of the Church as Dr. Luther describes them in his work "On the Councils and the Church".  A great translation of this is available from Lutheran Press and would work as a great reading companion to the devotion this Lent.  There is also a Lenten Midweek service plan to follow along with this devotional if your pastor so chooses.
We are making several formats of this devotional available to our readers for free.
Enjoy your reading, and if you so choose, you can donate to help offset some of the costs by clicking the link below.
Feel free to comment to thank any of those folks involved in the project:
"A Christian Holy People" Lenten Devotions
Written by:
Rev. Marcus Baikie, Rev. Travis Berg, Rev. Benjamin Holt,
Rev. Weslie Odom, Rev. Andrew Packer,
Rev. Joshua Scheer, and Rev. Samuel Wirgau
General Editor: Rev. Joshua Scheer
Assistant Editors: Rev. Andrew Packer and Rev. Brian Thorson
Art Director: Kris Brown