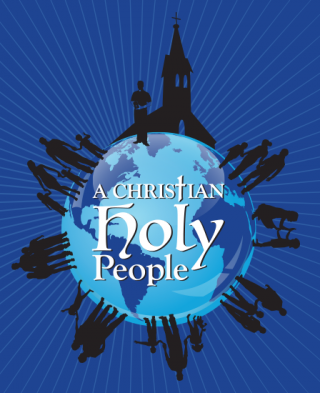 As is tradition here at Steadfast, we have had some excellent pastors working on coming up with a Steadfast in the Parish Lenten series for this year.  This year, tying in with the Reformation 500 occasion we are offering a series called "A Christian Holy People".  This is also the book title of the Lutheran Press translation of Dr. Luther's "On the Councils and the Church".  In this work, Dr. Luther teaches the marks of the Church, or how the Church is to be recognized (where can I find it?).
As a special note in working these seven different marks of the Church, it was necessary to disorder them to fit with using the normal propers for Ash Wednesday and Maundy Thursday (so instead of starting with the word, Ash Wednesday covers the Office of the Keys and Maundy Thursday will cover the Sacrament of the Altar).
This post will include the service schedule below and there is a daily devotional already in the works.  Stay tuned here for the release of the devotional sometime in mid-February.  The pastors contributing to this project are:  Rev. Marcus Baikie, Rev. Travis Berg, Rev. Benjamin Holt, Rev. Weslie Odom, Rev. Andrew Packer, Rev. Joshua Scheer, and Rev. Sam Wirgau.  Art is once again graciously provided by Mrs. Kris Brown.
"A Christian Holy People" Lent 2017 Service Plan
Ash Wednesday – March 1, 2017
"Public Use of the Office of the Keys"

Divine Service using Ash Wednesday propers

Opening Hymn: LSB 419 "Savior, When in Dust to Thee"

Psalm 51:1-13 (antiphon: v. 17)

Old Testament Lesson: Joel 2:12-19

Epistle Lesson: 2 Peter 1:2-11

Gospel Lesson: Matthew 6:16-21

Hymn of the Day: LSB 607 "From Depths of Woe I Cry to Thee"

Closing Hymn: LSB 614 "'As Surely as I Live,' God Said"
Midweek 2 – March 8, 2017
"Possession of the Holy Word of God"

Prayer Office (Vespers)

Opening Hymn: LSB 658 "Preserve Your Word, O Savior"

Psalm 12 (antiphon: v. 6)

Office Hymn: LSB 655 "Lord, Keep Us Steadfast In Your Word"

Old Testament Lesson: Isaiah 40:6-8

Epistle Lesson: Romans 10:14-17

Gospel Lesson: Matthew 13: 1-9; 18-23

Closing Hymn: LSB 919 "Abide, O Dearest Jesus
Midweek 3 – March 15, 2017
"The Holy Sacrament of Baptism"

Prayer Office (Vespers)

Opening Hymn: LSB 594 "God's Own Child, I Gladly Say It"

Psalm 85 (antiphon v.9)

Office Hymn: LSB 596 "All Christians Who have been Baptized"

Old Testament Lesson: 2 Kings 5:1-14

Epistle Lesson: Romans 6:3-11

Gospel Lesson: John 3:1-16

Closing Hymn: LSB 597 "Water, Blood, and Spirit Crying"
Midweek 4 – March 22, 2017
"Consecrates or Calls Ministers"

Prayer Office (Vespers)

Opening Hymn: LSB 498 "Come Holy Ghost, Creator Blest"

Psalm 40:1-11 (antiphon v.9a)

Office Hymn: LSB 681 "Send, O Lord, Your Holy Spirit"

Old Testament Lesson: Numbers 27:18-23

Epistle Lesson: 2 Timothy 1:6-14

Gospel Lesson: Matthew 28:18-20

Closing Hymn: LSB 585 "Lord Jesus Christ, With Us Abide"
Midweek 5 – March 29, 2017
"Public Prayer, Praise, and Thanksgiving to God"

Prayer Office (Vespers)

Opening Hymn: LSB 766 "Our Father, Who From Heaven Above"

Psalm 6 (antiphon v.9)

Office Hymn: LSB 768 "To God the Holy Spirit Let Us Pray"

Old Testament Lesson: Jonah 2:1-10

Epistle Lesson: 1 Corinthians 14:13-25

Gospel Lesson: Luke 11:1-13

Closing Hymn: LSB 666 "O Little Flock, Fear Not the Foe"
Midweek 6 – April 5, 2017
"The Relic of the Holy Cross {Suffering}"

Prayer Office (Vespers)

Opening Hymn: LSB 750 "If Thou But Trust in God to Guide Thee"

Psalm 43 (antiphon v.5)

Office Hymn: LSB 756 "Why Should Cross and Trial Grieve Me?"

Old Testament Lesson: Genesis 4:1-16

Epistle Lesson: Romans 8:31-39

Gospel Lesson: Matthew 5:11-12

Closing Hymn: LSB 420 "Christ the Life of All the Living"
Maundy Thursday – April 13, 2017
"The Holy Sacrament of the Altar"

Divine Service using Maundy Thursday propers

Opening Hymn: LSB 636 "Soul, Adorn Yourself with Gladness"

Psalm 116:12-19 (antiphon v. 17)

Old Testament Lesson: Exodus 12:1-14

Epistle Lesson: 1 Corinthians 11:23-32

Gospel Lesson: John 13:1-15

Hymn of the Day: LSB 617 "O Lord, We Praise Thee"

Closing Hymn: LSB 627 "Jesus Christ, Our Blessed Savior"