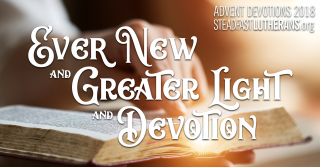 "Ever New and Greater Light and Devotion" is the theme for this year's Steadfast Lutherans Advent series.  The series will include a service plan (look below) for three-midweek services and a devotional booklet for the whole season of Advent (to be released in mid-November).  The series will focus on the purpose of the first three chief parts of the Small Catechism.
The Law (The Ten Commandments)
The Doctrine (The Creed)
The Prayers (The Lord's Prayer)
The title for the series comes from the Large Catechism, Preface, par 9:
Therefore, for God's sake I beg such lazy bellies or arrogant saints to be persuaded and believe that they are truly, truly not so learned or such great doctors as they imagine! They should never assume that they have finished learning the parts of the catechism or know it well enough in all points, even though they think that they know it ever so well. For even if they know and understand the catechism perfectly (which, however, is impossible in this life), there are still many benefits and fruits to be gained, if it is daily read and practiced in thought and speech. For example, the Holy Spirit is present in such reading, repetition, and meditation. He bestows ever new and more light and devoutness. In this way the catechism is daily loved and appreciated better, as Christ promises in Matthew 18:20, "For where two or three are gathered in My name, there am I among them."
Here is a service plan for use with this series:  It should be able to be used with any prayer office a congregation chooses.
Midweek 1 – Commandments
Opening Hymn – LSB 357
Office Hymn – LSB 581
Lessons –
Deuteronomy 6:1-25
Romans 5:12-21
Matthew 5:17-20
Closing Hymn – LSB 346
Midweek 2 – Creed
Opening Hymn – LSB 332
Office Hymn – LSB 954
Lessons –
Isaiah 48:12-22
Romans 10:1-17
Matthew 28:16-20
Closing Hymn – LSB 334
Midweek 3 – Lord's Prayer
Opening Hymn – LSB 350
Office Hymn – LSB 766
Lessons –
Daniel 9:1-19
Philippians 4:4-7
Matthew 7:7-11
Closing Hymn – LSB 341