"Be Patient until the Coming of the Lord" (James 5:7-11)
Advent is a season of waiting. We're waiting for Christmas. This is a time of penitential preparation awaiting that festive celebration. The season of Advent always begins on the Sunday closest to November 30, which can be as early as November 27, and that's what it was this year. So this year we're having the longest possible Advent, a full total of 28 days.
But we get kind of antsy about waiting and letting Advent be Advent: "We gotta get the Christmas tree up!" "We gotta have the Christmas party in early December." God forbid we wait until the actual twelve days of Christmas and have the party then. Now don't get me wrong. I'm not saying there's anything sinful about having the Christmas tree up already or having the Christmas party during Advent. These are just a couple of examples to show how hard it is for us to be patient and not to rush things.
Advent is a season of waiting. And if it's hard enough for us in the church to wait for Christmas, it's well-nigh impossible out there in the world. Think about how our culture wants to rush Christmas. The catalogs arrive in the mail right after Labor Day. The radio stations start playing Christmas music in early November. The store decorations and gift items come out earlier and earlier every year. Christmas TV commercials and TV specials have been playing for weeks. So when Christmas finally does get here, it's over in a day and everybody's kind of tired of it. People have a hard time waiting. We have a hard time being patient.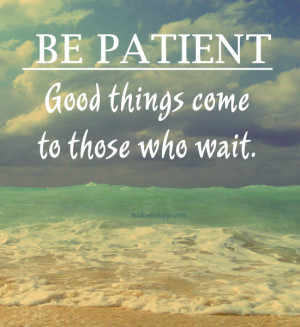 But good things can come to those who wait. Take the Chicago Cubs, for example. We Cub fans had to wait 108 years–well, not me personally, I didn't have to wait 108 years; I'm not quite that old–but Cub fandom had to wait 108 years for their team to win the World Series. That was a long time to wait. There was a lot of suffering and disappointment along the way. Generations came and went, with nothing to show. But finally, after all that waiting, the winning finally arrived, and it was worth it. What a celebration!
Well, in a way, that's kind of a picture of the waiting we Christians have to endure as we wait for the big celebration to come, when our Lord Jesus Christ comes again. There have been many centuries of waiting. There have been long stretches of suffering–for the church as a whole, and for each one of us personally. We get tired of all the hardship and heartache and disappointment along the way. Sometimes we wonder and we cry out, "How long, O Lord, how long?" "When, Jesus, when are you coming back to make all things right? We're tired of waiting!"
So this waiting calls for patience. We need patience in order to wait and keep the faith and bear up under suffering and keep our eyes focused on the joy that lies before us. And it's in a situation just like that that James speaks to us in his epistle and says, "Be Patient until the Coming of the Lord."
The Christians to whom James writes were facing troubled times. They were mainly Jewish Christians who had been scattered after persecution broke out in Jerusalem. These were Christians who had to leave their homes and move far away from family and friends. They faced economic hardships. Both Jews and Gentiles would be persecuting the church. Yet James opens his epistle by telling them, "Count it all joy, my brothers, when you meet trials of various kinds." Huh? What? "Count it all joy?" How can you say that, James? And James would answer, "For you know that the testing of your faith produces steadfastness."
Steadfastness, standing fast in the midst of hardships that would test your faith. Steadfastness, patience–that's what we Christians need as we wait for our Lord to return. Besides the everyday, ordinary suffering that all people face–the sicknesses, the sadnesses, the letdowns and loneliness, the disappointments that all people deal with–we Christians bear the added burden of the world's hostility on account of our faith.
But we have an added bonus that the world does not have. We have Christ. We know a Savior who forgives our sins and promises us eternal life. And we know that our risen Lord is coming again to take us home and make everything right. In Christ, we have hope. We have a future to look forward to that far outweighs the sufferings of the present.
This is the hope that will strengthen our feeble knees and enable us to bear up. This is the hope that will give us courage in the face of conflict, and even joy. Christ is coming again. Having this hope, knowing this hope, living in this hope, we will find the patience we need to wait.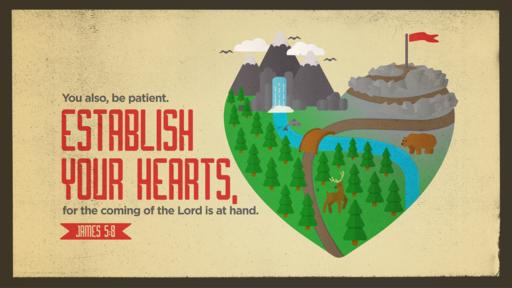 "Be patient, therefore, brothers, until the coming of the Lord. See how the farmer waits for the precious fruit of the earth, being patient about it, until it receives the early and the late rains. You also, be patient. Establish your hearts, for the coming of the Lord is at hand."
I'm not a farmer. I grew up in a big city. But I did spend a few years as a pastor out in rural Nebraska, where I did observe farmers. And there can a long time in between spring planting and the fall harvest when you don't see much of anything. Just ground, just soil, but the seed is in there. Months pass, and then you see the crop starting to come up. But still it's not time yet. There needs to be the right amount of rainfall. More months will have to pass before the crop is mature and just ripe for harvesting. The farmer needs to be patient. But in the end, he knows the harvest is coming.
That's what James is telling us Christians. Hold on. Hang on. Just be patient. Our Lord is coming. You have his word on it.
"Be patient, therefore, brothers, until the coming of the Lord." But when he comes, will that be good news or bad news? After all, Jesus is coming again to judge the living and the dead. And James says as much: "Behold, the Judge is standing at the door." When the Judge comes in, and what will he find? What will his verdict be? Guilty or not guilty?
For you, dear Christian, the verdict will be innocent on all counts. Why? Not because of how good and righteous you have been. Not because you meant well. Not because you score a little higher than the other guy. No. But because the Judge, Christ Jesus, is also your Savior. And he is the one in whom you are trusting. Not in yourself, but in him. He is the only one worthy enough to give you what you need: Forgiveness. Righteousness. Right standing before God.
Christ Jesus won all these treasures for you by his death upon the cross. His blood won your forgiveness, because he is the very Son of God dying in your place, taking the punishment your sins deserve. His righteousness, his perfect keeping of God's Law, is credited to your account. God looks at you, and he sees the righteousness of Christ. You're in. Eternal life, yours as a gift. Because of Christ. Your Judge is also your Savior. You will share in his resurrection and live under him in his everlasting kingdom.
This is something worth waiting for. This hope will transform your life. It will give you strength to carry on. It will give you the patience to endure. Your vision is lifted from the mundane to the glories still to come. And at the same time, your life is freed up so you can devote time and attention to love your neighbor. You're not so wrapped up in yourself. Jesus directs your love to the good of your neighbor. You're able to forgive, knowing that you yourself are forgiven. Grudges can go out the window. You're freer than that.
The peace that Jesus gives gives us patience. "You have seen the purpose of the Lord, how the Lord is compassionate and merciful." And we know it. We can be sure of it, even when it doesn't look like compassion and mercy are the cards we're being dealt. Because we know the outcome. We know what's ahead. Jesus is coming back, and that's good news! That's the best news of all! The sorrows and the sicknesses and the sufferings of this life will have an end. But that is not the end. Jesus is coming back, and his kingdom will have no end.
In the meantime, then, we wait. Patience, brothers and sisters, patience! God will establish your hearts. The coming of the Lord is at hand. And the Lord is compassionate and merciful. We know that by the cross of Christ. The Judge is also your Savior. "Be patient, therefore, brothers, until the coming of the Lord." Yes, good things do come to those who wait–to those who wait for Jesus.