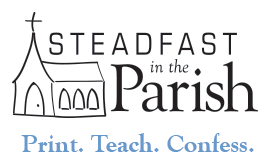 Here it is, just in time (late actually).  For use wherever it is needed.  This devotional is the culmination of the work of four pastors (Rev. Marcus Baikie, Rev. Daniel Hinton, Rev. Chris Hull, and Rev. Joshua Scheer) based upon the work of one of the doctors of the Church (Dr. John Kleinig's book "Grace Upon Grace")
Downloads (PDF Format):
Click here for more resources from Steadfast in the Parish.
Here is the full size version:
It appears you don't have a PDF plugin for this browser. Use one of the links above (Booklet or Single-page) to access the PDF file.