"Your Committed and Determined King" (Mark 11:1-10; 14:12-26)
Today is a Sunday that goes by two names, "Palm Sunday" and the "Sunday of the Passion." As such, we get readings for both of these emphases. There is the Palm Sunday Processional Gospel at the start of the service, the account of Jesus riding into Jerusalem with palm branches spread before him. And there is the longer reading of the Passion of Our Lord, giving us an overview of the events later in Holy Week, through Jesus' suffering and death.
And as I looked over these two readings, something jumped out at me, something that these two readings have in common. It's a little detail, but it tells us a lot about who Jesus is, and who he is for you. So now listen as you hear about "Your Committed and Determined King."
Commitment. Determination. We see it here in these readings about Jesus. And this tells us so much about how Jesus will see you through the rest of the way.
The little detail I'm talking about shows up in similar fashion in both the Palm Sunday reading and the Passion account. Listen now as I read the comparable passages. First, from Mark 11, on Palm Sunday:
Now when they drew near to Jerusalem, to Bethphage and Bethany, at the Mount of Olives, Jesus sent two of his disciples and said to them, "Go into the village in front of you, and immediately as you enter it you will find a colt tied, on which no one has ever sat. Untie it and bring it. If anyone says to you, 'Why are you doing this?' say, 'The Lord has need of it and will send it back here immediately.'" And they went away and found a colt tied at a door outside in the street, and they untied it. And some of those standing there said to them, "What are you doing, untying the colt?" And they told them what Jesus had said, and they let them go."
Now compare that to what happens on Holy Thursday, this time from Mark 14:
And on the first day of Unleavened Bread, when they sacrificed the Passover lamb, his disciples said to him, "Where will you have us go and prepare for you to eat the Passover?" And he sent two of his disciples and said to them, "Go into the city, and a man carrying a jar of water will meet you. Follow him, and wherever he enters, say to the master of the house, 'The Teacher says, Where is my guest room, where I may eat the Passover with my disciples?' And he will show you a large upper room furnished and ready; there prepare for us." And the disciples set out and went to the city and found it just as he had told them, and they prepared the Passover.
Do you catch the similarity? In each case, Jesus sends two of his disciples ahead to make preparations. In each case, Jesus tells them ahead of time what they will see and what they are to say when they get there. And in each case, that's exactly what happens, down to the details, which no one could have known ahead of time. What does this tell you about Jesus?
First, it tells us about Jesus' divine foreknowledge. How could anyone have known that the disciples would see a colt of that description tied up as soon as they enter the town? And who could have predicted how the conversation there would go? And then, later in the week, how could anyone have known that they would run into a man carrying a jar of water, and that by following him they would be led to that exact house, and that the master of that house would have a room ready for them to use? You see, Jesus knows ahead of time what will happen as he heads into Jerusalem. In fact, it's almost like he's arranging the events, orchestrating them.
And if that is the case, what does that tell you further about Jesus? It tells you that he's going into Jerusalem willingly, with full knowledge of what will happen to him there. And this tells us a lot about Jesus, his determination. For he knows, ahead of time, the things that await him.
But then, he's already told us that, hasn't he? For these past weeks of Lent, he has already predicted his passion, his rejection and his suffering and his being killed in Jerusalem. Three times, those Passion predictions that Jesus tells his disciples, most recently, the one we heard last week: "See, we are going up to Jerusalem, and the Son of Man will be delivered over to the chief priests and the scribes, and they will condemn him to death and deliver him over to the Gentiles. And they will mock him and spit on him, and flog him and kill him. And after three days he will rise."
Do you see the point here? Jesus knows what is going to happen to him in Jerusalem, the suffering and the cruel death it will entail, and yet he goes through with it anyway. And this is the commitment and the determination I'm talking about. Christ is committed and determined to carry out his mission, knowing full well what it will involve.
And so we have these details today about the colt and the upper room. These details are telling us that Jesus basically is doing things according to plan, God's plan. God knows–Jesus, God's Son knows–what this is all about. This is the plan going into it.
The colt, the donkey? The Lord has need of it. This is how Jesus will ride into town. Not as a mighty conqueror, but rather as a humble king. "Behold, your king is coming to you; righteous and having salvation is he, humble and mounted on a donkey, on a colt, the foal of a donkey." Christ fulfills that ancient prophecy.
The upper room? The Teacher has need of it. This is where Jesus will celebrate the Passover with his disciples. And he himself will be the Passover lamb, shedding his holy blood, so that now death will pass over us. "This is my body. This is my blood of the covenant, which is poured out for many."
Jesus knows that at the table is the hand of one who will betray him. But once again Christ's determination and his commitment will carry him through. Jesus will do whatever it takes to complete the mission for which his Father sent him. Jesus will do whatever it takes to win your forgiveness and your eternal salvation.
And that will mean a cross. There Christ will shed his holy blood on your behalf. There, on the cross, the Son of God will suffer and die. For you. To atone for your sins. To lift the burden and the guilt off of your shoulders and take them on his own. To put you right with God, even as he, the sinless one, experiences the utter abandonment that we sinners deserve. That's how committed and determined Jesus is for your salvation.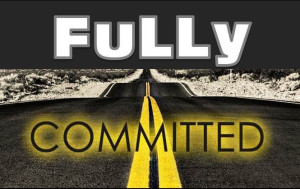 Now, let's take it from there. If Jesus was so determined and committed as to go the cross for you, will he not see you through the rest of the way? Yes, he will, a thousand times, yes! Your risen Lord and Savior Jesus Christ is committed to see you through, all the way. He is determined to get you home safe and sound. Christ your Lord will do whatever it takes to keep and preserve you in the Christian faith so that you make it home.
Do you doubt, do you worry? Jesus will see you through. Are you weighed down with a guilty conscience? Hear the freeing words of the gospel preached into your ears. Do you want relief and forgiveness for your sins? Come to the Lord's Table today and hear Jesus say to you, "This is my body, this is my blood, given and shed for you for the forgiveness of sins." Jesus will do whatever it takes to bring you home safely. Indeed, he has already given you what it takes and what you need to keep you firm in the faith the whole way ahead. These means of grace, the gospel means of Word and Sacrament–this is what you need, and this is what Jesus has provided.
So strengthen your feeble knees today, be refreshed and encouraged, by means of what Christ gives you. He gives you himself. Truly, he is "Your Committed and Determined King."