Faith Lutheran Church in Wylie recently commissioned the artist Ken Spirduso to paint an altar painting for our congregation. We decided on a painting of Jesus pulling Peter out of the water, from Matthew 14:22-33. Jesus pulling Peter out of the water shows us what faith means. It means clinging to Jesus Christ alone for our salvation. Faith is passive, and Christ is active in our salvation. He draws us out of the waters of death by forgiving us our sins in the Gospel.
The photo doesn't do the painting justice. When you look at it, you can see movement. It's beautiful. Mr. Spirduso has done a good job of illustrating the Biblical account for our eyes to see and for our minds to contemplate our Savior Jesus. He also added a few things in the painting of note. First, he put a mast on the boat where the other disciples are waiting. The mast is made to look like a cross. Second, he put a little dove above Jesus to show that it is the Holy Spirit who attends all of Jesus' work and works faith in our hearts through the Gospel.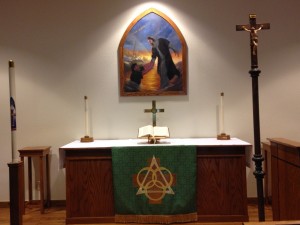 This is a good Lutheran painting and was affordable for our small congregation. If we spend money to beautify our bodies and our homes, then certainly the house of God should receive even more attention. The beauty in our homes is often done simply to delight us with things pleasant to the eyes. The beauty in a church should not only delight the eyes, but put into our minds God's Word behind the art. This is a good and pleases God, who wants us to use everything for his glory, which is best served by putting Jesus in front of poor sinners eyes and ears, so that they may learn to trust in him and be comforted by his works.
Don't give into the ugly opinions of sectarians, who say that art in the church should be as cheap as possible, because otherwise we are not being good stewards of God's gifts. If you spend time and effort to make your back porch look nice, then shouldn't the halls of God's house look nicer? We should primarily give to the poor and for the proclamation of the Gospel, this is true, but this should not stifle our desire to give to our brothers and sisters the benefits of good art in our churches. Something permanent and not just ordered from the Internet has value in it.
Our members now have the pleasure of viewing their salvation every Sunday in a beautiful picture that will last hundreds of years and still be beautiful. I encourage you to look into getting art for your congregations as well, as your funds may allow. We simply asked for donations, and the money came in. We worked with the artist and discussed the theology surrounding the painting so that we learned to appreciate the art even more. To God alone be the glory!
If you would like to commission Ken Spirduso, you may contact him by email at [email protected], or by phone, (321) 217-4445.