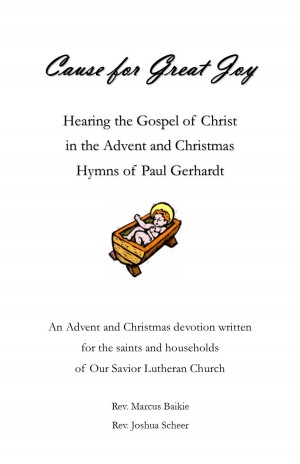 This Advent and Christmas devotional was written by the pastors at Our Savior Lutheran Church in Cheyenne, Wyoming.  It is focused on the Advent and Christmas hymns of Paul Gerhardt as they are found in LSB and TLH.  Each day goes through a stanza of the hymn, a supporting Scripture passage, a short devotional thought, and then a brief prayer.  It is designed to be used as a part of your household's normal devotional or "family altar" time.
Please make use of it this season.
Steadfast in the Parish provides this document in two formats:
Booklet format for 2-sided printed. Print this file 2-sided and staple the center to make a booklet.
Single-page format for electronic devices or to print large print editions duplex (print 2-sided with "print to fit" selected.
Click to download the Booklet Format or the Single-page Format.
This devotional for Advent is brought to you by Steadfast in the Parish.
Here's the single-page format:
It appears you don't have a PDF plugin for this browser. Use one of the links above (Booklet or Single-page) to access the PDF file.