Christmas Eve and Christmas Day Sermon
December 24 & 25, 2011
"Christmas from God's Perspective"
Luke 2:1-14
Click here to listen audio of this sermon.
And it came to pass in those days that a decree went out from Caesar Augustus that all the world should be registered.  This census first took place while Quirinius was governing Syria.  So all went to be registered, everyone to his own city.  Joseph also went up from Galilee, out of the city of Nazareth, into Judea, to the city of David, which is called Bethlehem, because he was of the house and lineage of David, to be registered with Mary, his betrothed wife, who was with child.  So it was, that while they were there, the days were completed for her to be delivered.  And she brought forth her firstborn Son, and wrapped Him in swaddling cloths, and laid Him in a manger, because there was no room for them in the inn. Now there were in the same country shepherds living out in the fields, keeping watch over their flock by night.  And behold, an angel of the Lord stood before them, and the glory of the Lord shone around them, and they were greatly afraid.  Then the angel said to them, "Do not be afraid, for behold, I bring you good tidings of great joy which will be to all people.  For there is born to you this day in the city of David a Savior, who is Christ the Lord.  And this will be the sign to you: You will find a Babe wrapped in swaddling cloths, lying in a manger."  And suddenly there was with the angel a multitude of the heavenly host praising God and saying: Glory to God in the highest, and on earth peace, goodwill toward men!"   Luke 2:1-14
While we Christians may insist that Christmas is not about money, it was the desire of Caesar Augustus for more money that, humanly speaking, brought Jesus to Bethlehem to be born.  Joseph and Mary had no reason to make the trip from Nazareth to Bethlehem except to be registered in the census.  Both of them were of King David's line and Bethlehem was David's town.
Caesar Augustus neither knew nor cared about biblical prophecy, but God himself had spoken through Micah when he wrote:
But you, Bethlehem Ephrathah, though you are little among the thousands of Judah, yet out of you shall come forth to Me the One to be Ruler in Israel, whose goings forth are from of old, from everlasting.
God would become a baby.  He would be born in Bethlehem.  So said God.  What God says will happen will happen.  And so it did.  Caesar Augustus wanted to raise taxes.  He ordered the census in order to get an accurate accounting of the population.  This meant that Joseph had to travel to Bethlehem.  It wasn't a convenient time.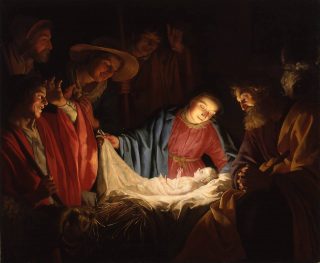 Mary was expecting a baby.  But they submitted to the authority of the government and traveled to Bethlehem.  Shortly after they arrived Jesus was born.
Tell me, what is happening here?  Can you tell me what you see?  Can you tell me what God says?  What do you see?  You see a poor family that has no money to rent a room at an inn.  There was no room for them.  If they had had the cash, you can be sure that the innkeeper would have made room.  But they are poor and the poor aren't as important as the rich.  They don't matter as much.  So you see the couple shut out of the inn and finding their only shelter in a stable.  The woman is about to give birth, but there is no warm room, no nurse's care, and no midwife.  They receive no service at all.  They are fed no food.  They are not given a thing.  They make do for themselves.  That's what you see.
Now can you tell me what God says?  What is happening here before our eyes as the weary couple must seek shelter from the cold in a stable with the animals?  God says, "For there is born to you this day in the city of David a Savior, who is Christ the Lord."  You see a poor baby in a manger.  You see the rich and powerful eating, drinking, and enjoying a warm fire in the inn as this baby is born outside the inn in a stable, wrapped in strips of cloth, and laid in a manger where the animals fed.  God points to what you see and he tells you what it signifies.  Listen to him.  Judge what you see by what God says.  "And this will be the sign to you: You will find a Babe wrapped in swaddling cloths, lying in a manger."  Look to the sign and listen to what God says it signifies.  It means that your Lord and God has become your brother to save you from your sins.
You see the exclusion of a poor family.  Who were Mary and Joseph, anyway?  Mary and Joseph were nobodies.  The shepherds were nobodies.  What does God say about what you see?  He says that he is being glorified in heaven and his peace and goodwill have come to this earth where the baby wrapped in strips of cloth is lying in a manger.
Caesar and the politicians are not in charge.  The innkeeper, money makers, advertisers, marketers, and bankers are not in charge.  Those whose power and prestige you see and want and imitate are nothing and nobody.  God says so, and what God says goes.
St. Paul writes:
But God has chosen the foolish things of the world to put to shame the wise, and God has chosen the weak things of the world to put to shame the things which are mighty; and the base things of the world and the things which are despised God has chosen, and the things which are not, to bring to nothing the things that are, that no flesh should glory in His presence. 1 Corinthians 1:27-29
What we see and what God says are opposed to each other.  They stand in direct contradiction of each other.  God says that poor and lowly is rich and exalted.  God says that glory is in humility and weakness.  God says that being excluded from the warmth of human fellowship is divine peace and goodwill.  And faith says God is right.
We call it the incarnation.  It's a sad reflection on our supposedly Christian nation that more people are familiar with the word "reincarnation" than the word "incarnation."  Reincarnation refers to the Hindu belief that after a person dies his soul is reincarnated in another living body with the ultimate goal being to escape from the material altogether and be assumed into the soul of the universe.  Incarnation refers to the Christian teaching that God became flesh.  God became a human being.  Mary became the mother of God.
What you see is a poor family making their way to the stable to find shelter among the animals.  What you see is a young woman giving birth to a baby boy, wrapping him up in cloths, and laying him in a manger.  And this is exactly what happened!  Had you been there, you could have recorded it and shown the video to the whole world.
But what you would not see is that this infant, helpless, dependant on his mother, is God himself.  This baby lying in a manger is the Creator of the universe.  "He whom the worlds cannot enclose doth in Mary's lap repose."  What you cannot see is hidden under what you can see.  So God willed it to be.  He came to you in a way that you could receive him, for if he had come to you with his glory uncovered you would have had to run away and hide.
Ah, Lord, who hast created all,
How weak art Thou, how poor and small,
That Thou dost choose Thine infant bed
Where humble cattle lately fed!
See what God shows us.  He shows us weakness and poverty.  That's what he wants us to see and that's where he wants us to seek him.  So look for your God where your God tells you to look for him and don't be conned by all of the bogus gods out there who would lure you away from the true God with impressive displays of wealth, power, status, and prestige.
God's not impressed with such things.  That ought to be obvious.  When God decided to become a human being he chose a woman to become his mother.  He did not choose a wealthy woman from a highborn family living in a beautiful home with servants and maids and nurses available at her command.  God chose a poor, lowly, unknown, insignificant girl from a little town who was engaged to a carpenter.  God, who directed the affairs of state of the Roman Empire so that the entire Roman world would be subject to taxation for the sole purpose of seeing to it that Mary would be in Bethlehem when the time came for her to give birth – that the prophecy of Micah would be fulfilled – did not bother to see to it that there would be room in the inn for them once they arrived.  It doesn't matter to God if he's born in a stable.  It doesn't matter to God if his first bed is a manger.  It doesn't matter to God if when he makes his appearance nobody of any importance is there – just a group of unknown and unnamed shepherds.  That's because God doesn't think as the world thinks.
And thus, dear Lord, it pleaseth Thee
To make this truth quite plain to me,
That all the world's wealth, honor, might,
Are naught and worthless in Thy sight.
From the time we are born we think like the world.  We're caught up in the deceit of false appearances, looking at what the world cherishes and wanting it above all else.  From our births, conceived and born in sin, we judge by the lofty appearance of a thing.  We despise those the world despises.  We look up to those whom the world exalts.  We judge what is good and true and valuable by watching what sinners judge to be good and true and valuable.  We join in the fellowship inside of the inn, eating, drinking, talking, laughing, oblivious to what is happening outside in the stable.
We trust in people who will betray us.  We rely on things that will break down and be tossed away.  We yearn for acceptance and approval from those who despise the majesty of God where God has chosen to reveal it.
Then the divine Judge of all mankind appears to us in his law and shows us our sin.  We see how shallow our values are.  The glory of God's law shines upon us and terrifies us as we see and feel our guilt in light of God's holiness. 
We see our idolatrous desire for more and more stuff while we ignored and despised God, his holy name, and his eternal word.
When the will of God to condemn those who disobey him captures our will, binds it in its sin, and crushes it in the vice by which goodness must crush evil, and we see in the holy God a purity from which we want to run though we know that we can't get away, God speaks through his messenger: "Fear not!"  Don't be afraid.  "For there is born to you this day in the city of David a Savior, who is Christ the Lord."
These are the words that lift us up to heaven.  We are born from above.  We see God in Christ, lying in a manger.  We hear God's perspective of this birth (which is the only point of view that matters) and it is that there is now peace on earth and goodwill toward men.  God is at peace with us sinners.  God's goodwill is directed toward us.  He sees us in our sins and instead of condemning us for them he loves us in spite of them and chooses to become our brother.
Oh, then rejoice that through His Son
God is with sinners now at one;
Made like yourselves of flesh and blood,
Your Brother is the eternal God.
He does in his holy body what the angels promised.  He saves sinners.  He saves them by doing for them what they could not do for themselves.  He obeys for them.  He suffers for them.  He achieves peace on earth and goodwill toward us all.
Today we Christians celebrate the birth of him whose holy birth of the Virgin Mary has replaced our sinful births.  The God who was born from the Virgin's womb – pure and innocent and holy – has been born in us.  In him we are pure and innocent and holy because his manger is joined to the font.  Where he was born is where we are born again.  We join with the angels in heaven and Christians everywhere in singing: "Glory to God in the highest and on earth peace, goodwill toward men.
Amen.
Pastor Rolf Preus