Grace to you and peace from God our Father and the Lord Jesus Christ.
Our Lord Jesus Christ, on the night when he was betrayed, declared his last will and testament and disposed of his estate. Many rich men have willed gold and mansions, revenues and high positions. Our Lord says in Luke 9, "Foxes have holes, and birds of the air have nests, but the Son of Man has nowhere to lay his head." Yet Jesus has willed us something far greater than earthly wealth and honor. Our Lord Jesus Christ, on the night when he was betrayed, willed us two things.
First, Jesus has willed us the Sacrament of the Altar, which is nothing other than him willing us his very self. "Take, eat, this is my body, which is given for you… Drink of it all of you, this cup is the new testament in my blood." Now these words defy our frail human reason. "How can bread be Jesus' body and wine be his blood?" How can God be one God and three persons, Father, Son, and Holy Spirit? How can Jesus be fully God and fully man? When it comes to the nature of God and the Incarnation of Christ our reason must hail God as more reasonable, and so also with the Sacrament of the Altar. It's not that it doesn't make sense. It's that it doesn't make sense to us. If Jesus says it, it's true. He is the Word that created the universe out of nothing, "Let there be light," and there was light. His Word is an effective Word that does what it says, and thus he truly gives us his body and blood in the Sacrament.
I say this to guard you against those who, at the prompting of the devil, twist and pervert the words of our Lord and despise the Sacrament. It is necessary to resist such false doctrine; yet let us not belabor the point and make heretics the talk of the night. Rather, believing that Jesus has said what he meant at the Last Supper, let us consider how we should regard this visitation of our Lord in the flesh.
On one occasion there was a centurion whose servant was paralyzed, and he came to Jesus to ask healing for the servant. Jesus said, "I will come and heal him." But the centurion replied, "Lord, I am not worthy to have you come under my roof." If we are not worthy that Christ should enter our houses, how much less worthy are we that he should enter our mouths? In light of our sins we must say as Peter did at the miraculous catch of fish, "Depart from me, for I am a sinful man, O Lord." We deserve the thorns and thistles that the earth produces in response to our sin. We certainly do not deserve the body and blood of our Lord to eat and drink.
Yet Christ wants to give it and he wants us to have it. Right before instituting the Lord's Supper, Jesus said to his disciples in Luke 22, "I have earnestly desired to eat this Passover with you before I suffer." Why did Jesus desire it so earnestly? All he got out of it was whatever little bit of food sustained him through his Passion. But he earnestly desired to eat this Passover because he earnestly desired to institute his Holy Supper. So eager is he to give mankind his body and blood that he distributes them before he has even died on the cross. His disciples needed it. They would flee from him and deny him even after having been strengthened with the Sacrament. Who knows what would have happened if they didn't have Christ's body and blood sustaining them through his Passion.
Jesus is eager to give you his body and blood as well. And lest we think that partaking of his body and blood is a mere option, he says, "Take, eat…Drink of it all of you." He commands us to partake. And this is a comfort to us. When we feel our unworthiness and think, "Oh, I shouldn't take the Lord's Supper; I'm such a sinner," then Christ's command still stands, "Take, eat, drink." It is far too important a matter for him to leave to your discretion. If you didn't feel your sins, you wouldn't feel any need for the Sacrament. If you did feel your sins, your unworthiness would keep you from the Sacrament. So Christ intervenes with an imperative, "Take, eat, drink."
But more than his command, Jesus also includes his promise. He says it is "for you for the forgiveness of sins." Here is the true paschal lamb, who marks you with his blood and causes the wrath of God to pass over you. Here is the true manna, the living bread that came down from heaven, of which Jesus says in John 6, "Whoever feeds on my flesh and drinks my blood has eternal life, and I will raise him up on the last day." This is the flaming coal of which the seraph says, "Behold, this has touched your lips; your guilt is taken away, and your sin atoned for." The King holds a wedding feast for his Son, and sends Word to you, "See, I have prepared my dinner, my oxen and my fat calves have been slaughtered, and everything is ready. Come to the wedding feast!" Blessed is everyone who will eat bread in the kingdom of God (Lk. 14:15)! Blessed are those who are invited to the marriage supper of the Lamb (Rev. 19:9)! Partake of the elixir of life, the medicine of immortality, the antidote against death, the body and blood of Christ, given and shed for you for the forgiveness of sins!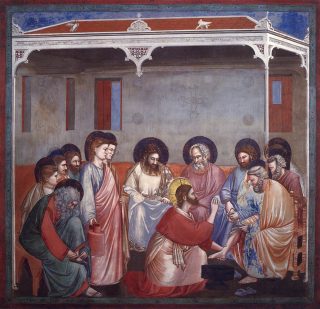 So first our Lord wills us the Sacrament of the Altar, and no one has ever received anything greater from someone's will. But Jesus is not done. After willing us the Sacrament, Jesus wills us his love. This Thursday is sometimes called Maundy Thursday, from the Latin word mandatum, which means "command," because on this night Jesus said, "A new commandment I give to you, that you love one another: just as I have loved you, that you also love one another."
Now this is not a new commandment in the sense of a new law. The law of God is already summarized, "You shall love the Lord your God with all your heart and with all your soul and with all your strength and with all your mind, and your neighbor as yourself" (Lk. 10:27). The command "love!" is not new. What is new? That love flows from the humble and sacrificial love of Christ. This is not a "do this and you will live" sort of love that would be a cause of righteousness, if only we could actually do it. This love is a result of righteousness, not a cause. The Apostle John speaks very clearly about this in 1 John 4:
"Beloved, let us love one another, for love is from God, and whoever loves has been born of God and knows God." Love is from God, not ourselves. It indicates that we have already been born of God. "Anyone who does not love does not know God, because God is love." And thus conversely, when God makes himself known to us by giving us himself, he gives us his love with which to love one another. "In this the love of God was made manifest among us, that God sent his only Son into the world, so that we might live through him." Note that the love of God was manifest in Christ before it was ever manifest in us. "In this is love, not that we have loved God but that he loved us and sent his Son to be the propitiation for our sins." And there it is most clearly. True love has its origin and source in God, and among mankind he alone can love who has received the forgiveness of sins in Christ. And John maintains this proper order: "Beloved, if God so loved us, we also ought to love one another."
Thus we see that this new command is not a new commandment as we usually think of commandments, but a new ordinance: a redefining of the way things are. Now that Christ has shown love to us, we can show love to one another, a love that was impossible for man to show before the sacrifice of Christ. And how do we receive the love of Christ that we may show it? Christ gives us his love through all the means of grace: the preaching of the Gospel, Baptism, the Absolution, the Sacrament of the Altar.
Yet the setting of this new command is important: Jesus gives this new command "during supper." This new command is so closely connected with the Sacrament of the Altar, it's for good reason that we pray after receiving the Sacrament, "we implore You that of Your mercy You would strengthen us through the same in faith toward You and in fervent love toward one another." Jesus shows us his humble and sacrificial love in his Holy Supper, and in addition to granting us the forgiveness of sins and strengthening of faith, he also grants us his love to show one another.
This love is more than mere fondness, but is shown in humility and giving of ourselves for one another. And as we continue to receive the love of our Lord in the Sacrament, we will continue to increase in this love for each other. We may not feel more loving as time goes on. We may instead come to a greater knowledge of the depths of our sin. Yet the gift of Christ's love stands, which doesn't depend on feeling or perceiving it, but depends solely on receiving his love. Thus if we are recipients of his love, we will love one another, and that's simply the fact of the matter.
So this is Christ's last will and testament. He wills us his body and blood and he wills us his love. So fervently did he desire us to have these things that he disposed of his estate before he had even died. And now he proceeds to his death to accomplish those things on which his last will and testament depends. Amen.