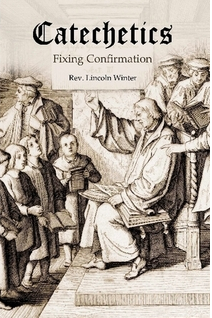 Greetings in the Name of Jesus.
In 2014 I published Teach These Things: Catechesis for the Lutheran Parish. I hope it's been a blessing to you in your ministry. (A 2nd Corrected edition was released in 2016.  If you haven't upgraded yet, head to https://gumroad.com/l/ToSuh and use the code "thou shalt not steal" to get a free download.)
The companion volume, Catechetics: Fixing Confirmation has now been released. It's available at Lulu.com, as either a hardcover or paperback. This week (through Thursday), you can get Catchetics for a 15% discount with the code ONEFIVE.
Here's what Paul Cain, Pastor of Immanuel Lutheran Church in Sheridan, WY has said about Catechetics:
Catechetics: Fixing Confirmation, is a necessary book. Recapitulating, updating, and improving upon the standard works on the topic, Catechetics explains how Confirmation in The Lutheran Church–Missouri Synod reached its current state, and how a distinctly Lutheran catechesis can begin the work of repair, patiently bearing fruit over the next generations. Lutheran parents, pastors, educators, and church and school leaders would benefit from a return to Lutheran catechesis, wider use of the Large and Small Catechisms of Martin Luther, and collectively reading this landmark volume. This book will be especially encouraging to classical Lutheran educators! Faithful, honest, frank, yet constructively helpful and practical, Catechetics: Fixing Confirmation deserves wide distribution, readership, and application.
Paperback is available for $36:
http://www.lulu.com/shop/lincoln-winter/catechetics-fixing-confirmation/paperback/product-23991810.html
Hardcover  is available for $45:
http://www.lulu.com/shop/lincoln-winter/catechetics-fixing-confirmation/hardcover/product-23991847.html
If you haven't checked out my website, there are a lot of free resources (some of them are new) at TeachTheseThings.wordpress.com
You'll find "No More Tears Examination: The Catechism Review Game Show", "The Promised Savior" a Christmas Program for small & large parishes, Luther's Latin Litany (in Latin), and Footwashers: Following the Jesus Way, a Lutheran look at biblical ethics by Dr. William Lehmann, one of my professors back in the day at CURF.
I also have some other books available: Evolution: A Defense Against, What Every Christian Must Know (Outlines from Luther's Large Catechism), and Life of Luther by Gustav Just. The links are all at TeachTheseThings, so head over and look around.
I pray that God would bless you this Lententide, as we journey again to the cross to hear of our Lord's death and resurrection for our salvation.
+INJ+
Lincoln Winter
Pastor, Trinity Lutheran Church, Wheatland WY