The 2019 Steadfast Lutherans Regional Conference in Orlando, FL takes place later this month. We'll be meeting Friday, February 22, and on Saturday, February 23 to consider "What the World Wants…" If you haven't signed up already, be sure to sign up so we know how many to expect! We reworked the schedule a little bit, but we'll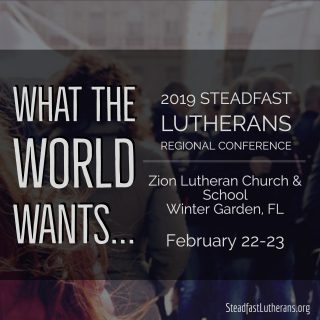 still cover all of the same topics in the presentations.
Pastor Preus's paper, "The World Wants Ugly Women," will give a biblical, confessional, and historical critique of the Feminist movement that is wreaking havoc in our homes, churches, and society, and he will teach the definition of true, godly beauty found in Holy Scripture.
Pastor Richard's paper, "The World Wants Numbers," will address the misconception that numbers and truth go together—What's popular is not always good, right, or salutary. He will talk about how this idea has crept into popular teachings on evangelism, and how we should learn to trust in God's Word above the numbers we see.
"The World Wants the World" is Pastor Rojas's paper on arrogance and pride. He will show how pride runs through all of our sins, and how many of the most popular movements of the day—cohabitation, abortion, homosexuality, contraceptives, promiscuity—are motivated by it. He will also teach on the solution to pride found in the humiliation of Christ.
Finally, Pastor Deal's paper, "The World Wants Your Church," will expose the devil's attacks on the Church. He will show how the devil tempts churches to unfaithfulness, and he will equip us to withstand these attacks with the Word of Christ.
Last year, we had a good number of attendees stay for the Divine Service the next day. The Pastor Tim Rossow gave a presentation for Lutherans in Africa (LIA), and he preached at the Divine Service. Although this is not officially part of the conference, this year, Pastor Deal will lead the Sunday morning Bible study and Pastor Preus will preach in the Divine Service.
The new schedule is posted below:
Friday, February 22
5:00pm – Registration/Meet & Greet
6:00pm – Presentation 1: The World Wants Ugly Women (Preus)
7:00pm – Vespers: John 15 (Richard)
8:00pm – Dinner, Beer, & Cigars (Off-site)
Saturday, February 23
8:30am – Matins: John 14 (Deal)
9:15am – Presentation 2: The World Wants Numbers (Richard)
10:30am – Presentation 3: The World Wants The World (Rojas)
11:45am – Lunch on your own
1:45 – Presentation 4: The World Wants Your Church (Deal)
2:30pm – Panel/Q&A
3:45pm – Closing Prayer
4:00pm – Dismissal