"The Lord's Prayer in the Lord's Passion" is the theme of the Lenten devotion that Steadfast Lutherans has put together this year. The following sermon addresses the Sixth Petition of the Lord's Prayer. For further reflection, read The Large Catechism, III. 99-111 (The Sixth Petition of the Lord's Prayer), III. 59-64 (The Third Petition of the Lord's Prayer), and V. 75-84 (The Sacrament of the Altar).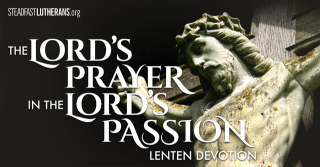 Grace to you and peace from God our Father and the Lord Jesus Christ.
It was on this night that Jesus went into the Garden of Gethsemane to pray. He told his disciples after they had fallen asleep, "Watch and pray that you may not enter into temptation" (Mt. 26:41). And Jesus has given us the very prayer to say when he taught us to pray, "And lead us not into temptation."
Now, what is temptation? We say the word often, but what's actually happening when we're being tempted? The Apostle James explains in James 1:14, "Each person is tempted when he is dragged away and lured by his own desire." Being tempted means something is trying to drag you away or lure you away from Jesus.
We can more easily picture what this looks like. Being dragged away looks like what happened to Paul in Acts 21:30, "They seized Paul and dragged him out of the temple." Temptation sometimes feels like something has grabbed you and is trying to haul you off. You feel an urge or compulsion, a strong satanic hand grasping and clutching.
Now it's important to note that just because the Evil One grabs at us, this does not mean it's in his power to force us away. He can pull and yank and try to wear us out, but he cannot make us sin. When temptation turns to sin is when we consent to it, and stop resisting, and give in, which sometimes happens without us even realizing it. Nevertheless, giving in to temptation is not inevitable.
We can think of Joseph and Potiphar's wife in Genesis 39. Day after day Potiphar's wife said to Joseph, "Lie with me." And Joseph said, "How can I do this great wickedness and sin against God?" One day Joseph was in the house going about his work, and none of the men of the house were around. And Potiphar's wife "caught him by his garment, saying, 'Lie with me.'" The devil laid hold with his grip of temptation. But Joseph was not taken in. "He left his garment in her hand and fled and got out of the house." And this illustrates God's promise in 1 Corinthians 10:13, "No temptation has taken you that is not common to man. God is faithful, and he will not let you be tempted beyond your ability, but with the temptation he will also provide the way of escape, that you may be able to endure it."
So you can picture what it's like to be dragged away. The other image that James uses is being lured. This is when there's some bait involved. Sometimes the devil understands that grabbing and pulling will not be nearly as effective as enticing and seducing. This is the tactic he employed in the Garden of Eden. He twisted the good fruit that God had made into a harmful lure with which he could capture mankind. The devil spoke with smooth, serpentine words, and then when the woman looked at the fruit of the tree, she "saw that the tree was good for food, and that it was a delight to the eyes, and that the tree was to be desired to make one wise." She took the bait, and so did Adam.
Now once again, just because there's tempting bait present does not mean that sin must follow. The presence of bait is not sin, although it would be stupid of us, knowing the weakness of our flesh, purposefully to put ourselves in places or situations where we know we'll be lured and tempted. Yet the fact remains that temptation only becomes sin when we take the bait. A certain wise abbot once said to a young monk, "Dear brother, you cannot prevent the birds from flying over your head, but you can certainly keep them from building a nest in your hair." And so, as Jesus says in Luke 17:1, "Temptations to sin are sure to come." But sin does not as surely follow.
And yet there are times, many more than we'd like, when we consent to go where Satan is pulling, or we take the bait. We pray "and lead us not into temptation" in the same breath in which we've prayed, "and forgive us our trespasses," because we don't always stand firm and we don't always overcome temptation. It might be easier to stand firm and overcome if we were only up against external enemies, like the devil and the world. Yet James said, "Each person is tempted when he is dragged away and lured by his own desire." There is a source of temptation within us – our sinful nature – which is so tragically allied with the devil and the world that it drags itself off and lures and baits itself.
Thus we cry out with the Apostle Paul in Romans 7:24, "Wretched man that I am! Who will deliver me from this body of death?" Yet this is not a hopeless, open-ended question, but Paul immediately says, "Thanks be to God, through Jesus Christ our Lord!" And this turns our attention to our hope and help in the midst of temptation.
What is our hope and help when we're being tempted? The simple answer is: Jesus is our hope and help. He is the one who was grabbed and lured by the devil, and yet resisted every time and overcame the temptation every time. He did this not to set us an example, but to conquer where we could not, to give us his victory over temptation, and to keep himself spotless in order to be our perfect sacrifice.
We have great promises concerning the certainty of receiving help from Jesus when we're tempted. It says in Hebrews 2:18, "For because he himself has suffered when tempted, he is able to help those who are being tempted." And in Hebrews 4:15-16, "For we do not have a high priest who is unable to sympathize with our weaknesses, but one who in every respect has been tempted as we are, yet without sin. Let us then with confidence draw near to the throne of grace, that we may receive mercy and find grace to help in time of need."
Drawing near to the throne of grace to receive mercy and find grace happens in two delightful ways. The first is by prayer. Jesus said, "Watch and pray that you may not enter into temptation." This prayer does not have to be eloquent, or long, or calm. This prayer is simply a cry for help, the bleating of a little lamb who needs the Good Shepherd to come rescue him: "Lord, help me!" And Jesus will assuredly answer. He has suffered that exact same temptation, and has overcome it, and knows how to rescue you from it.
The other way we draw near to the throne of grace to receive mercy and find grace is by coming to the altar and receiving the Sacrament. It was on this night that Jesus instituted his Holy Supper in which he gives us his body to eat and blood to drink. The devil may have many lures and much bait, but nothing draws us and entices us like the sacrifice of Christ and the fruits of his cross. What can the devil offer that compares with what Jesus offers here: the forgiveness of sins.
The forgiveness of sins is the greatest help in temptation, whether received in the Sacrament of the Altar, the preaching of the Gospel, or private Confession. It is the greatest help in temptation because the forgiveness of sins gives us Christ's victory over the devil and sin and every temptation. The forgiveness of sins restores to us a good conscience and a willing spirit that wants to live according to God's Word, and strength to fight temptation and to love the neighbor.
And thus, by the forgiveness of sins, Christ himself continues to conquer temptation, and he makes us noble knights who ride with him, who by his grace fight and resist and overcome. Even if we should become unsaddled, Christ lifts us up, and brushes off the dirt of sin, and makes us valiant with his strength. And at the last, the strife will be over, and Jesus will take us to himself, where there is no hand to drag us away and no lure to entice us, but there is perfect rest and peace, and everything that is truly desirable and delightful. Amen.