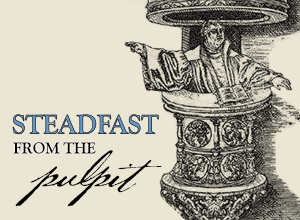 The angel did not tell the shepherds how they can make Jesus their Lord and Savior. Instead, he told them that Christ their Lord and Savior had been born for them already that day. He did not tell them that by their decision, good intentions, or works done in righteousness that they will make Jesus the Lord of their life. Jesus had already made himself their Lord by coming in the flesh to bear their sins. It was not their goodwill that saved them, nor was it the peace which they found within themselves that gave them joy. No, it was the goodwill and peace of God, which he shows toward sinful mankind. St. Paul says that when the kindness and love of God our Savior toward men appeared, he saved us. So the angel did not give the shepherds a list of rules to follow. He didn't give them a sinner's prayer to pray. Instead, he simply directed them to the sign God had provided for them. He directed them to the same sign declared by Isaiah, the sign of the Immanuel Child, the sign of God with us, to the Babe lying in a manger.
And this is how it is for us today. We are saved by faith. But God doesn't give us some formula on how we are to get faith. Faith is not our work, a condition we must meet before God will give us salvation. No, instead, God simply reveals to us the object of our faith. He says, "Here it is. It's right here in the Child born in Bethlehem. It's right here, the Son of God being baptized by John in the Jordan River. Here is what your faith clings to. It's right here on the cross, in the empty tomb, in the Word declared to you, in your baptism that washes you clean, in the body and blood of the Lord himself, given and shed for you."
We are justified by faith. This means that God declares us righteous graciously for Christ's sake, and our faith simply clings to it. And again, God doesn't make us look within ourselves to find our faith. Instead, our faith is created by the very object that it clings to. Faith comes by hearing the Word of God.
This is very comforting for us. We know from God's law that we can't look within ourselves. The natural heart treasures all sorts of worldly things, which pass away with the grass of the field and melts with the snow. Our sinful flesh naturally looks for comfort in our own good deeds, in our own opinions, and in our own lives. But this is no comfort at all. It only leads to us looking down on our neighbor. It leads to all sorts of other wickedness, like murder, adultery, and greed. So if we look within ourselves for peace we won't find any. If we look within ourselves for evidence that we are righteous, we might find a few good deeds and a few good intentions. But it is all soiled with sin. Instead, we must look outside of ourselves.
The shepherds are a great example for this very reason. They run with haste to see that thing, which the Lord made known to them. They don't sit and talk about themselves or how they felt when the angels came. They knew how they felt. They were afraid, because they knew that they were sinners. Instead, they held fast to what God had revealed to them. The shepherds didn't look within themselves to see if they had faith. They didn't rely on their own dedication to serve the Lord. Instead, their faith was created by the very Word spoken from heaven. So the shepherds ran to the object of their faith. They ran to Jesus.
God creates faith within our hearts. But while faith exists within us, it comes from outside of us. We are justified first by God's grace, which is only received by faith. So if you want to see the true evidence that you are saved, then don't look within yourself. Because any good that God works within you only comes from outside of you. It comes from his Word. It comes from the promise of God in your baptism where you were clothed with Christ and made a son and heir of God's Kingdom.
And this is what St. Paul is teaching when he says that God saved us not by works done by us in righteousness. Even the works that we do as Christians, done in righteousness, which are pleasing to God and serve our neighbor – even these works do not justify us. No matter how much virtue God pours within us, our good works, even with the aiding of the Holy Spirit, are never good enough to make us righteous before him. In fact, our works are only good because they are done by faith, which alone receives God's gracious promise of forgiveness of sins in Christ. So while God certainly works good desires within us, and we are by the grace of his Holy Spirit renewed day by day as we grow in holiness, the object of our salvation remains outside of us. Our faith clings only to Christ, true God and man, who is the very substance of our salvation.
On Christmas we consider how God was born in the flesh. And we also consider how we are reborn by the washing of the Holy Spirit in our baptism. The Word became flesh, born of the Virgin Mary by the power of the Holy Spirit. And now we are born through that same Word by that same Holy Spirit. While our new birth happens within us, and God plants faith within us, we do not look within us for our assurance before God. Certainly we have, by faith, the very testimony of God within us, as St. John says, "Whoever believes has the testimony in him." But this doesn't mean that we look for this testimony within us. That's like saying that because you eat food, and you have food within you, that you look within yourself for food. No, we go to the source of our faith for nourishment. If you want to know the testimony that you are reborn, then listen to the testimony of the Son of God who was born for you.
With the shepherds we run to the sign God gives. It looks humble and meek. Like a little, helpless Baby lying in a manger, our salvation looks like simple water, simple words spoken by a sinful man, and simple bread and wine. But just as that Baby was the eternal Son of God, begotten of the Father from all eternity, so is that water combined with the eternal Word of God, giving us new birth and renewal from God's own Spirit of life. Just as that Baby was hardly noticed by those in Bethlehem, so do people hardly notice the bread and wine given for you to eat. But as surely as the flesh and blood of that Baby was the very flesh and blood of God, which gives life for all men, so is the bread and wine given to you the very body and blood of Christ who took away your sins.
St. Paul says, "Having been justified by his grace we might become heirs, having the hope of eternal life." "Having been justified by his grace." This is something that has happened. It is an accomplished reality for you. As surely as that Baby in the manger was God himself in the flesh, so is the Word you hear this morning the very appearance of your salvation from God.
Yes, if you look within yourself you will see a lot of sin. That is, if you are honest. If you listen to God's law, which teaches you how to love him and serve your neighbor, and if you listen to what God's law actually says about you, then you will find much evidence of your own unworthiness to stand before him. But what about Jesus? Jesus is the fulfillment of God's law. He is the very appearance of God's loving kindness. You find evidence within your dying flesh that you are dust and ashes, and that you, with Adam, have been separated from God. But what about the Baby in the manger? There is God and man perfectly united in one person. There is the eternal majesty of God joined forever to our own flesh and blood. There God declares mortal men righteous and worthy of eternal life.
So what about your baptism? What about the Lord's Supper? What about the Word of the gospel you hear this morning? Here is God joined to you, loving you, showing kindness to you, forgiving all of your sins, and seating you at his right hand.
When you gather around God's Word and Sacraments you are gathering around the exact same thing the shepherds gathered around on that first Christmas. You are gathering around the very Son of God who sat on Mary's lap, learned and grew in wisdom under his earthly father Joseph, suffered for you, died for you, and now sits at God's right hand. It isn't just a word about Christ. It is Christ revealed in his Word. It isn't just a symbol of Christ's washing your sins away. It is Christ revealed in his baptism, clothing you with his own righteousness. It isn't just an outward sign of Christ's body and blood. It is the very body and blood of the eternal Son of God made flesh and crucified for you. It isn't just a reminder of how you can be righteous before God. No, it is your very righteousness before God.
This is worth pondering. As much as the shepherds give us an example of faith, Mary does as well. Faith does not just learn a few bits of knowledge about God. It isn't a human act, which eventually grows bored and moves onto something else. Faith runs in haste to the thing made known by God's Word. And so, with Mary, faith ponders with the heart this great mystery. So ponder this mystery today. God is man, man to deliver, and his Son now is one with our blood forever. Ponder this great mystery, that God, who was eternally offended by the very sins you feel and know in your own heart, revealed his eternal kindness to us by assuming our flesh as his own in the person of his Son.
St. Paul says that we have become heirs, having the hope of eternal life. An heir is the son who inherits everything from his father. Jesus is the only begotten Son of the Father. He wasn't adopted by the Father. Rather, from eternity, he has been in the Father's side, coming forth in perfect divine love. And this means that everything from eternity, all majesty, all authority, all divinity and godliness belongs to him. And because he has joined himself to our flesh and blood, he shares his inheritance with us. We are sons with Christ. This is what Christmas teaches us. God is with us. This means that he isn't just close to man. He has become a man. The man born of the Virgin, baptized by John, and given into death for our sins is the very Son of the Father, God of God, Light of Light, very God of very God.
This is worth pondering. It is worth more thought than all of human minds put together. It surpasses the understanding even of the angels. And it is ours by faith. So don't spend your time asking how you will bring God down from heaven. Don't rely on your own free-will to make God your Lord. Instead, right here in his Word, listen, taste, and see the goodwill of God who has made himself your Lord. And because of this, have a very happy and merry Christmas. Let us pray:
O Lord, You know the heart of man.
You know our sin's corruption.
Yet bearing out Your gracious plan,
You shared our soul's disruption.
You claimed our nature as Your own
In Your belovéd only Son.
And then You point us all to Him
Who by Your own eternal whim
Assumed our nature, weak and frail,
And rescued us from death's dark veil.
So though my heart possesses faith,
I know my inward sighing
Is tainted with the sin of death,
By which my flesh is dying,
Yet still You show us where we find
Your love to men so meek and kind.
Lord, may we then this Christmas morn,
As children by Your Spirit born,
Find all we need in Your own Son
Who claimed our nature as His own.
Amen