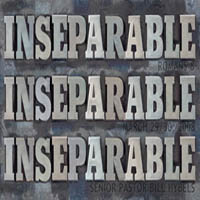 "Inseparable!" (Romans 8:28-39)
Do you ever worry that God has given up on you? That he's finally had enough and is ready to kick you to the curb? It's like God is thinking: "Oh, my goodness! There he goes again! Haven't I told him often enough not to do those things? What am I going to do with this one?" Yeah, how could God put up with a supposed Christian as lousy as I am? So I wonder if I'm going to make it with God all the way to the end.
Or maybe you think God has forgotten about you. I mean, look at all the troubles you're having. You don't have enough money. Your income is going down. Your expenses are going up. Your health–well, it's one thing after another. Your life is a mess. Some of the people closest to you have deserted you. And you think: "Maybe God has deserted me, too. He doesn't seem to care. Nothing is changing for the better. I mean, come on!"
This is how we feel. We look at all the troubles in our life: "Where is God in all this? Why isn't he doing something about it?" We feel the pangs of conscience in our heart: "What kind of a Christian am I? How can God accept me?" And we feel distant from God, separated from him. We wonder, and we worry. So it is to people like us that our Epistle reading today especially speaks. To Christians who are wondering and worrying whether God really still loves us, St. Paul today declares that God's love for us is "Inseparable!"
Inseparable. Nothing, Paul writes, nothing "will be able to separate us from the love of God in Christ Jesus our Lord." But sometimes we lose sight of that. We see our circumstances, we see our struggles, we see our sins, and we feel like God is far away. Like his love might be there for some people, for the good Christians, but surely not for me. I'm not good enough. My life doesn't seem to be improving. I guess God doesn't care. At least not for me.
The people Paul is writing to–the Romans, the Christians in Rome in the mid-first century–they would need to know that God's love for them was inseparable. Because very soon, troubles would be raining down upon their head. Persecution was brewing, and within not many years, it would break out big-time. The Roman emperor Nero would use the Christians as his scapegoat, as his whipping boy to blame for things. Nero enjoyed tying Christians to posts in his garden and lighting them up at night for human torches. St. Paul himself would be imprisoned and executed for the faith.
When the early Christians were facing this kind of hostility and violence and persecution, you can see how they might think that they've fallen for a big hoax. That there is no God who loves them like they were told. That this fellow Jesus, whom they had never seen–was he worth dying for? On the other hand, though, when you are convinced that God's love is utterly inseparable from you, that Christ Jesus really did die and rise for you and forgives your sins and now is watching out for you, so that nothing can take your eternal salvation from you–well, that changes things, doesn't it? I'll say!
And so Paul says, here in our text from Romans 8. What is it that convinces us that God's love is inseparable? It's the gospel, the good news of what God has done for us in Christ. The gospel word has the power within itself to convince us of its truth. This word gives certainty to our heart. And so this is what Paul writes: "We know that for those who love God all things work together for good, for those who are called according to his purpose. For those whom he foreknew he also predestined to be conformed to the image of his Son, in order that he might be the firstborn among many brothers. And those whom he predestined he also called, and those whom he called he also justified, and those whom he justified he also glorified."
We love God, because he first loved us. God loved us from before the foundation of the world. He planned for our salvation. God's plan was to send his own Son into the world to be our Savior. This he did, in the person of our Lord Jesus Christ. Jesus accomplished everything we need to be put right with God. Christ died on the cross to take the punishment we deserve as sinners. Jesus endured the ultimate separation from God, when he cried out, "My God, my God, why have you forsaken me?" Jesus experienced that forsakenness, so that you would never have to! But having suffered, Jesus then shouted, "It is finished!" And it is! No more separation. God is reconciled. We have peace with God on account of Christ.
And God has called you to faith in this Jesus. The Holy Spirit has called you by the gospel and enlightened you with his gifts. In Holy Baptism God claimed you as his child and gave you the gift of saving faith. God put his name on you. You belong to him. Is he going to give up on you now? No way!
You have been called, and you have been justified. For Christ's sake, God declares you not guilty, righteous in his sight. And because you have been justified, you will also be glorified. God will raise us up to live with him forever, in glorified bodies, in a restored creation, with all the saints of all times and places. It's as good as done. You have God's word on it.
Paul has more to say to us on this: "What then shall we say to these things? If God is for us, who can be against us? He who did not spare his own Son but gave him up for us all, how will he not also with him graciously give us all things? Who shall bring any charge against God's elect? It is God who justifies. Who is to condemn? Christ Jesus is the one who died–more than that, who was raised–who is at the right hand of God, who indeed is interceding for us."
God's love is inseparable. Are you getting the message? God will not condemn you. Even if other people are against you, God never is. The proof of this is in the cross of Christ. If God did that much for you–the biggest job of all, saving you from your sins and giving you eternal life–will he not also take care of you and watch out for you from day to day? Yes, of course he will! Hold on to that when all your circumstances look grim and bleak. God has not given up on you or abandoned you. No, indeed! In fact, Jesus, your ascended Lord, right now is interceding for you, praying for you, making sure that you will not fail or fall.
Life can be pretty grim. We Christians will face a host of troubles in the world. Some we bring on ourselves. Some are thrust upon us. Some just come from living in a sin-damaged world. This life is truly a vale of tears. We feel it daily. And Paul recognizes this reality. But in the midst of all this, he has a word that will reassure us: "Who shall separate us from the love of Christ? Shall tribulation, or distress, or persecution, or famine, or nakedness, or danger, or sword? As it is written, 'For your sake we are being killed all the day long; we are regarded as sheep to be slaughtered.' No, in all these things we are more than conquerors through him who loved us. For I am sure that neither death nor life, nor angels nor rulers, nor things present nor things to come, nor powers, nor height nor depth, nor anything else in all creation, will be able to separate us from the love of God in Christ Jesus our Lord."
Inseparable, that's what it is! Nothing can separate us from God's love in Christ. Take that list of woes and expand it if you like: Health problems. Financial problems. Family problems. A bad diagnosis. The loss of a job. The breakup of a marriage. Your kids not living up to what you had hoped. You yourself not living up to what you had hoped. The list could go on and on: Swimming upstream in our post-Christian culture. Media, education, the government, all turning against the church. The great falling-away from the faith and the church in our society. This is what we are experiencing in our day. It could cause us to lose hope. Where is God? Has he gone on vacation or something? He seems so far away. But God wants us to know today that his love for us is inseparable. He will never leave you nor forsake you. Jesus is the proof of that. Take heart and take hold of that promise. For God is holding on to you, and he will never let go.
Four hundred years ago, in Germany, there was a man by the name of Paul Gerhardt. When he was a boy, a great war broke out in northern Europe–the Thirty Years' War it would be called, because that is how long it would last. That war devastated the region where Paul Gerhardt lived. Thousands died, either from the war itself or from the disease that followed in its wake. Life was miserable, and it was particularly miserable for Gerhardt. Because of the disruption in the land, he couldn't get a call as a pastor until he was 44. He wasn't economically settled enough to get married until he was 47. He and his wife had five children, but four of them died in infancy or childhood. Life was rough for Paul Gerhardt.
But Gerhardt knew that God's love for him was inseparable. And he rejoiced in this, in spite of his many troubles. Gerhardt wrote many hymns that express this beautiful gospel comfort. We're singing one of them today, "If God Himself Be for Me," and it's based on our text from Romans 8. Listen to how he sings praise to the Lord:
No angel and no gladness,
No throne, no pomp, no show,
No love, no hate, no sadness,
No pain, no depth of woe,
No scheming, no contrivance,
No subtle thing or great
Shall draw me from Your guidance
Nor from You separate.
My heart with joy is springing;
I am no longer sad.
My soul is filled with singing;
Your sunshine makes me glad.
The sun that cheers my spirit
Is Jesus Christ, my King;
The heav'n I shall inherit
Makes me rejoice and sing.
Yes, inseparable! Dear friends, nothing–no, nothing–"will be able to separate us from the love of God in Christ Jesus our Lord."