June 11, 2017 — Trinity Sunday
Sermon Text — Matthew 28:16-20
Sermon Audio —
In the Name of the Father and of the X Son and of the Holy Spirit.  AMEN!  Our text for this morning's sermon is taken from St. Matthew's gospel account the 28th chapter.
Beloved in the Lord,
All Authority has been given to Me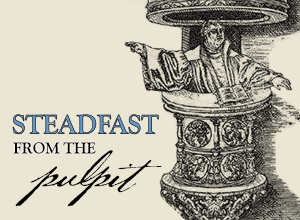 Some worshipped and some doubted.  All were gathered on the mountain.  All saw the resurrected Jesus yet some worshipped and some doubted.  Why did some doubt?  Why, do you doubt?  What they saw with their eyes we are given to behold by faith, to see with our ears so to speak.  Yet some worship and some doubt.
While some are worshipping and some are doubting the Lord of all creation knows their hearts.  Your Lord knows your heart.  Knowing the hearts of men, women and children, our resurrected Jesus speaks.  He addresses our doubts with His Word.  His Word gives us what we need and eases our doubts intending to quicken and stir up faith.
What Word does He give?  "All authority in heaven and on earth has been given to me."  With His Word we are given to see Him in a way we've not seen Him before.  We are also given to see ourselves in a way that we've not seen ourselves before.  Jesus' Words addressing our doubts indicate that our doubts have to do with authority.  We doubt because we do not believe that He has all authority in heaven and on earth. We doubt because we do not believe that we are under authority.
Chasing Authority for Power
We have an authority problem.  And our authority problem results in a faith problem.  This problem is nothing new.  It's been since Adam in the garden and it's been passed down from generation to generation.  It's called original sin.  I have it and you have, every one of us has it.  Original sin does actual sin.  And actual sin chases after authority, abuses authority, because original sin views authority as a means to power rather than an opportunity to love.  Therefore you and I chase after authority in order to be powerful instead of loving.
Chasing authority to get power destroys love.  And if there's one thing we love wrongly it's power.  Authority is a means to power and power is a means to self service and self service is self defeating.  Chasing authority to get power destroys love.  Destroying love we also destroy community.  And we recognize the fallout.  We see the works of our flesh day in and day out.  It's called sin.  And our sin is very real with very real names and very real consequences.
Thus we become takers rather than givers.  In our taking we often take what is not ours to receive.  Men take women who are not their wives – that's called adultery and fornication.  Women who allow themselves to be taken before marriage share the shame and often the burden of a child.  Taking authority over their bodies – my body my choice – many women use their power to choose death for their babies increasing the burden on an already heavy conscience.
Chasing authority to get self- serving power breaks up families, hurts women and children destroys love.  Authority is abused.  Power is mis-used.  And those caught in its trap suffer anxiety, doubt, and a coldness of their own hearts towards their neighbor and their God.  Where there is no love there is no trust.  And where there is no trust there is no love.  The ongoing cycle of brokenness begets more brokenness all because you and I chase after authority in order to get power over others.
Christ's Comforting Authority
Jesus' words are intended to break the cycle, stop us in our track, ease our doubts, and comfort our consciences.  "All authority in heaven and on earth has been given to me."  He says.  And unlike those in our world who chase after authority to get power for themselves, Jesus says this authority was given to Him.  He did not consider equality with God something to be grasped.  Unlike Zeus in Greek Mythology who warred with Kronos for power and authority in the world Jesus did not rebel against His Father but submitted Himself to His Father's authority.  Though equal with the Father from eternity with respect to His divinity, Jesus was less than the Father with respect to His humanity.  Fully God and Fully man Jesus did not war with the Father but obeyed the Father.  He humbled Himself and became obedient even to the point of death.  Therefore,
His humiliation is the death of your pride.
His crucifixion is the destruction of your quest for power.
His Passion is the fall of sin's domain.
His crown is the merit of your deeds.  The authority you covet.
His Wounds are the cleft in the Rock in which you hide and gaze upon God's heart for you.
His arms spread wide are the wings under which He wishes to gather you to love you and be for you a Savior from sin, death, devil, and hell.
His head is bowed in submission to His Father's will and in love toward all who are drawn near to Him.  He does not look away in conceit but welcomes all who call on the name of the Lord.
Christ's Exercises His authority to Serve
It is here beloved that Christ exercises the fullness of the deity in that the fullness of the deity dwelling in bodily form is crucified, dead and buried for your salvation.  His authority is one of love not power.  Thus in His weakness He proves Himself stronger than our strength.  In His humiliation He shows Himself faithful to even the unfaithful and most undeserving.  In His passion He loves beyond all telling so that you and I would humbly bow the heart to Him, trust and believe in Him, and receive from Him eternal life and salvation.
In order that you and I worship and not doubt Jesus' authority is manifested before us this morning.  Note well beloved that Jesus' authority is not manifested in power – though He possesses with the Father the Kingdom, the power and the glory.  Note well beloved, Jesus exercises His authority in order to love.  His love forgives.  In order to forgive you and love and heal you and bind up the wounds of your heart and turn you from your sinful pursuits Jesus serves you.  Through the means of His grace here in Divine Service Christ Jesus bends low to be near you and speak tenderly to you.  He brings us into submission to His authority not by sword or spear but by love and service.  He forgives you your sins.  He washes your wounds.  He honors you by inviting you forward to His table where He serves you with His Body and His blood, with choice meats and good wine, wine on the lees.  He gathers you into community where that love can be shared with others and the mutual conversation and consolation of the brethren builds up rather than tears down.  Through Christ's service and by His authority love is given to flourish.
Authority under Christ is given in Vocation (authority to love)
This same love is given to flourish in your heart and in your vocations.  Through your vocation Christ shares His authority with each you not so that you may run off chasing after this or that or whatever makes yourself feel good, but so that you may be grounded in a place to share His love.  He grounds you, so to speak, so that you go and make disciples of all nations.  He gives you a vocation so that the people you serve with His love learn the love of God and rejoice in His salvation.
Therefore, having been born into a community called "family" Christ shares His authority to love so that love may abound in our midst.  Scripture teaches, "Christ is the head of every man, and man is the head of woman."  Fathers are the head of the house and their headship is not one of power but one of love.  Fathers, husbands, are to love their wives, the mother of their children.  Wives are to submit to their husbands as the Church submits to Christ, not because the Husband has power, but because he is given to love her and she in turn is given to love him by showing him respect.  In the same manner parents have authority over children so that they love their children.  Employers are given authority in order to show love to their employees.  All are given authority, each within their vocation, in order that all serve their neighbor with the love of God.  And the church is given the authority to preach, teach, and administer the sacraments so that love abounds in the world and those in the world may be drawn near to worship on Zion, God's holy mountain, to worship and not doubt.
Beloved in the Lord, Jesus says, "all authority in heaven and on earth has been given to me."  Bend your heart before your King.  He is gracious and He is merciful.  He has proved His love for you time and again.  He is crucified and He is risen and He is ascended to the Father's right hand.  His authority is given Him to rule the world in love.  He comes near today to rule your hearts with a gracious Word and to bind you one to another in community, in family, in love.  AMEN!
The peace of God which surpasses all understanding keep your heart and mind through faith in Christ Jesus.  AMEN!