"A Kingdom of Priests" (Exodus 19:2-8)
"You shall be my treasured possession among all peoples, for all the earth is mine; and you shall be to me a kingdom of priests and a holy nation." What did this mean for Old Testament Israel? What does it mean for the church today? What does it mean for you in your life? That's what we're going to explore now as we consider the Lord's calling for us to be "A Kingdom of Priests."
Our text is the word that the Lord spoke to Israel at Mount Sinai, shortly after he had brought them out of slavery in Egypt and brought them to himself at the holy mountain. Listen again to these words from Exodus 19: "You yourselves have seen what I did to the Egyptians, and how I bore you on eagles' wings and brought you to myself. Now therefore, if you will indeed obey my voice and keep my covenant, you shall be my treasured possession among all peoples, for all the earth is mine; and you shall be to me a kingdom of priests and a holy nation."
Let's first see what this meant for Israel. The first thing is that it puts it all in the context of the Lord mightily delivering his people from their bondage. The children of Israel had become slaves in Egypt, and they were crying out in distress under their heavy burden. And the Lord heard their voice, and he remembered his covenant, and he came down and visited his people and set them free. Centuries earlier, the Lord had established a covenant with the patriarch Abraham, that he would bless him and his descendants, and make of them a great nation, and give them a land to live in, where they would be at peace and live under the Lord's blessing and walk in his ways. And now the Lord was delivering on that promise. He was acting in history to set his people free and bring them back to the Promised Land.
And he brought them out with a mighty hand. The Lord sent plagues upon Egypt, until finally Pharaoh let God's people go. Israel was spared. The blood on the doorpost marked their homes, and death would pass over. The exodus: Israel came out that night and, with the Lord's protection and provision, Moses led them to Mount Sinai. That's the setting, then, for the words of our text. It's in the context of grace and deliverance and mighty rescue.
So it is for us. With a mighty hand, the Lord has brought us out of our bondage, our slavery to sin and death. The blood of Christ, our Passover Lamb, marks our doorpost, and we are spared from eternal death. Jesus has defeated all our foes: sin, death, the devil, hell. That old Pharaoh, Satan, has been thrown into the sea with all his hordes. A mighty rescue indeed! All by grace, all God's doing. As for Israel, so also for us: The call to be a kingdom of priests, in service to the Lord, follows upon God first setting us free and bringing us to himself.
"You yourselves have seen what I did to the Egyptians, and how I bore you on eagles' wings and brought you to myself." "I bore you on eagles' wings." How the Lord has carried us to where we are today! His protection, his provision, have guarded and guided us through many dangers to this point. The Holy Spirit has kept us in the one true faith, starting in our baptism, and here we are today: the church, ready to hear the Lord's calling.
"Now therefore, if you will indeed obey my voice and keep my covenant. . . ." Now let us hear this word aright. Israel was already God's people. The Lord had done the work of making them his people. It's not as though they had to earn their way in. No, they were already in. But to faithfully carry out their calling as God's people, they would need to hearken to his voice. They would need to walk in his ways. If they strayed, if they failed to listen to the Lord's voice, if they turned aside, then they could not be doing what they were meant to do, they could not be who they were meant to be: a kingdom of priests and a holy nation.
So it is for us. Are we going to be faithful in our calling, to be the church, to be God's holy people, set apart to belong to him and do his will? Are we going to be intentional and cognizant about being a kingdom of priests, dedicated to the Lord's service? Then we need to hear God's word, take it in, faithfully, regularly. We need to be built up by the means of grace, here in the church, here at this holy mountain, the place of God's dwelling. This is the way to be God's people and to carry out our calling.
The Lord says to Israel and to us: "You shall be my treasured possession." What a precious word this is! The Lord considers his people to be a treasure that he possesses. Oh, it's not that we are so special or wonderful in and of ourselves. Certainly Israel was not. They constantly were disobeying him, failing to listen, grumbling and complaining, not fearing, loving, and trusting in God above all things. It wasn't because of their innate goodness that the Lord called them his treasured possession. And we are no better. How often have we stumbled and strayed, grumbled and griped, falling back into the old ways, the ways of the world. It's not because of our own goodness that God calls us his treasured possession.
No, it's because of the great price that God paid to make us his own! It took the holy precious blood of God's own Son to rescue and redeem us. What greater price could there be? Jesus himself is the priceless treasure by which we become God's treasured possession. You are bought with a price, the price of Christ's holy blood.

"You shall be my treasured possession among all peoples, for all the earth is mine; and you shall be to me a kingdom of priests and a holy nation." Now here we're getting at what it means to be a kingdom of priests. The whole earth is the Lord's, but he chose one people out of all the nations to be his priestly people, dedicated to his service, to be his servant to all the other nations of the world. That was Israel's calling. Remember the covenant the Lord had made with Abraham back in Genesis 12: "I will bless you, so that you will be a blessing, and in you all the families of the earth shall be blessed." Through Israel, the Lord would bring blessing to all the nations. Ultimately, of course, this would be fulfilled in Christ, the seed of Abraham, Israel reduced to one, because through Christ the blessing does come to all peoples. Israel had a calling to be the instrument of God's blessing in the world. So it is now for the church. We are blessed, not just to keep the blessing to ourselves, but to share it with others.
We are a priestly people, a kingdom of priests. At his point we should ask: What do priests do? What did the priests do within Old Testament Israel? They were dedicated to the Lord's service. The Levitical priesthood was set apart to serve the rest of the people of Israel. So when the Lord says that the whole nation of Israel has the calling of being a kingdom of priests, he's saying that the people as a whole, all of them together, have that duty in relation to the world. That was their priestly vocation. It was true for Israel, and it's true for us as the church.
Within Israel, the service of priests consisted primarily of several things: They offered up sacrifices. They interceded in prayer. And they proclaimed the word of the Lord. And that's what we do also as a kingdom of priests.
First, we offer up sacrifices. Now here we need to be clear. There is one sacrifice we can never make, and that is the sacrifice for sin. We cannot atone for our own sin or for the sins of others. No, that sacrifice is beyond our ability. But the good news is, that sacrifice has already been made! Christ, the Lamb of God who takes away the sin of the world–he has made the one and only sacrifice that avails, himself the victim and himself the priest. His is the atoning sacrifice that puts us right with God.
But now that we are right with God, we do offer up priestly sacrifices. This is the sacrifice of praise, the worship of our lips and our lives. Romans 12: "I appeal to you therefore, brothers, by the mercies of God, to present your bodies as a living sacrifice, holy and acceptable to God, which is your spiritual worship." So we do offer up sacrifices to God, not to atone for our sins, which Christ alone does, but sacrifices nonetheless, in lives dedicated to God's service.
Second, as priests we intercede for others in prayer. We do this here in the Divine Service, don't we, specifically, in the Prayer of the Church. We pray for the church at large, for the government, for people in need–all sorts of people and needs that we're praying for. And you pray this way in your daily prayers too, bringing the needs of others before God's throne of grace. That is the priestly service of intercessory prayer.
Offering up sacrifices. Interceding in prayer. And third, proclaiming God's word. Now to be sure, we have called and ordained servants of the word, who preach and teach publicly in the church. And not all Christians are called to do that. But we all can do priestly service by sharing God's word with others. Certainly parents, when they teach their children in the home, are doing that. Especially today on Father's Day we honor Christian fathers who fulfill their vocation as head of the household by teaching and modeling God's word to their children.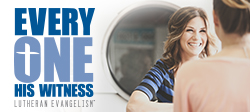 But all of us, whatever our situation, can give a good witness to others of our Savior. Personal evangelism, witnessing–whatever you want to call it, we all can do it. So let's prepare ourselves to be more effective witnesses for Christ. You have friends, relatives, associates, neighbors, people you know in your network of relationships, who may not know the love of God in Christ Jesus our Lord. And you might be just the person God will use to bring the good news to them. Later in the announcements I'm going to tell you about an opportunity we have in our congregation to better prepare ourselves to be effective witnesses for Christ. It's the "Every One His Witness" workshop we're going to host. More on that later.
"You shall be my treasured possession among all peoples, for all the earth is mine; and you shall be to me a kingdom of priests and a holy nation." You know, St. Peter picks up on this language of Exodus 19 in his epistle, when he applies it to the church. 1 Peter 2:9: "But you are a chosen race, a royal priesthood, a holy nation, a people for his own possession, that you may proclaim the excellencies of him who called you out of darkness into his marvelous light." Martin Luther said of this passage: "We are all priests . . . so that all of us should proclaim God's Word and works at every time and in every place."
So both for Old Testament Israel and for the New Testament church, that's who we are: A kingdom of priests. We are God's treasured possession, bought with the price of Christ's holy blood. We are a holy nation, set apart to belong to God alone, who has rescued and redeemed us to be his people. And we are a kingdom of priests, dedicated to God's service with a high and holy calling: to offer up a living sacrifice of praise; to intercede in prayer for all sorts and conditions of men; and to declare the excellent character and works of our most excellent God.