Consider yourself invited.  July 21-22, 2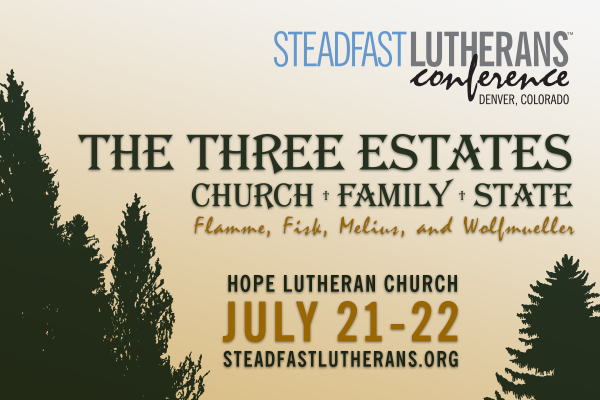 017. Register here.
You know you want to spend a couple of days in Denver hearing faithful teaching. Where else would you rather be? Join us at Hope Lutheran Church in Aurora, CO on July 21-22.  Rev. Jonathan Fisk, Rev. Brian Flamme, Rev. Jared Melius, and Rev. Bryan Wolfmueller will be presenting on the three estates.
Martin Luther's discovery of the Gospel destroyed the monastery and all the social structures of medieval Europe. But looking through the rubble Luther was able to see the foundation, the bedrock established by God of the ordering of this world: the three estates. The church, the home, and the state are the fundamental institutions, created by God, to support His gift of life.
Knowing the three estates helps us to read the Bible, understand theology, and engage in this world. In fact, it is some of the most important and insightful material in all of our Lutheran doctrine. We will uncover this hidden jewel, and delight in the wisdom the Lord has for us in these estates.
Consider yourself invited.  July 21-22, 2017.  Register here.
Vendors – We already have some great vendors coming to the conference, and if you are interested in being a vendor for the conference, please contact Pastor Scheer ([email protected]).
Conference Schedule:
Friday, July 21
6:00 PM Registration
7:00 PM Presentation 1 – Brian Flamme [Kirk Hall]
8:00 PM Responsive Prayer 2
Saturday, July 22
8:45 AM Matins [sanctuary]
9:30 AM Presentation 2 – Jonathan Fisk [Kirk Hall]
10:45 AM Presentation 3 – Jared Melius [Kirk Hall]
12:00 PM Lunch [Kirk Hall]
1:00 PM Presentation 4 – Bryan Wolfmueller [Kirk Hall]
2:15 PM Vespers [sanctuary]
3:00 PM Dismissal – Godspeed