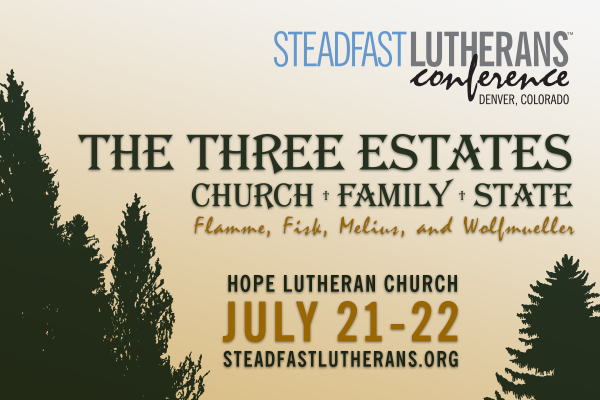 Consider yourself invited.  July 21-22, 2017.  Register here.
We are moving into doing more regional conferences in order to get solid Lutheran theology into the world.  Our first attempt will be a conference on the "Three Estates" and will be held at Hope Lutheran Church in Aurora, CO.  Our speaker list is one of the best lists we have ever put together (thanks Pastor Packer!).  Rev. Jonathan Fisk, Rev. Brian Flamme, Rev. Jared Melius, and Rev. Bryan Wolfmueller will be presenting on the three estates.
Martin Luther's discovery of the Gospel destroyed the monastery and all the social structures of medieval Europe. But looking through the rubble Luther was able to see the foundation, the bedrock established by God of the ordering of this world: the three estates. The church, the home, and the state are the fundamental institutions, created by God, to support His gift of life.

Knowing the three estates helps us to read the Bible, understand theology, and engage in this world. In fact, it is some of the most important and insightful material in all of our Lutheran doctrine. We will uncover this hidden jewel, and delight in the wisdom the Lord has for us in these estates.
These conferences are regional, but with the cheap cost of airfare into Denver, it could be affordable for someone to come in from anywhere.  Hope Lutheran is only about 15 minutes from the Denver airport (I just drove it yesterday).  They have a great facility, and who wouldn't want to come and see where all the Wolfmueller magic happens each and every week?
We are also having lower registration costs for these conferences in order to help promote more folks attending.  You will still get the good teaching and worship, but maybe not as big of meals.  One of the most beneficial parts of our conferences is being able to talk to other confessional Lutherans – it's a great time to get to know one another.
Stay tuned for more information on this conference and other conferences yet to come… (if your congregation wants to host one contact us).
Vendors – We already have some great vendors coming to the conference, and if you are interested in being a vendor for the conference, please contact me ([email protected]).
Conference Schedule:
Friday, July 21
6:00 PM Registration
7:00 PM Presentation 1 – Brian Flamme [Kirk Hall]
8:00 PM Responsive Prayer 2
Saturday, July 22
8:45 AM Matins [sanctuary]
9:30 AM Presentation 2 – Jonathan Fisk [Kirk Hall]
10:45 AM Presentation 3 – Jared Melius [Kirk Hall]
12:00 PM Lunch [Kirk Hall]
1:00 PM Presentation 4 – Bryan Wolfmueller [Kirk Hall]
2:15 PM Vespers [sanctuary]
3:00 PM Dismissal – Godspeed