May 28, 2017 — Easter VII
Sermon Text — John 17:1-11
In the Name X of Jesus.  AMEN!  Our text for this morning's sermon is taken from St. John's gospel account the 17th chapter.
The Glory Road
Beloved in the Lord,
On the Path toward Glory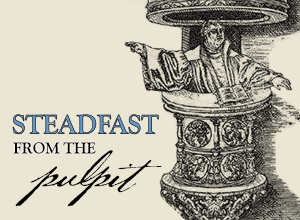 The hour of glory commences.  The weight of the world hangs heavy as the Lamb of God bears up the sins of the world.  This is the path He has been given, the path He was destined by prophecy to walk.  It is the path to glory, the way of righteousness, the holy highway.  Only Jesus is worthy to walk such a path.  He knows no sin but He carries with Him yours, mine, and the world's.  His path began in Bethlehem and leads to Calvary.  He was baptized for this moment.  There is a cup for Him to drink, a bitter cup.  He must drink it all, drink it down, down to the very dregs.  He must do this for us, drink it all for us, walk the path for us, lest we be damned in our sin.
He alone does the work.  He alone drinks the cup.  But He does not walk this path alone.  No.  His disciples follow Him, they are invited to follow Him, WE are invited to follow Him.  He blazes the path.  We follow in His train, eyes fixed on Him, ears open to His Word.  There is much to see but there is even more to hear.  For what we hear defines what we see.  It is hearing the Word of Christ that leads us along the path.  We harken to His voice like sheep following their shepherd. Where He goes we go.  Where He leads we follow, not to watch but to listen, not to work, but to rest.
Today, the hour has come for the Father to glorify the Son that the Son glorify the Father.  Eternal life hangs in the balance.  Eternal life hangs on Jesus.  So Jesus stops along the path.  He stops to rest.  He stops to pray.  He stops for us.
Weary Ones need Rest
His sheep need rest.  The path to glory is no easy path.  The life of faith is no easy life.  Sin and death are to our right while the devil and hell prowl about our left.  Darkness is behind us with only the Light of Christ to guide us along the way.  Crooked places surround us.  Rough places envelop us, yet the pathway is straight.  The highway is smooth.
We need His Sabbath.  For the Sabbath was made for man not man for the Sabbath.  We have need because we have sinned.  We are weary because 6 days we have worked and our works cannot save us.  We are starved for righteousness because the bread of this world is full of maggots.  We thirst for life because the drink of this world leads to drunkenness and debauchery.  We long for love because of the love this world is captivated with sexual immorality.    We are weary from the journey.  Hunger and thirst plague us.  Restlessness, anxiety, burn out bombard the soul.  We cannot go on until we rest, until we take Sabbath, until we stop with Jesus to receive His Word and be refreshed with His life.
Yet so many fall off the path.  So many wander to the right into sin, or become ensnared in the devil's traps on the left.  Some despairingly turn to the dark side, afraid to come into the light.  Maybe this is you, your life.  Maybe this is the life of someone you love.  Truly our deeds are evil and worthy of death, for all that does not proceed from faith is sin.  No one is righteous, no not a one.  For "all we like sheep have gone astray.  We've turned every one to his own way."  But our sin is not greater than our Christ.  He call us, each us, everyone one of us, to follow Him, to walk with Him, to stop and rest with Him. "If we walk in the light, as he is in the light, we have fellowship with one another, and the blood of Jesus his Son cleanses us from all sin."  (1Jo 1:7 ESV)
If we are to follow Him we must also rest with Him.  We must take Sabbath with Him.  What is your life like when you do not rest?  What happens to your heart when you deprives yourself of His Word?  How does your soul make it through the week without His gifts?  When we do not rest we not only grow weary but we become spiritually sleep deprived.    Those deprived of sleep are no different than those drunk with the world.  We swerve to the left, counter the right.  We can't see straight.  We can't walk upright.  We stumble and fall either to the right or to the left, either into sin, or the devil's traps.   We need to stop and rest with Jesus.  We need His Word.  You need His Word.
A Sabbath with Jesus
When we stop to rest what do we see? When we stop to take Sabbath what do we hear?  Look at Jesus in our text.  He is not there as God's example for you to imitate.  He is not there to give you words to do.  He's there in the garden praying for you.  He lifts up His eyes to heaven for you.  He cries to His Father on your behalf.  He manifests the Father to you.  For all who have seen the Son have seen the Father and all who receive the Son receive the Father.  The way to the Father is through the Son and no one comes to the Father except by the Son.  Everything for your salvation, everything for your journey, everything for your eternal life hangs with Jesus, His Word and His Work for you.  The Sabbath was made for man not man for the Sabbath.  There's nothing for you do but everything for you to receive.  The law gives you things to do, but you can never do enough.  The law demands but it cannot accomplish anything.  What the Law was powerless to do God did in the sending of His Son.  He gives by grace you receive by faith.  He Works.  You benefit.  He is condemned and you are set free.  He is judged.  You are forgiven.  He is forsaken.  You are never forsaken.  He becomes sin.  You become the righteousness of God.  He dies.  You live.  He is raised from the dead, you who believe and are baptized shall be raised from the dead on the last day.  He ascends to heaven you follow in His train.  He leads captivity captive, you shout Hosanna to the Son of David.  He destroys death, you walk in life.  He rolls away the stone you come out of your prison.  He makes the rough places smooth, the crooked places straight and leads you to still waters and green pastures.
Receiving the Name by Faith
It is the waters that manifest the Name to you. It is the green pastures in which you are fed with heavenly manna.  Jesus does all this for you, to you and in you right here in His Church.  Here He manifests the Name – for all who call on the Name of the Lord shall be saved.  For there is no other Name given among men by which to be saved than the Name of Jesus.  That at the Name of Jesus every knee should bow and ever tongue confess, in heaven and on earth and beneath the earth that Jesus Christ is Lord to the glory of God the Father.  By faith you glorify God.  Receiving God's Word you glorify God.  Believing the Word your glorify God.  If the chief end of man is to glorify God then the chief end of every man, woman, and child is to glorify God by receiving His Word by faith.  Faith allows God to be God for you.
Faith receives the Name through Word and Sacrament and then manifests the Name to one's neighbors in works of love.  The Law makes its demands but one never does enough.  The heart believes and all is done.  The soul that works much accomplishes nothing but He that believes much receives everything!  The Law came through Moses and brings death.  Grace and truth have come through Jesus Christ who is the life of the World.  The path we are called to walk, if we are to be saved, is to be walked by faith in the Son of God who loved us and gave Himself up for us.
Kept Through the Name
Beloved in the Lord, Jesus prays for you today.  He does not pray for the world but for you His beloved disciples.  He prays for you because the road to glory, though straight and smooth is also narrow.  Only the righteous can walk such a path.  There is a righteousness apart from the Law that has been manifested to us, the righteousness of faith.  Thus the Savior prays for your faith – that you be kept by grace in the Divine Name.  IN other words that you remain in your baptism.  Through those waters you were crucified with Christ and you no longer live, but the life you live you live by faith.  Strange things are bound to happen.  Persecution will follow you all the days of your life seeking to compel you to forsake the faith.  The devil will prowl about you seeking to devour you.  The world will lend its hands against you.  Even your own sinful nature will seek the best of you.  Keep your eyes fixed on the Jesus the author and perfector of your faith.  Follow where He leads.  Love those whom He loves.  Fulfill your vocation in accord with His Word.  Let not your hearts be troubled.  You believe in God.  Believe also in Jesus.  He who has begun a good work in you will bring it to completion.  If you grow weary come unto Him and find rest.  If you hunger and thirst for righteousness, approach His table and feast on the resurrection and the life.  If sin taints your conscience open your hears to His absolution.  All that you need for salvation is here in this place because Jesus is here in the place, here for you, praying for you, offering Himself, emptying Himself, pouring out Himself for you that you may find grace and strength to help in every time of need.  Glorify God!  Take Him at His Word.  Receive His gifts.  Sing His praises.  Receive your Sabbath with Joy and find your eternal rest in Him.  AMEN!
The peace of God which surpasses all understanding keep your heart and mind through faith in Christ Jesus.  AMEN!