May 14, 2017 — Easter V
Sermon Text — John 14:1-14
The Trouble with Words
Christ is risen!  He is risen, indeed!  Alleluia!  Our text for this morning's sermon is taken from St. John's gospel account the 14th chapter.
Beloved in the Lord,
The Trouble with Words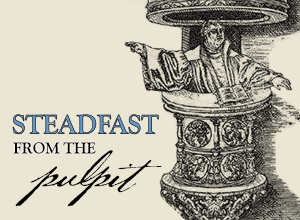 "Let not your hearts be troubled."  Jesus gets right to the point.  He who created you has searched you and known you.  He who formed and fashioned you in your mother's womb is not oblivious to your plight; your hurts, your sorrows, your regrets, your anxieties.  "Let not your hearts be troubled."  Jesus gets right to the point, He goes straight for the heart.
And what troubles the heart more than words?  One can learn contentment in the midst of physical pain and discomfort.  Poverty can be accepted.   The lack of the things of this world is neither here nor there.   Sickness and the frailty of the flesh can all be endured.  These do not trouble the heart as much as words.
We live in a world that is troubled with words.  With the dissolution of objective truth words have lost their meaning.  Fake news fills the airwaves and litters social media.  Propaganda tweets its agenda and riles up a nation.  In a world where one nation can literally nuke the globe 7 times over, we find ourselves battling over the definition of words.  What does marriage mean?  When does life begin?  What makes a boy a boy and a girl a girl?  When words lose their meaning everything is to be questioned.   When everything is questioned so also are those who speak the words.  Who are you to say what love is?  Who are you to judge my definitions?  Who are you to limit marriage to one man and one woman for life?  Who are you to say abortion is murder.  When words lose their meaning a nation rails against itself because it has become a nation with no words or any objective or transcendent meaning.  Humanity lives by words.  And when words lose their meaning Humanity itself is lost.  Hearts are troubled.  Souls are anxious.  People are lost, dazed, confused, not knowing who to trust or how to love, because trust and love are communicated with words.  The culture wars are not warring over politics or religion or traditional morality.  They are wars over words and thus words to live by.
Words are Not Enough for Old Adam
"Let not your hearts be troubled."  Jesus says.  But even His words are not enough for us.  Old Adam, fallen humanity cannot, will not live by words, to do so requires faith.  Old Adam does not, will not live by faith.  So Philip's question is the echo of our own hearts.  "Show us the Father and it is sufficient for us."  Philip doesn't want words.  Philip wants action.  When words are not enough, when words are not sufficient, the heart covets power.  Fallen humanity refuses to live by words. Such a life is unnatural.  Fallen humanity craves a life of power.  Power imposes definitions upon us which only further troubles our hearts.  Political correctness is the world's response to a world without definitions.  It is the exercise of social power against speech and therefore it is against words with any sort of objective meaning.
You are I find ourselves in a land of confusion, lost and wandering about because we have lost meaning in this life, purpose, a place to be, a place to be human as the Lord created us.  Submitting to the world around us rather than go against the current, we seek the exercise of power.  Last week we heard that all sin is thievery, but what is thievery but the exercise of power over and against our neighbor?  Thus we exercise whatever power we have, even making use of words, to justify abusing of our neighbors physically, emotionally, sexually, even spiritually!  Denying the poor our compassion we contribute to their hurt and harm.  Marriages suffer and even fail because one or both seek power over the other.  One need not rape or molest another to get sexual satisfaction apart from God's design in marriage.  Willful adultery and fornication steal for self what God would give as gift.  Sin is thievery and such thievery is the exercise of the human will, the exercise of power over and against God's Word.  Nowhere is this most blasphemous than the tolerance and acceptance of false doctrine.  Open communion in the church blatantly denies the objective truth of God's Word.  We must confess that too often we live this way.  And for this we must also repent.
A World loved by the Word
"Let not your hearts be troubled."  Jesus gets right to the point.  Jesus goes straight for the heart because our hearts are troubled.  He goes straight to the heart with the only thing that can pierce through bone and sinew and get to the heart.  He uses Words.  Jesus is a king ruling His kingdom established on a throne of words.  He does not rule through the exercise of power.  He does not still anxious hearts with displays of majesty.  He does not miraculously remedy what we have wronged.  He uses words, words that rule hearts by changing hearts through the revelation of His heart.  His words define things and therefore anchor our existence in reality.  His words call a thing what it really is.  A boy is a boy.  A girl is a girl.  Marriage is the one flesh union between one man and one woman.  Life begins at conception.  Truth is objective.  The Law reveals our sins and the gospel reveals our savior from sin.  Jesus doesn't love us with power but with words, words that show us the depth of His love for us, words that set before our hearts His passion, the message of the gospel, His death and resurrection for you.
Truly He has done these things, surrendered His power, his very self into the hands of men.  Jesus gave Himself over to the power of men to undo the power of sin, death, and the devil.  Jesus surrendered Himself to the kings of the earth to establish His kingdom over men's hearts.  Jesus suffered and died, endured the pains of the cross, gave up His very life, to save your life, body and soul from the fires of hell.  Jesus did not exercise power but gave it up, set it aside, and suffered the power of the nations exerted against the God of love made flesh.  Dying, He died to sin, once for all, for all who are sinners, which means for you and your children.  Rising from the dead on the third day He has blazed a pathway back to God, a holy highway, one on which only the righteous, only those who believe and are baptized are given to walk.
Truly He has done these great and marvelous things but you only know them, you only receive them for yourself through His Word.  Apart from His Word you are left to yourselves, left in your sin, left to exercise power without love.  Its for this reason He has given you His Word.  It's for this reason He says, "you believe in God. Believe also in Me." Jesus doesn't call you fix it yourself.  Jesus doesn't demand that you make up for your sin.  Jesus doesn't require good works before entering His kingdom.  No!  He calls for faith, faith in His Word.  Faith comes by hearing not doing.  Trust comes be listening and receiving not seeing or deciding.  Faith is not an exercise of the will but a gift of God who loves and saves with Words.
For the Love of Words
Through His Word He has prepared a place for you.  This place is a place to be, a place with Him and His Father and the Holy Spirit as the triune God shares Himself with you in Words.  Yes, this place is most certainly heaven, but heaven is not necessarily out there or up there.  Heaven is wherever Jesus is present with His Word, wherever the Father is revealed by Jesus in His Word, wherever the Spirit is active in the hearts of men, women, and children, with His Word.  The Christian life, the life that endures for eternity, is founded on and anchored in His Word.  Whoever has and believes God's Word has the Lord as His God and all that He promises in His Word.  Whoever does not believe the Word has neither the Son, nor the Father, nor the Spirit. The Christian life is all about receiving the Lord in His Word by faith.  Unbelief receives nothing.  And whoever does not or will not hear the Word of God has nothing.
So, where is this place Jesus has prepared for us? Where is Jesus present revealing the Father through the power of the Holy Spirit?  It's here, in this place, where the Word is preached rightly and the blessed sacraments are given as Jesus instituted with His Word.  Here, in Christ's Church is your mansion, your room your place to be.  When Jesus says, "come unto me all who are weary and I will give you rest, He is calling you to draw nearer to Himself.  He is calling you into His church.  When Jesus says "I am the bread of life, whoever comes to me shall not hunger and whoever believes in shall never thirst," He is promising to feed and give you drink at this rail – to nourish you with heavenly manna and slake your thirst with His cup of blessing.  These are found here in His church.  The kingdom of God is near you in His church as you hear the voice of God in His Word and receive from His servants the gifts He's purchased for you with His holy, precious blood.  These are God's gifts for you, to comfort your soul, ease your burden, release you from your sins, and empower you for service to your neighbor.  If you could still your troubled hearts yourself there would be no need for such words.  But you cannot.  Jesus is the only Way, the only Truth, and the only Life.  No one comes to the Father except through Him.  So when Jesus says, "let not your hearts be troubled.  You believe in God believe also in Me,"  He is calling you to repentance and faith, to acknowledge your sins, and receive from Him absolution.  Only His absolution can give the peace that surpasses all understanding.   And this He gives you today in His Word.
A Word Place for You
         Beloved in the Lord, "let not your hearts be troubled."  The world we live is lost.  But you have been found.  You are baptized.  You are His own dear child, His beloved.  Here is your place, the place prepared for you in His presence.  Christ is here today for you with His Word.  His Word is the anchor for your soul, to steady you in a world gone mad.  In this place you find rest.  But that's not all.  He gives Himself and He gives more.  For here in this place He gives His love.  He gives it.  He defines it.  He distributes it you, but His love is not given to you just for you.  He loves you that you in turn love one another.  In giving Himself and His love to you, He also gives you to your neighbor.  With His Word as the anchor for your soul you are given to love and serve those around you.  This is no easy life.  For those around us are lost and confused are not receptive of our words nor our love.  They hated Jesus and killed Him because of His words.  They hate you too.  That's why we pray.  That's why we ask the Father in the Name of the Son to work in the hearts of those we love and serve, to forgive our failures and to continually work His grace in our hearts.  We ask for His name to be hallowed in our midst, for His kingdom to Come and His will to be done.  We pray, knowing that whatever we ask in His Name He will do because He has promised as much in His Word.  Everything from our salvation to our sanctification, from our confession of sin, to our receiving absolution, from the love He gives us in the sacrament to the love we share with those around us flows from His Word.  His Word is our light and our life.   Let not your hearts be troubled.  The Lord is with you.  He has given us Word.  Christ is risen!  He is risen, indeed!  Alleluia.  AMEN!
The peace of God which surpasses all understanding keep your heart and mind through faith in Christ Jesus.  AMEN!