May 25, 2017 — The Festival of the Ascension of our Lord
Sermon Text — Psalm 68:17-20
Captives No More!
Hear the Word of the Lord!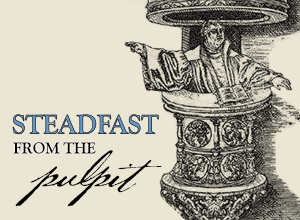 The chariots of God are twice ten thousand, thousands upon thousands; the Lord is among them; Sinai is now in the sanctuary.18 You ascended on high, leading a host of captives in your train and receiving gifts among men, even among the rebellious, that the LORD God may dwell there.19 Blessed be the Lord, who daily bears us up; God is our salvation. Selah20 Our God is a God of salvation, and to GOD, the Lord, belong deliverances from death.  (Psa 68:17-20 ESV)
Beloved in the Lord,
Singing with the Psalmist of the Lord's Ascent
Sing with the Psalmist the glory of the Lord!  For it is God's glory to dwell with man in righteousness.  It is God's glory to be near and not far, to swing low His sweet Chariots and draw all men to Himself.  Thus the God of the heavens and the earth manifested His glory on the Mountain.  Atop Sinai's heights in the midst of myriads of angels He drew near to Israel and shared Himself with them through the blood of the covenant.  He drew nearer still when He filled the Holy of Holies with smoke and promised to dwell with them forever.  Sinai was in the sanctuary!  The glory seated on the cherubim.  The Lord on His earthly throne!  Nearer still did He approach the hearts of men with the conception of His Son in the blessed virgin.  When the fullness of time had come God brought forth His Son, born of a woman, born under the Law that He might redeem those under the Law.  The Word became flesh and dwelt among us.  The closer He came to humanity the further His descent.  In Jesus Sinai's glory is made flesh.  In Jesus the Creator is joined with Creation.  In Jesus God was reconciling Himself to the world.  Whatever Jesus did, wherever Jesus went, the words His spoke, the weight He bore, the ridicule He suffered,  He did and endured for us.  The salvation of the Lord is wrapped up in Jesus' body and blood and there is no salvation apart from the God-Man who died but is risen from the dead!
Thus, today Jesus is ascended on high.  His ascension is not a departure, but again that the glory of the Lord might dwell among men.  He goes to the Father's right hand.  He in whom the fullness of the deity is pleased to dwell ascends in order to fill all things.  Christ Jesus was exalted at His resurrection.  He who knew no sin became sin that we might become the righteousness of God.  He was humiliated on Friday but glorified on Sunday.  Today, forty days later He is crowned King of kings and Lord of lords, as man!  His divinity is not exalted but His humanity.  His divinity receives nothing new but today His humanity, OUR humanity takes His place at the right of God, the throne of Heaven, the seat of all power and authority.  He receives all glory, honor, power and might as a Man.  He receives the kingdom as a Man.  He assumes the throne of God as a Man.  And He fills all things as a Man.  And so He is nearer now than ever before!  Nearer to save, redeem, and sanctify.
We were help Captive by Sin
Ascending as King, He leads a host of captives in His train.  He takes captivity captive.  Though some may behold His ascension as a departure and therefore a time of sadness, scripture teaches us that such a parade is good news for us.  He takes captivity captive!  That which once bound us is now itself bound!  That which shackled us bears the fetters of damnation.  That which tortured and terrified us, chased us into the bushes, turned us against one another, is now compelled to follow its King and suffer His judgement!
We were its captives.  And so long as we were our conscience plagued us.  Sin branded us sinners.  What we did and what we said, what we didn't do and what we failed to speak marked us.  Sin had dominion over us.  We obeyed its commands, followed its lusts, sought to satisfy its desires. We lived by the flesh under the law. As such we were outside the kingdom and under the whip of a wicked taskmaster.  The Law of God condemned us.  Dust you are and to dust you shall return.  Through one man's sin all men sinned.  Through one man's sin death came to us all.  And with death the curse of hell.  We were far from God and far from one another.  Guilt weighed heavy.  Shame marred our appearance.  We were blind, dead, and enemies of God.
St. Paul speaks of our delusion under sin when he says by the Spirit, "do you not know that the unrighteous will not inherit the kingdom of God? Do not be deceived: neither the sexually immoral, nor idolaters, nor adulterers, nor men who practice homosexuality, 10 nor thieves, nor the greedy, nor drunkards, nor revilers, nor swindlers will inherit the kingdom of God. (1Co 6:9-10 ESV)  We were so captivated by our sin and ruled by its power that we believed it to be normal, even good.  And some continue to believe such a lie today, even some in the church.  But all our righteousness is but filthy rags and not worthy to remain in the presence of our King.
Christ has taken Captivity Captive
We needed a savior, a stronger man to bind the strong man and plunder His prison.  Therefore when all was still and it was midnight the Lord descended from His throne, not to judge and condemn us but judge and condemn sin, once and forever!  God sent forth His Son, born of a woman, born under the law to redeem those under the curse of the Law.  Appearing in the likeness of men, bearing our nature, He took the form of a servant, a suffering servant, one who knew no sin, yet became sin for us.  To save us from eternal captivity Christ Jesus wrestled captivity into death even death on a cross.  The Law saw Him as sinner.  The devil thought Him vulnerable.  Hell's legions laughed in derision.  Death pierced Him through and brought Him into the grave.  But He was no sinner.  He knew no sin but rather bore our sin.  He is the life of the world, yet entered death to destroy death with His death.  And so, with Jesus' condemnation sin was condemned.  With Jesus' death, death was put to death.  The abandonment He suffered stole away the curse from humanity.  Hell itself was damned.  His three day rest in the tomb sanctified the graves of all the saints.  The further He descended the nearer to us He came.  His glorious resurrection on the third day assured the opening of all graves on the last day!  Thus began His ascent with sin, death, devil and hell following in His train, shackled one to another, not with rope and chains, but with His body and His blood,  never again to hurt or harm His beloved, His redeemed, all who believe and are baptized!
All of this our God has done for us in His Son.  All of this our God has done in the flesh, as a man, bearing our nature to redeem humanity from the captivity we deserved by our sins.
Free from the Curse of Sin (Our God Bears Us Up)
Sing with the Psalmist beloved!  Sing for joy!  Blessed be the Lord, who daily bears us up; God is our salvation!  We were captives but it is for freedom that Christ has set us free.  We were under the Law but now we are under grace.  We were sinners but now we are His redeemed.  We were identified by what we say and do, what we didn't say and what we didn't do.  But now, now washed, sanctified, justified in the name of our Lord Jesus Christ.  Sin no longer has dominion over us.  Death no longer taunts us.  Hell has no place for us.  All has been taken captive by our Lord Jesus.  He prepared a place for us in His Kingdom.  The resurrection is ours as surely as Christ Himself is risen!  He richly and daily forgives me and the sins of all believers.  The prison has been razed.  The guards have been chased away.  That which once barred our entrance into paradise has been rolled away.  You are free!  You are redeemed!  You are saved!  For Christ is your Lord, not sin.  Christ is your master, not the lusts of your heart!   The folly of the gospel is your wisdom.  The scandal of the cross marks you as ones redeemed by Christ the crucified.  You are His Christians and He daily bears you up.  He daily forgives you. He daily comforts you.  He daily renews you.  God is your salvation.
Deliverances from Death (Means of His Grace)
Oh, sing with the psalmist beloved!  Sing for joy this day!  Our God has ascended on high taking captivity captive!  "Our God is a God of salvation and to God the Lord belong deliverances from death!"  His deliverances from death are for you in the person of His Son.  His Son now fills all things as a man!  Thus wherever Jesus is, whatever Jesus does, He is and does in His flesh, bearing our nature.  Whatever Jesus does for our salvation He always does as God incarnate, as the Man in whom the fullness of deity is pleased to dwell.  Just as we can truly say that in the birth of Jesus, God was born.  In the baptism of Jesus God was baptized.  In the death of Jesus, God died.  So also can we say that in the resurrection of Jesus humanity was raised.  And by the ascension of Jesus humanity has ascended to the right hand of God.  Now, one of us is seated in the heavens as King of kings and Lord of lords.  He is both God and Man, fully God and fully man, God of God and light of light who was born of a virgin.  All that was His as God is now shared with His humanity.  All authority in heaven and on earth has been given to Him as a man, as one of us.
And so, our redeemer now thunders His grace in the words of our absolution.  He rains His Spirit upon us in the waters of our baptism.  He plants within us the resurrection of our bodies with the very resurrected body and blood of His Son in the bread and the wine.  Yes, beloved sin with the psalmist the glory of our God.  Sinai is now in the sanctuary!  Heaven is on earth.  The God of our salvation is with us, nearer to us now than ever before.  We have His deliverances from death in the means of grace!  We have His Word.  We have His Son.   We have our God and He has us as His own dear children!  Thanks be to God.  AMEN!
The peace of God which surpasses all understanding keep your hearts and minds through faith in Christ Jesus.  AMEN!