April 30, 2017 — Easter III
Sermon Text — Luke 24:13-35
Blinded by Unbelief
Christ is risen!  He is risen, indeed!  Alleluia.  Our text for this morning's sermon is taken from St. Luke's gospel account the 24th chapter.
Beloved in the Lord,
Walking Blind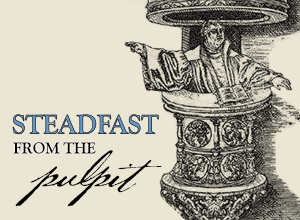 It's Easter!  Not just in our text, but also today.  Every Sunday is a festival celebration of Easter.  Christ is risen.  He is risen indeed.  Easter Sunday is the queen of festivals, the festival of festivals, THE DAY Christ rose from the Dead.  It's Easter, not just in our text but also today, because Easter isn't just a day it's a season, it's not just a season it's a life.  Christians live in Easter because Christ is risen from the dead and by His Spirit's power through Word and Sacrament He lives in us.
It's Easter!  And two men are walking toward Emmaus.  Why is this important?  Because they aren't walking to Galilee to meet Jesus as the angel instructed, nor are they staying in Jerusalem with the other disciples.  Something worse than fear has gripped their hearts.  Despair.  These two men are really every man, women, or child who walk the lonely way.  These two men are you and I in our sin and unbelief.  Oh, they loved Jesus!  He was the one they had hoped would redeem Israel.  But He was crucified, dead, and buried, and the women reported that the tomb was empty.  Oh, they loved Jesus.  Love is the fulfillment of the Law.  And no man, woman, or child loves Jesus perfectly.  We lost that love in the garden. These two hoped in Jesus. They dreamed of the day Jesus would reign on David's throne.  But again, Jesus was crucified, dead, and buried. And the women reported that the tomb was empty.  So these men walk the walk of fallen humanity.  They walk our walk.  They walk with their eyes wide open but unable to see how big the picture actually is.  So when a man begins walking with them along the way, they see Him but they don't recognize Him.  And it's not just that they don't recognize Him, the word actually means that they didn't know Him.   Their eyes were kept from knowing Him.
Foolish Unbelief
Why didn't they know Him?  What kept their eyes from recognizing Him?  What shackled their hearts as they trudged that lonely way?  They hoped and dreamt of glory.  The cross crucified all of that.  What often keeps us from knowing Jesus?  What prevents our eyes from recognizing Him?  We too hope and dream of glory.  We wrongly believe that glory brings happiness.  And if we're happy that's all that really matters.  After all we have the right to pursue happiness, don't we?
But what does such pursuit mean for us today?  It means pursuing possessions, cars, houses, the perfect family, a stable and secure future.  It means chasing after excitement, fun, even amusement.  It means social status, admiration of others, power, riches and wealth.  And the glue that binds it all together, the link that connects these things to our lives, the means to acquiring all of this . . . is money.  We hope and dream for all of these things and we wrongly believe money will deliver them.  We'll spend money on all of these things and more.  It's easy for us and we'll gladly surrender our money for anything that will feed our thirst for glory.  We pour money into politics, concerts, amusement parks, thrill rides, vacations, shows and technology.  The more we have the more we spend. The more we spend the more exciting our life. The more exciting our life, the more happy we think we'll be.  And if Jesus can give us these things all the better.  So we pour our money into the church to get the wrong things, attract the crowds, amuse the masses.   The blind go on leading the blind.
The truth is, we give our money to what we believe in.  The heart follows its master.  And the heart cannot serve two masters.  Either it will love the one and hate the other it will hate the one and love the other.  You cannot serve God and money.  The love of money is the root of all evil.  The pursuit of glory is the root cause of all despair.  If this is not true, then why is there so much despair over every presidential election?  No matter who wins, someone despairs.
And when Jesus appears along the way, you don't recognize Him.  You don't know Him not because He is preventing you from seeing or knowing Him, but because you don't really believe in Him.  And that's not my words or my interpretation.  That's exactly what Jesus says to these men in our text.  "O foolish ones, and slow of heart to believe all that the prophets have spoken!"
He Opened the Scriptures
Jesus said, "you search the scriptures because you think that in them you have eternal life."  The pious pursuit of glory reads the scriptures wrongly.  Such reading pours over scripture looking for promises of health, wealth, and wisdom.  But such a reading isn't looking for Jesus.   And so those who read the bible this way never see Jesus.  They do not know Him because they do not believe.
Jesus says, "these testify about me."  Scripture is all about Jesus, seeing Him on every page, knowing Him in every word.  "And beginning with Moses and the all the prophets Jesus interpreted to them in all the scriptures the things concerning Himself."  As Jesus walked with them He talked with them.  He preached to them.  He taught them that it was necessary for the Christ to suffer and die and rise again on the third day.  All of scripture is bound up with the passion of the Christ!  All of scripture leads to and flows from the cross.  The cross undoes our false hopes and dreams and puts to rest with His three day rest in the tomb any hope that we might have of a happy life apart from Jesus.  His rising on the third day is our hope of life with Jesus.  Through His death on the cross all our sin and idolatry is crucified with Christ.  With Him lifted high, hanging from the tree, we are given to behold the love of God.  For this is love, not that we loved God but the He loved us first and has given His Son as the propitiation for our sins.  There on the tree is your sin.  There on the tree is your idolatry.  There on the tree is your glory.  It is crucified, dead and buried with Him.  And risen from the Dead Jesus now offers you Himself.  Not money, not gold or silver, not health, wealth or wisdom in this world, nothing exciting, nothing fun, no show of power, no majestic display of strength.  No!  Jesus offers Himself to you in weakness!  Jesus reveals His love for you in death, even death on the cross.  Jesus loves you by being humiliated for you.  The peace His gives comes to you by grace through faith.  The comfort He gives is displayed in the print of the nails and the spear.  The life He gives, the good life, the life that endures unto eternity He gives you in His resurrected body and blood.
The Word Works on the Heart (Did not our hearts burn within us?)
This same Jesus who walked the lonely road with the Emmaus disciples offers you His passion in like manner.  He doesn't give you visions or dreams.  He doesn't bless you with spiritually ecstatic experiences.  He doesn't mystically "touch your heart."  He doesn't display His power through miraculous deeds and wonders.  It's not that He can't do such things, it is that He doesn't do such things because such things don't create faith.  Mighty displays of God's power and majesty save no one.  They do not create faith, in fact they create terror.  When Jesus miraculously granted the disciples a great catch of fish it was Peter who fell before Jesus' feet, not in adoration but in fear saying, "depart from me Lord for I am a sinful man."  When Isaiah was raptured to the glorious throne of God surrounded by Cherubim thundering their sanctus, he said, "woe is me, for I am a man of unclean lips and I live amongst a people of unclean lips."  Majesty, power and glory do not save.  No!  It is the Word of Christ!  The gospel is the power of God unto salvation.  Faith comes by hearing and hearing the word of Christ.  The Word of Christ delivers Christ to those who hear and believe.
If sin and unbelief is the problem, and it IS THE PROBLEM, then only the Word of Christ's death and resurrection for the forgiveness of sins is the remedy!  If you are tired of chasing after fads, exhausted with your passionate pursuit of religious experiences, weary of spending money on things that do not satisfy, discontent with politics of our nation, wallowing in sorrow and despair because all of these things have failed you then you too need what the Emmaus disciples were given.  You need the Word of Christ!  You need it today,tomorrow, and forever.  Because the Word of Christ forgives your sins. The Word of Christ strengthens weak knees.  The Word of Christ comforts ailing hearts.  The Word of Christ encourages despairing souls and sets the heart afire.  It is the Word of Christ that quickened the hearts of these men along the way.  IT is the Word of Christ offered you today that gives you eternal life and a purpose in this life.  Without such a word, without faith in Christ, you are left to yourself, left in your sin and unbelief.  Left to yourself you are left in your loneliness prevented froing recognize the God who stands before you, prevented from knowing His great love for you.
They recognized Him in the Breaking of the Bread
Beloved in the Lord, when the disciples reached their destination they didn't want to let Jesus go.  They invited Him in.  They wanted more of His Word because more of His Word meant more life.  That life was opened before them when Jesus took bread, blessed it, and gave thanks.  Immediately their eyes were opened.  They believed all the words of the Prophets and they knew Jesus was risen, they knew Jesus was with them, not as He was before, but in the breaking of the bread.  Those who believe want more of Jesus.  Those who believe want Jesus to stay with them today, tomorrow and forevermore.  Therefore those who believe want more of Jesus in His Word and the breaking of the bread.  Why, because that is where they recognize Him.  That is where they see Him and know Him to be kind and gracious and loving and merciful.  That is where they get Him.  In His Word and Sacrament is where they are with Jesus and He is with them.  Apart from these things is only doubt and despair.
And so for us Christians, we who are called by His Name in baptism, find Him here in this place.  Today is Easter and we gather in Emmaus.  Why?  Because Jesus is here giving Himself to us in the breaking of the bread.  Receiving Him in Word and Sacrament is the most important gift we can get in this world, in this life.  It's called the Divine Service because our resurrected Jesus makes Himself known to us, gives Himself to us, saves us from our sins and strengthens our faith in Him.  He is the happy life we desire.  For our hearts are restless until they find their rest in Him.  Because He is our happy life, we give back to Him from the bounty He has given to us.  We give to what we believe in, not as though we were buying it for ourselves, but so that His gifts can continue to flow to us without hindrance, so that this place is a holy place for all who seek after Jesus in His Word and Sacrament.  If these things are important to you there is nothing that would keep you away from them.  If these things are important to you, why would you withhold your offerings?  If these things are important for your salvation, they are important for the salvation of others as well.
Beloved in the Lord, Christ is present today in His Word and sacrament to save you, keep and preserve you, to comfort and console you.  He is also here for all those still walking the lonely road to Emmaus, all those trapped in the despairing pursuit of glory.  Because He is here we are here.  Because He is here this church is here, this building is here, these pews are here.  Because He is here we sing and make music to His name as His dearly loved people.  Because He is here all that this congregation does, her preaching, teaching, ministering to the sick, the suffering, and sorrowful is focused on Christ's Word and Sacraments!  Do you believe this?  We give to what we believe in.  Do you believe this?  We go to those who do not and invite them to join us, to listen to His Word, in the hopes that some will recognize him, that some will know Him as we have come to know Him.  WE have seen the Lord!  Christ is risen!  He is risen, indeed.  Alleluia!  AMEN!
The peace of God which surpasses all understanding keep your heart and mind through faith in Christ Jesus.  AMEN!