April 9, 2017 — Palm Sunday
Sermon Text — John 12:12-19
Grace, mercy, and peace be unto you from God our Father and from our Lord and Savior, Jesus Christ.  AMEN!  Our text for this morning's sermon is taken from St. John's gospel account the 12th chapter.
Stimulus Response!  Stimulus Response!
Beloved in the Lord,
The Twofold Reaction to Jesus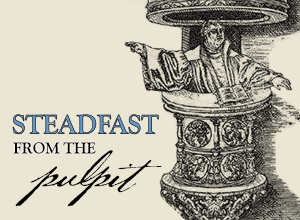 I am not a biologist . . . but I am a huge fan of Gary Larson.  Gary Larson isn't a biologist either.  He's a cartoonist, a Lutheran cartoonist at that.  His cartoons often tell it like it is but from a very different angle.  He sees things from the FAR SIDE.  One cartoon in particular features two single celled creatures. One creature, clearly the female is picture speaking to another who is clearly the male.  The dude is lounging about a couch watching television.  The lady says, "Stimulus Response! Stimulus Response!  Don't you ever Think?"  Biologists get it and surely laugh.  I'm not a biologist so I had to google it.  Stimulus response is a theory of biology (and psychology) which says that behavior manifests as a result of interplay between stimulus and response.  Living creatures respond to changes, stimuli, in their environment.  Non-living creatures do not.  In other words, people, you and I, are the result of multiple stimuli and responses throughout our lives.  But unlike single celled amoebas we can actually think about what our response will be.
When Jesus enters Jerusalem on Palm Sunday He is God's stimulus to a spiritually dead people.  Wherever Jesus goes.  Whatever Jesus does.  Whichever words He speaks are given to evoke a response to those around Him.  Palm Sunday is no different.  Neither is today.  This is why Jesus comes to Jerusalem on a donkey and not a horse.  He is not coming as a warrior but as a servant.  Not as one who desires to lord it over the people but as the bearer of a burden.  He doesn't come to take and tax and rule with an iron fist but as one to offer and give in gentleness and peace.   This is why Jesus' disciples respond with palm branches.  They welcome Him to the city of peace with shouts of "Hosanna!  Blessed is who comes in the Name of the Lord."
His arrival is to evoke a response.  No matter who you are there is always a response to Jesus.  Either you love Him or your hate Him, there is no in between.  Either you trust Him or you don't trust Him, there is no in between.  Either you welcome Him and receive Him, or you reject Him.  This was the case with the Jews.  Some welcomed him.  Their children sang psalms, hymns and spiritual songs to Him.  Others plotted His death.  Even the Romans watched with suspicious eyes.  Whatever Jesus would do next would surely evoke a response from Rome.  With every stimulus there is a response.  Every change in the context leads to a change in the person.  No one confronted with Jesus' words and works is left unchanged.   If there were no response from the people then the even the stones themselves would cry out so powerful is the coming of Jesus to Jerusalem
See!  Fear Not!
When Jesus begins His ascent to the holy city Matthew the evangelist says, "See!"  John says, "Fear Not!  Both quote the prophet Zachariah.  Rather than respond like a single celled amoeba we who are the pinnacle of creation are given to think on Jesus' Words and works!  When Matthew says, "See" he means stop, look, listen, behold, think on, ponder what is happening.  When John says "fear not."  He is actually teaching us not to respond according to our fallen natural state.  There can be no godly response to the days events so long as we are not seeing but fearing.  Thus the evangelists both inform our response the Jesus arrival.  They call us away from what we're used to, our habits, our routines, our sinful selves and think on this one riding the donkey.  In other words, Jesus' arrival in fulfillment of the Prophecy is meant to wake us from the dreary sleep of sin.  It is meant to lift our eyes from ourselves.  For that is surely where they are fixed.  We are by nature a people infatuated with our belly buttons.  We love ourselves, our words and our works.  We are by nature blind like Bartimaeus, dead like Lazarus, and enemies of God going about our days under the dominion of another.  Loving ourselves we have faith in ourselves and are given to trust ourselves for everything.  As the old saying goes, "if you want something done right you've got to do it yourself."  Apart from Christ's Words and Works everything we do is really a response to our own stimuli, if that is even possible.  That's why the self-help section of any bookstore is larger than the religious section.  That's we people pay big bucks to listen to motivational speakers.  And that's why people gravitate to anyone who promises to serve our natural inclinations.  Their ears itch for self-improvement and will listen to anyone willing to scratch them.  Our natural response is not faith and love but works and self righteousness.  We've got it all backwards and we need to be set straight.  In other words we need to stop, look, listen, and repent.
He Comes to You
This is why Jesus comes.  He comes from heaven above, from outside of you, to work faith and love in your heart.  And so the evangelists continue.  "He comes to you meek and lowly."  He comes to you, for you, not against you.  He does not approach to evoke fear and terror, but to woo you with gentleness, to draw you nearer to Himself.  These words and works of Jesus are both dangerous and comforting.  They are dangerous because drawing near to Jesus means leaving yourself behind.  Comforting because He comes to bind up your wounds and heal your broken heart.  All that does and all that He says on this day and throughout this most holy week He does out of love, out of service to you His neighbor, His brothers and sisters, His dearly loved creation.  All that He offers in the supper, endures from the soldiers, suffers under Pontius Pilate, every slap across His face, each stripe across His back, the nails, the spear, the blood poured out, the life given on the cross, is the change we need to be saved from our sins, death, and the power and might of the devil.  This He gladly embraces for you to reveal to you the depth of God's love and mercy toward you.  Riding to Jerusalem on the donkey He presents Himself as the Lamb of God who takes away the s in of the world.  Being condemned as a criminal He takes your place under God's wrath and punishment.  Dying on the cross He pays the debts you owe to God for your sins.  He is the atonement, the propitiation, the blood covering required by God for the sins of the world, even your sin.  For without the shedding of blood there is no forgiveness.  The Lord does not desire your blood, for that would require your death.  And the Lord does not desire the death of the sinner but that you turn from your wickedness and live!  Yes, beloved turn from yourself and see this man, this Jesus riding into Jerusalem as your Lamb who takes away your sin.  Or as Jesus says, "Repent and believe the gospel for the kingdom of God is near", so near that you can hear His Word and behold His passion for you in the giving of His Son!
Faith is the First Response He desires!
The response the Lord desires from you is two-fold.  First He desires faith.  And second love.  For faith without love is dead.  It is not faith.  Faith is not something you do, as though it were within your power to intellectually believe, but faith is the gift of God given by the Spirit through the power and might of God's Word.  His Spirit filled Word is the stimulus and the creative force within all who believe in Christ!  This faith causes you to delight in Christ so that He is sweet to the taste.  Such faith is the result of your regeneration, your new birth in the Spirit, when God graciously saved you with Water and the Word.  It is faith that trusts in Christ rather than self.  IT is faith that receives Christ and gives God the greatest joy as you receive more and more of Him in Word and Sacrament.  Faith is the highest and greatest praise that can be offered to God.  Everything in our world is geared toward stimulus response, stimulus response, and we often don't think but are content to lounge about our days filling our hearts and minds with whatever suits our fancy or appears on the screen.  God has given us a new Word.  God has given us His Son.  Jesus is the stimulus that gives us new birth and now He calls us to think on these things, receive these things, glory in these things.
Therefore, beloved our primary response to Jesus and His Word ought to be faith!  You ought to think on these things and ponder how you can bring Him more and more into yourself and strengthen this faith He's given you.  It is faith that brings you to church.  It is faith that moves you to the supper.  It is faith that longs to be in the Lord's house.  As the psalmist sings, "I rejoiced when they said unto me let us go unto the house of the Lord!"  We are saved by grace through faith and therefore faith worships because worship is all about receiving God's gifts in Word and Sacrament.  Faith worships because Jesus is here.  It is unbelief that stays home.  It is unbelief that neglects worship.  It is unbelief that lounges about in sin responding without thought to life's circumstances, living from stimulus to stimulus, following the desires of the heart rather than seeking after God's heart in Jesus.
Love toward your Neighbor is the Second Response (Living creatures respond to stimuli)
Think on these things beloved!  Faith receives everything that is accomplished between us and God.  Faith is the Christian's first response to Jesus' Words and works.  But faith's receiving is not to be the only response, as though believing were an end in itself.  NO!  Certainly not!  The Lord has redeemed us from sin, death, and the dominion of the devil and has placed us within our vocations to live out our faith in love.  If I say I have faith and have not love I am but a clanging cymbal, a noise maker, one who is deceiving both self and my neighbor.  Christ's word is given as a stimulus to evoke a two-fold response:  Faith first and then faith expressing itself in love.  Surely faith in Christ, apart from your works, makes you right with God but also faith expresses that rightness in love towards one's neighbor.  A man is to live, speak, act, suffer and die for the love and service of his wife and children.  The wife is to do the same in humble submission to her husband.  Servants, employees, are to love and serve those in authority over them.  Even government is to serve its citizens and citizens are to serve their government.  Each person is love and serve their fellow man, even his or her enemies so that Christ's love may be manifested to them and for them as well.  Do we love perfectly?  No, for there is a war going on within us.  We still sin and faith grows weak.  We daily, weekly, yearly need the grace of God to press on toward the goal.  We daily, weekly, need the Word and Sacraments for faith to grow and mature in our hearts and then our hearts to grow and mature in love toward one another.  He who believes worships.   He who worships loves in accordance with God's Word.  Such love is the fruit of faith not the cause.
Beloved in the Lord, the Savior approaches Jerusalem this morning to make a change, to stimulate a response.  You may feel like you've been born with a bummer of a birth mark, like you have a bull's eye tattooed on your back.  You may live your life as though you were just a squirrel out to get a nut.  But you don't have to be a biologist to know that you are not a single celled amoeba bound to a stimulus response sort of life.  Think!  Think!  Think on Christ's Word and work for you today!  Think on these things and return to Him faith, faith which loves as He has loved you.  This is why He comes.  This is why He is crucified and risen.  And this is why He offers Himself in the sacrament.  That all who see Him rejoice!  That all who believe in Him receive Him.  That all who draw near Him taste and see that He is good.  That all who know Him sing, "Hosanna to the Son of David.  Blessed is He who comes in the Name of the Lord.  AMEN!
The peace of God which surpasses all understanding keep your heart and mind through faith in Christ Jesus.  AMEN!