April 14, 2017 — Good Friday
Bringing to Nothing the Things that Are
In the Name X of Jesus.   AMEN!
Beloved in the Lord,
Smitten with Glory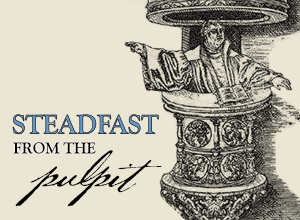 They couldn't contain themselves.  A riot was fomenting within their ranks.  Pilate could not dissuade them.  Two opposing forces join forces against the Son of Mary.  And there He stands, bloodied, beaten, clothed in a purple robe, crowned with thorns.  Ecce Home – behold the Man.  John's Lamb of God is put forth as Pilate's guilty man.  He stands between them.  He suffers for them.  He is the one mediator between God and men, the Man Jesus Christ.  His blood is not enough for them.  For they are smitten with glory.  His suffering will not appease them.  Their blood lust must be fulfilled.  Pilate is going to crucify someone.  He is no different.  The Jews glory in their righteous piety.  Rome glories in her power over the Jews.  So Pilate offers a compromise.  Ever the politician Pilates gives them an option.  Next to Jesus the King of the Jews stands a murderer Barabbas.  The Jews choose Barabbas and call for the blood of Jesus.  Barabbas is one of their own.  He is like them in every way.  He is their brother in glory.  The Jews love glory.  The Romans love power.  Jew and Gentile conspire against Jesus – the man, the mediator, the King of the Jews.  Thus Jesus went out bearing His own cross to the place called The Place of the Skull, or Golgotha.  There they crucified Him.  Loving glory more than God, fearing a riot more than justice, Jew and Gentile gladly and willingly crucified the Lord of life.  Jesus cannot be Messiah, for no Messiah allows Himself to suffer and die.  Jesus cannot be King, for what sort of King gives His life through humiliation.  There is no power displayed by Him.  There is no beauty or comeliness that men are drawn to Him.  Jesus is stricken, smitten and afflicted by God.  A curse.  For cursed is the man who hangs on the tree.
The Affections of our Fallen Heart
How can any of this be good?  That is the stumbling block of Christ crucified.  His death goes against our understanding of God.  His suffering goes against all wisdom.  His willingness to die goes against all that we fear, love and trust.  And that is the point of it all.  All that we fear love and trust goes against God.  Like the Jews and the Romans the affections of our heart are fallen, self-centered, and self-serving.  The cross of Christ is none of that.  We too are in opposition to Jesus and Jesus' death.  With Peter we object to a suffering Messiah.  With Judas we prefer another way to glory.  With James and John we long to sit on His right and His left, to drink the cup He drinks and to be baptized with the baptism with which Jesus is baptized.  But in our fallenness we don't really know what that means.  We assume a cup of glory set before us on a lavish banquet table acquired by a glorious victor.  We prefer a baptism of power poured over us by one who conquers our enemies.  We gladly waver our palm branches to welcome our coming king, so long as that king fills our bellies, heals our illnesses, vanquishes those who oppose us.  But this . . . the humiliation . . . the suffering . . . the weakness . . . the blood . . . the death . . . the cross . . . this we cannot fathom!  It is a stumbling block to the Jews and folly to the gentiles.  This makes no sense and goes against all of our understanding.  The death of Jesus is not what we want nor what we expect from one who claims to be our King, from one who promises life.  All that we think, all that we think we know is found to be in opposition to this.  Christ is crucified.  And like a lamb led to slaughter He opens not His mouth.  He does not object.  He does not fight.  He does not call legions of angels to His side.  He is not like us.  Whether we would admit it or not we also prefer Barabbas.  For that is how we live.  That is the way we love.  That appeals to our affections.  That is how we wish Jesus would be for us.  But not this . . . not the cross.
Smitten and Afflicted for us
If we only see and do not listen we remain lost in our glory.  The glory of men cannot overcome the enemies Jesus surrenders to.  Nor can the wisdom of men understand the things of God.  For it pleased God through the folly of the cross to under the wisdom of men and bring to naught the things that are.  The cross undoes all that we assumed of ourselves and of our God.  The cross crucifies our theologies and establishes Christ alone.  We esteemed Him stricken, smitten and afflicted by God and this is most certainly true!  For He hangs there for us all.  He who knew no sin became sin that in Him we might become the righteousness of God.
Look upon Him beloved!  He is there in your place.  He is there for you instead of you.  His back is striped for all who are slaves to sin.  His brow bleeds for your adulterous thoughts.  His hands are pierced for your wicked deeds.  His feet are nailed for all who walk in sin.  His side is lanced and His heart bursts for all who love themselves, for all who fear, love, and trust in things other than the God who created us.  He is crucified for you.  He dies for you.  He offers Himself for you.  And in doing so He loves you more than Himself.  He loves you, His neighbor, His brother, His sister, more than you love yourself.  He loves you more than He hates death.  And so He dies.  He embraces the curse first pronounced on Adam.  He covers your condemnation with His own blood.  He hangs like a worm among men, shamed, humiliated, naked and bruised . . . for our iniquities.  His body bears the brunt of justice.  His soul endures the hell of abandonment.  He is wounded for our transgressions.  And by His stripes we are healed.  There is no sugar to help the medicine go down, nothing sweet about His condemnation.  His heart is poured out as He drinks from a cup His Father refuses to let pass.  And He swallows it all, every last drop, even the very dregs.  He takes it all in, all of it, into Himself that there be no wrath of God left for all who are in Him.  He does it all, suffers it all, endures it all, finishes the race and thus wins the prize for His beloved, for you and me and the world.
Wooing the Heart through the Bloody Word
Yes, beloved!  Look upon Him and draw near to Him.  Hide not your face from His passion and gaze upon the backside of God.  The power and majesty of God save no one!   Because He loves you, Jesus will not come down from the cross.  No angel will come to His rescue.  Elijah watches as the chariots of Israel stand by.  No one will help Him, not even His mother.  Because no one will help you help yourself.  We need a savior, a redeemer, one who does it for us, one who pays the price with His blood.  The wages of sin is death, this is what we all deserve. This is the curse upon us all, this is why we by nature hide in the bushes from our God.  But God shows His great love for us in that while were still yet sinners, Christ Jesus died.  He does not die for good people, but for sinners like you and me.  Chief of sinners though I be, Jesus shed His blood for me.  Look upon Him beloved.  Behold the Love of God for you!  Draw near to Him.  He and His cross are for your salvation.  He is the bloody Word we need to be set free from our bondage to sin.  His death makes our exodus a reality.  His blood marks the doorpost of the heart of all who trust in Him.  His cross parts the waters and makes straight the pathway to freedom and the Promised Land.
Drawn Near to God
Yes, beloved!  Draw near to Him.  For when He is lifted up He will draw all men to Himself.  Do not turn away from Him but rejoice in God your Savior.  Be not ashamed of Him for God so loved the world that He gave His only Son.  Cast aside your fears, your loves, and all your false trusts and fear Him, love Him, trust in Him above all things.  Behold the Lamb of God, the Man of Nazareth, the King of the Jews, the One mediator between God and men.  Harken to His Word.  Receive His baptism and drink from His cup.  Take your seat at the banquet table.  For Jesus has undone the wisdom of the world and brought to nothing the works of men.  Jesus prepares a table before you in the presence of your enemies.  He sets before you a feast of choice meats and the best wine, even wine on the lees.  In Him God withholds nothing from you that is good for you.  And so today is truly a good day, a goodFriday for us all.  AMEN!
The peace of God which surpasses all understanding keep your heart and mind through faith in Christ Jesus.  AMEN!