For Your Ears Only
February 26, 2017 — Transfiguration Sunday
Sermon Text — Matthew 17:1-9
Sermon Audio —
Come back later for the audio of this sermon.
Grace, mercy, and peace be unto you from God our Father and from our Lord and Savior, Jesus Christ.  AMEN! Our text for this morning's sermon is taken from St. Matthew's gospel account the 17th chapter.
Beloved in the Lord,
Getting Lost in the Sights!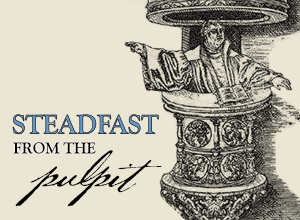 It's a common stereotype, especially among women, that men don't want to stop and ask for directions.  Men don't need someone to tell them where to go.  Men can find the way all on their own.  Men don't need directions.  They just need to see the landmarks, read the signs, follow the traffic, make the right turns, stop at all the stop lights, avoid the flashing lights, maintain their composure, and sure enough, they'll get where they're going just like that.  They might be a few hours late, but they made it all on their own.
The advent of GPS has alleviated much of that stereotype these days.  Now with modern technology men can get their directions and save their pride all at the same time.  And a real man can do it with the GPS sound turned off.  He goes by sight not by hearing.
Peter, James and John are what our stereo type might call typical men.  They love what they're seeing as they follow Jesus.  It's not that the Savior's voice has been totally muted, but the view is what they're focused on.  After all a lot has happened in the ten chapters since the sermon on the mount.  There's been some teaching –because that's what Jesus is all about – but more importantly for Peter, James and John, there's been miracles.  There's been healings, feedings, and exorcisms.  The blind see.  The deaf hear.  The mute sing God's praises.  The lame leap up and carry their mat home.  The devil's cry out in His presence.  There's been a lot happening, wonderful acts of God, signs of glory wherever Jesus goes!  Peter, James, and John are getting lost in God's glory.  Nowhere is this most plain than on the mountain when Jesus is transfigured before them, when His faces shines the like the sun and His clothes become exceedingly white, when even Moses and Elijah pay homage to the one they've been following.  What glory to behold indeed!
Working for Jesus (Eyes only for Us)
Peter likes what he sees and wants to stay.  Who among us wouldn't share in all the excitement? So Peter speaks, not just for himself, but for James and John, and really for you and me as well, really for all of us smitten with a love for glory.  "Let us make three tents, three tabernacles, one you Jesus, and one for Moses and one for Elijah."  Peter's words reveal Peter's folly.  He wants to work for Jesus.  That's what Old Adam thinks Jesus wants from us, as though pictures of God's glory were given for us to imitate, aspire towards, impress God with our own glory, the work of our hands, the proof of our devotion.  Look at me Jesus!  And eyes once cast upon the glory of God are suddenly cast downward upon ourselves   Hearts once captivated, even for a moment with what the eyes behold, reveal their true bondage to sin.
Sinful humanity, and that means you and me, cannot fathom the glory of God, cannot behold the glory of God and survive.  Not only can God's glory consume us, like it did Nadab and Abihu in the wilderness, but it brings to the surface our true selves, namely that we want to do something to prove we deserve to stay with God in His glory.  We reveal our discontent with God's Words and smitten with the thought of His majesty we long to show Jesus that we're not like all those down at the foot of the mountain.  We want to prove to Jesus that we're not like the tax collectors and sinners.  We're better.  We're worthy.  And we're willing to work for it.
But such desire only furthers us along the path of destruction.  Eyes are not on Jesus any longer, nor are they even on our neighbors who we believe are below us, but now they're on ourselves.  The love of glory leads to only two reactions on our part.  Either we despair and are terrified, or we do our best to stay with Jesus.  We do what is in us, try harder to be better, to be good, pious, sincerely religious people.  We get lost by what we see, turn the wrong direction, go through stop signs, hide from the flashing lights, and hope beyond hope that all our labors get us to paradise.  Such a life is a life walking by sight.  Such a spirituality is not of the Spirit.  Such a path leads to hell.  Nowhere does scripture promise blessing to those who see.  Nowhere does scripture promise salvation to those who do.  Nowhere does Scripture reveal anyone's conversion by the glory of God's majesty. Our sinful nature perverts it all.  We need to see Jesus.  We don't need to behold God's majesty.  We don't need to ascend to heaven and catch of glimpse of God's glory.  We don't need to be spiritual peeping toms.  We need to repent.
It's All about the Word (Listen to Him)
Repentance doesn't come by sight.  Peter, James, and John behold the glory of Jesus.  Peter, James, and John witnessed Moses and Elijah.  Peter, James, and John saw the cloud envelop them and they were terrified.  The voice came from the cloud and they fell on the faces and were greatly afraid!  The cloud shielded their eyes so that all they could do was listen.  "This is my beloved Son, in whom I am well pleased.  Listen to Him!"
You see beloved, with our Lord it's all about the words!  The Word prevents our sinful nature in its tracks, compels us to stop and let God be God.  For our God does not save by what we believe to be His glory, but the true glory of God is that He saves by His Word.  "Listen to Him!"  You are not saved by works, no matter how pious or sincere or well intended.   You are saved by grace through faith.  Faith must have an object, an object that is outside of us.  That object is not what you see, but what you hear.
Faith comes by hearing and by hearing the message of Christ!  The Word of Christ is given so that hearing we are able to interpret what we see rightly.  Without the Word of God what we see will only terrify us, or empower us along the wrong path.  Jesus isn't staying on the mountain.  He's going back down, down into the world of tax collectors, sinners, prostitutes, child molesters, homosexuals, murderers, adulterers, fornicators, idolators, divorcees, broken families, broken hearts, broken lives that are riddled with the wages of sin, a world where death and devil seem to reign everywhere.  He's going back down to our world, a world bogged down with sin and death, where people like you and me love our sin and refuse to be called sinners, a world where people are trying to save themselves, following what they see, loving what they do, desiring what God calls wrong, and making every attempt to compel God to love us, to prove we are worth saving.
Going down the mountain, being with us in our mess, is not the gospel.  There's no good news in God's presence with us if God isn't present to do something about our sin, to change the status quo, undo what we've done, make right what we've gotten terribly wrong.  Thus the cross!
The Son of Man has no place to lay His head, nor should we, through our efforts, attempt to box Him in to the way we think God should be.  No! God will be God even if we refuse to let Him.  Thus the cross! So He dies.  Jesus is crucified to deal with our sin.  He sheds His blood because without the shedding of blood there is no forgiveness.  He does it all because you and I can't do it.  He does it for us because the Lord does not desire the death of the wicked but rather they we turn and repent and live.  Life is given on the cross!  Sin is defeated on the cross.  Death is crushed on the cross. For the death He died He died once for all.  Once means nothing more to add – no works on your part. For all means for all sinners, for all the tax collectors, sinners, prostitutes, child molesters, homosexuals, murderers, adulterers, fornicators, idolators, divorcees, broken families, broken hearts, broken lives that are riddled with the wages of sin. For all means for you and me and the world.
If we were to be like Peter, James and John, smitten with what we see, beholding the cross would scandalize us!  We would see only a dead man on a tree.  But our God does not allow us to walk by sight.  He calls us to listen to Him.  We're not saved by seeing the crucifixion, we're saved by the story of the cross, by the Word of the cross!  It's all about the Words.  Our God saves sinners with Words of His works for us!  Not works done by us.
Words take away all Fear (Absolution)
And the word works!  God's Word is an active and powerful Word.  It does what it says and gives what it promises!  The Word takes away all our fears.  That's exactly what Jesus does in our text when following the Father's words and the disciples' terror, Jesus comes along, touches them – and says, "Arise and do not be afraid!"  There's no majesty to see, no bright glimmering face of God to behold, no beatific vision to bask in.  Only Jesus' touch and Jesus' Word.  His Words take away all fear and absolve Peter, James, and John of their love for glory.
Walking by Words
Beloved in the Lord, this is God being God.  This is how the Lord works for you – through Words.  So the question put to you today is:  "Are you walking by sight, following what you see, trusting your pious deeds?"  Or, "Are you listening to Him?"  Whatever your station in life, whatever your circumstance, no matter your sin, you are given to listen to Him, to walk by faith and not by sight.  Are you doubtful?  Remember your baptism into Christ's death and resurrection?  Are you hurting, hear the comforting Words of God's grace and mercy.  God is not against you.  He is for you.  Are you trapped in your sin?  Give your ears to His voice in the pastor's absolution.  Are you broken?  Is your family broken?  Are you losing hope?  Are you anxious?  Rest assured that the Christ is present for you right here, right now, under the bread and wine with His true body and blood for you!  Are you waiting for God to act, to do something about your sin, your death, your eternity?  Listen to the Savior's word from the cross!  "Father, forgive them for they know not what they do?  Do you think you need to offer Him something, some pious decision on your part, as though God were waiting for you to make the first move?  Be still!  Know that the Lord is God.  For He says "It is finished."  Are you grieving the wages of sin?  Rejoice, Christ is risen!  He is risen, indeed!  All who die in the Lord shall rise again on the last day!  You who believe and are baptized shall rise from the dead.  Your loved ones who died in the faith shall rise again!  You'll get your children back, your husband back, your wife back, your parents back, your grandparents back!  You'll even get to meet the generation of saints who've gone before you!  Such is the power of God's Word for you!  It's all about the Word.  Listen to Him!  Believe!  And it shall be so.  You have God's promise.   AMEN
The peace of God which surpasses all understanding keep your heart and mind through faith in Christ Jesus.  AMEN!