February 5, 2017 — Epiphany 5
Sermon Text — Matthew 5:13-20
Sermon Audio —
Come back later for the audio of this sermon.
The Remedy for our Identity Crisis
Grace, mercy, and peace be unto you from God our Father and our Lord and Savior Jesus Christ.  AMEN.  Our text for this morning's sermon is taken from St. Matthew's gospel account the 5th chapter.
Beloved in the Lord,
Who are You – Salt and Light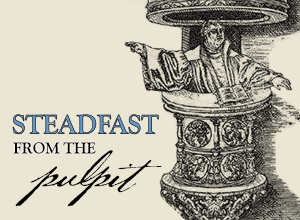 Who are you?  That's a good question isn't it?  As a nation we're going through a bit of national identity crisis, aren't we?  Who are we as Americans? Who are we as men? Who are we as women?  Who are we as children?  Who are we?  Who are you?  Our culture doesn't want to respond to most of those questions with definitive answers?  With toxic masculinity invading secular life and rabid feminism marching down our streets, where does that leave the transgenders, the queers, the freaks and geeks and all those identities on the fringe?  The temptation is to answer that question subjectively.  I determine who I am, or I reveal who I am.  I'm not told who to be.  That's why our culture has embraced "Katlyn" formerly known as the one time Olympian "Bruce."  One day Katlyn decided to come out of the closet wearing high heels and a dress.  Bruce was no more.  Our political differences to a large extent can be traced back to our identity crisis.  Who are we?  Who are you?
Our Lord doesn't stir something within us to reveal who we are.  He doesn't burden our hearts, manipulate our emotions, or whisper His voice in the ear.  No! That's not how the Lord operates.  He does today as did in our gospel.  He flat out speaks it out loud.  Jesus says to His disciples, remember chapters 5-7 are all spoken to Jesus' disciples, Jesus says to His disciples, "you are salt," and "you are light."    Who are you as a man?  You are salt and you are light.  Who are you as a woman or a child?  You are salt and you are light.  Again these are descriptive statements of being, not prescriptions, not achievements, but gifts.  You are salt and you are light because you are baptized into Christ.  Oh, you were like the world, lost, dazed and confused about life.  You were tasteless and dark, living your days in sin, thinking there was nothing wrong with what you were doing, but knowing deep down everything is messed up, broken, corrupt.  But something changed for you.  You were changed.  "You were washed.  You were justified.  You were sanctified by our Lord Jesus Christ and by the Spirit of our God."  Who are you?  You are Christian and therefore you are salt and you are light.
Denying Your Baptism
These words from God are extra nos, they come from outside of you.  Despite what you may be feeling.  Despite what you may be thinking. No matter how dull your saltiness or how dim the light your lighting, you are still salt and light.  This is true because Jesus said so.  This is reality, objective transcendent reality.  This is who you are in Christ.  This is who you are as His baptized child.
If all that is true – which it is – then what of the Law and the commandments?  You know as well as I do that we're not very good at being salt and light.  We don't feel like we are who Jesus says we are.  In fact, the devil, the world, and our own conscience often accuse us.  We're not righteous.  We're sinners.  We feel like sinners.  The weight of the law is heavy on our hearts.  And the temptation is to ignore it.  Get ourselves out from under it.  Say it no longer applies to us.  Tell ourselves that our works don't matter, that we don't have to be good or do good to be saved.  That's called gospel reductionism.  And that is NOT what Jesus teaches us this morning.  Gospel reductionism abolishes the law in the life of the believer.  Jesus hasn't come to abolish the law.  The Law is still the law and has a purpose for us Christian, first and foremost to keep us from pride by trusting our good works.  But also to teach us the way of righteousness.  Believers do good works.  Who are you? Are you a believer?  Believers do good works.  Salt seasons and light scatters the darkness.  To abolish the law is to cast aside the one who fulfills it.
Christ Fulfills the Law for You
Too many believe that the fulfilling of the law is the task of Christians, that its what we do to keep and preserve us in the faith.  Again, that is wrong and goes against the express words of Jesus in our text.  Jesus, I have not come to abolish the law but to fulfill it.  The law gives testimony to Jesus and Jesus fills up the requirements of the law with His righteousness.  Notice, that when we're talking about Jesus and His righteousness we're not talking about you and yours!  That's the point.  Jesus' words take our eyes off of our own belly buttons and puts them squarely upon Himself, in particular squarely on Christ crucified.  The law is not abolished.  The law is fulfilled!  We Christians find the end of the law with Jesus on the cross.  There' the righteous one of God, the spotless Lamb of God, the Holy Son of the Father dies the death of sinners for sinners.  In other words Jesus dies your death and the death He died He died once for all.
Oh, the Law did its worst, sank its teeth into His holy body and spilled His holy blood.  Satan gave it his most diabolical effort, assuming that the death of Jesus would be the end of Jesus.  The world raged with all its might and mockery hoping to put an end once and for all to a life of faith under the grace of God. They would have no king but Caesar.  They would have no life but their own.  But Jesus fulfilled the Law in its entirety for you.  He died the death you deserve.  Suffered the mockery of the world to save you, and endured its rage until His very last breath.  This Jesus, whom you crucified, God has made both Lord and Christ.  God raised Him from the dead.  The Father accepted His sacrifice as the sacrifice to end all sacrifice and welcomed Him to His right hand.  The law was not abolished.  The law was fulfilled for you.  Jesus filled it up with Himself.   Now, whoever believes and is baptized shall be saved because the Law has been fulfilled with Christ's righteousness.    That's why we Christians don't look to the law for salvation we look rather to Christ and Him crucified.  Nor do we do the law to keep and preserve our salvation, again we look to and receive from Christ and Him Crucified.
The Righteousness of Christ Given in the Means of Grace
Now, on this side of Easter, a righteousness apart from the Law has been made manifest, even the righteousness of faith.  Faith must have an object, again something outside of ourselves to latch on to and receive.  That object is Jesus, the one who fulfills the law for us.  When the devil, the world, or even our own conscience assault us and accuse us rather than try to do better or try to ignore the law's demands, we are given to behold the Lamb of God.  Do you feel guilty?  Look to Christ and His cross.  Do you feel ashamed?  Look to Christ and His cross.  Are you confused, dazed, lost, living life as though walking through a fog, look to Christ and His cross.  But I can't see Him, you say?  But I can't feel His presence in my life, you say?  No matter, look to Christ and His cross by hearing His Word.  Carnal man does not receive the things of the Spirit because unbelievers are without the Spirit.  But you, you are baptized!  You are regenerated!  You spiritually alive because you have been born of water and the Spirit.  As Spiritually reborn people you follow where the Spirit leads, and if the Spirit leads you anywhere other than the means of God's grace, that is not Holy Spirit.  For the Spirit has bound us to the means of grace; to baptism, absolution, the Divine Word, preaching, and the blessed Supper.  These alone are certain because these alone have the word and promises of Christ.  And when the soul is under spiritual attack, when you are suffering an identity crisis, you want to be sure, you want to know, you want to be absolutely certain of Christ's mercy and forgiveness and love and salvation for you!
Rise and Shine! 
Beloved in the Lord, who are you?  Jesus tells you this morning. You are salt and you are light.  And as the Lord's salt and light in this tasteless and dark world you are given to shine His righteousness to the world.  You are His Christians.  You are little christs to the world.  Therefore you are His hands changing diapers.  You are His heart poured out to help the sick and infirm.  You are His preachers of the gospel to your neighbors, friends, and family.  You have the mind of Christ to enlighten the nations with the wisdom of God.  You are the faithful wife respecting her husband.  You are the loving husband caring for and providing for His wife and children.  You confess the truth about men and women, marriage and family, life and death, our human condition and God's divine favor in Jesus.  What you do matters!  What you say matters!  Your whole life matters because you are salt and you are light.  Our God has redeemed you with His blood.  Purchased and won you from sin, death, devil and hell not with gold or silver but with His holy precious blood and His innocent suffering and death. Therefore glorify God in your bodies, with your bodies, for your neighbor.  Let your light shine that the world may see your good works, the fruit of your faith and glorify your Father in heaven!  AMEN!
The peace of God which surpasses all understanding keep your heart and mind through faith in Christ Jesus.   AMEN!